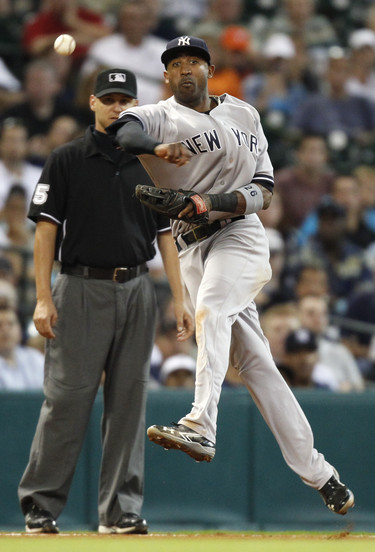 Thanks to all the injuries, the Yankees went through a small army of infielders this past season. They went internal with Jayson Nix, Eduardo Nunez, David Adams, and Corban Joseph before going outside the organization for guys like Alberto Gonzalez, Chris Nelson, Luis Cruz, Brent Lillibridge, and Reid Brignac. Seven different players started a game at shortstop for New York in 2013 while ten (ten!) started a game at third. Eventually Brendan Ryan and Mark Reynolds helped stabilize things.
All four infield spots are a question mark right now for various reasons. Mark Teixeira and Derek Jeter are returning from major injury, Robinson Cano is a free agent, and Alex Rodriguez may or may not be suspended. Nunez, Nix, and (to a lesser extent) Adams played fairly regularly last season and failed to impress, at least impress enough to solidify their standing as viable infield options should the need arise in 2014. Adding infield depth will be a priority this offseason and so far it's the only area the team has addressed.
Since re-signing Derek Jeter to a new one-year contract, the Yankees have reportedly agreed to re-sign Ryan and acquired Dean Anna in a minor trade. Ryan won't hit at all but his defense is among the best in the game and allows him to be a net positive if playing everyday. He's not great, mind you, but you can run him out there on a regular basis and get some return. The 26-year-old Anna is a lefty bat with little power but quite a bit of on-base ability, plus he's capable at the two middle infield positions. With all due respect to Ben Paullus, the Single-A reliever who went to the Padres in the deal, Anna cost basically nothing.
To me, bringing back Ryan and adding Anna for depth is an indication the Yankees have either grown tired of Nunez or will non-tender Jayson Nix prior to next month's deadline. Maybe both. Nix is projected to earn $1.4M through arbitration next year and although I think he's perfectly fine as a rarely used backup infielder, that is a bit pricey for what he brings to the table. Maybe he'd be worth keeping at that price in a luxury tax-free world. Nunez has been in the big leagues for parts of four seasons now and he hasn't hit (86 wRC+) or shown any real improvement defensively. There's only so much patience you have have with someone who projects to be an okay player but not a star if things go right.
Nunez appears to have a minor league option remaining and can go to Triple-A Scranton next season, so the Yankees won't have to worry about finding a spot for him. I doubt he would fetch much in a trade anyway. The club has him, Ryan, and Anna to serve as depth behind Jeter at the moment, though the obvious caveat is that the offseason is still very young. Nix could return on a minor league deal (I would like that very much, actually) but you couldn't blame him if he sought out another team that offers more of an opportunity if he is non-tendered. As a veteran guy who's been in the show a while, Ryan sits atop the utility infielder depth chart and will open the year on the bench if the Cap'n is healthy enough to play shortstop. Anna and Nunez are behind him.
Regardless of what happens to A-Rod, the Yankees have to bring in a capable third baseman because he's going to miss time one way or another next season, either through suspension or injury. That still has to be done. Middle infield depth was another priority this winter given the uncertainty surrounding Jeter following his self-proclaimed nightmare season, and early on they've addressed that with the Ryan and Anna moves. Nix became expandable and so did Nunez, but there's no sense in dumping him until absolutely necessary since he'll earn something close to the minimum and can go to Triple-A. The Yankees have a lot of business to take of this winter, but they've already made a series of moves to upgrade the utility infielder spot and add middle infield depth.