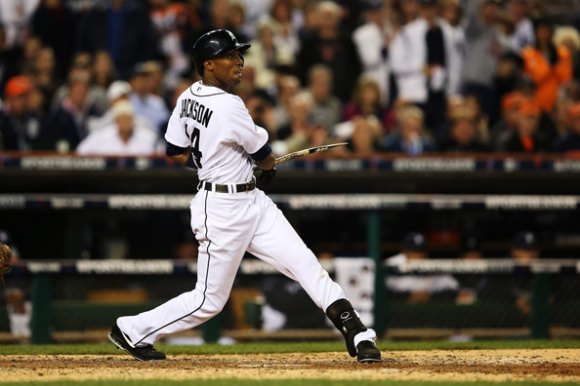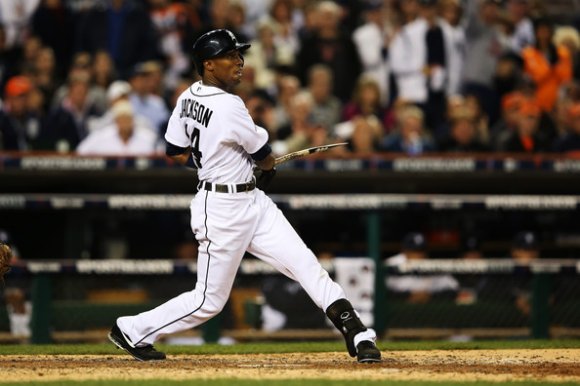 When Peter Gammons mentioned talk about a swap of Brett Gardner and Austin Jackson, it seemed appalling for two reasons. First, why would Detroit entertain such an idea? Second, why did Gammons claim it "makes sense for both teams"? If this is indeed on the table, shouldn't the Yankees take it?
In the Tigers, the Yankees might have found a team that doesn't undervalue Brett Gardner. Swapping him for Jackson, who is three and a half years younger and has two more years of team control, would indicate that the Tigers do value Gardner*. It might also indicate that, as they did when they traded Curtis Granderson to the Yankees in exchange for Jackson, that they're looking to get rid of a player before he becomes too expensive.
*Of course, that statement could look a whole lot different if the Yankees are supposed to send additional players to Detroit.
A year ago it might have seemed insane to even entertain the idea of trading Jackson. In his age-25 season he broke out to hit .300/.377/.479, upping his power while cutting down on his strikeouts significantly. A year later he looks slightly less impressive, having hit .272/.337/.417 in roughly the same number of PA. A hamstring injury did hamper him earlier in the season. Perhaps the Tigers saw something they didn't like and now think that perhaps Jackson's 2012 was a standout he's not likely to repeat.
In Gardner the Tigers would lose a year of control, but they'd gain a valuable player who slots well into their lineup and helps balance their righty-heavy approach. This goes especially after they signed Rajai Davis to a two-year deal. Instead of having the first four hitters in their lineup bat righty — Jackson, Torii Hunter, Miguel Cabrera, and Ian Kinsler, in some order — they can lead off with the lefty Gardner. They might also think it more possible to sign him to an extension at a far more affordable rate than Jackson.
Jackson would better balance the Yankees' lineup as well. Instead of leading off with the lefties Jacoby Ellsbury and Gardner, they could go with Ellsbury and Jackson, followed by Carlos Beltran, Mark Teixeira, Brian McCann, and Alfonso Soriano, giving Joe Girardi his desired lefty-righty split (with interspersed switch hitters). Jackson, who by the eye and generally by the numbers, plays good defense, could show similar value to Gardner in left, since few left fielders can cover as much ground as those two.
The trade, then, makes a little more sense from each team's perspective. The Tigers get a player they can perhaps sign to a reasonable extension (which is probably not possible with Jackson, a Scott Boras client). The Yankees get a young player who gives them an extra year of team control. Both teams gain balance. Yet this move can't be high on the Yankees' priority list currently. They have areas of need, and if they're going to trade Gardner now it would have to help cover one of them.
There is no reason, currently, to trade Gardner for anything other than a mid-rotation starting pitcher or a decent second baseman. The latter seems pretty out of the question. The former becomes a difficult proposition if teams don't value Gardner as the Yankees do. Still, they'll almost certainly wait out the market, seeing what they can get in exchange for Gardner on that front.
If the Yankees sign Omar Infante and Masahiro Tanaka, the situation might change. But even then, I'd rather see the Yankees explore an extension with Gardner than trade him. Given his value, and the reality that he'll probably get a reasonable contract, it would seem a better idea to keep Gardner for four or five years rather than trade him. If, on the other hand, Gardner isn't open to an extension, if he would rather play center and lead off for another team, then it's easy to see why the Yankees would pull the trigger. They get two years of a player with similar current value and a higher upside, at a slightly more expensive rate.
The rumor surfaced this week, because this is the week that rumors surface. But at this point, it doesn't make much sense for the Yankees. Swapping a good outfielder for another good outfielder in order to gain a year of control and balance the lineup is nice, but it can't be near the top of the priority list. The Yanks have other moves to make right now, and Gardner is valuable to them. If a move like this is to occur, and there is certainly some sense in it, chances are it would come far, far closer to spring training.