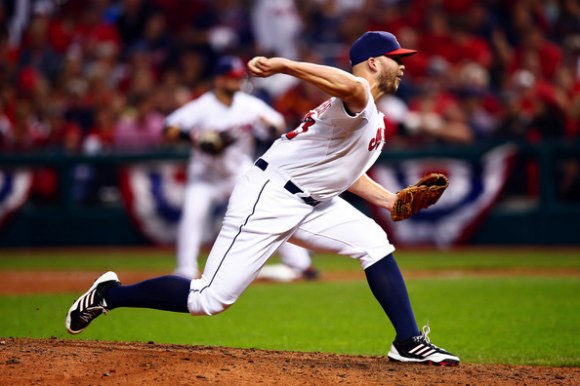 When pitching becomes available, the Yankees will undoubtedly show interest. So when we learned yesterday that the Indians are willing to listen on Justin Masterson, it was only a matter of time before some reporter noted that the Yankees are in on him. Sure enough, this morning Bob Nightengale mentioned that the Yankees "would love to grab [Indians] Masterson in a 3-team trade involving CF Gardner." Plenty of other teams will be interested, of course, and we know the Yankees have limited resources to use in a trade.
Buster Olney might have thrown cold water on the idea, but trades with no legs can sprout legs pretty quickly, especially when every team is in the same place with nothing else really to do except talk trade. Then again, this situation appeared to be a long shot even when we first heard about it. For that reason, we'll start with the cons of the deal.
Cons
The Yankees and the Indians don't match up directly. With Michael Bourn and Michael Brantley, the Indians have no need for Brett Gardner. That would necessitate a third team, as Nightengale noted. While we saw a three-team trade yesterday, they're notoriously complex.
The Indians, who made the playoffs in 2013 for the first time since 2007, are still contenders in 2014. They already lost Scott Kazmir, and their best 2013 starter, Ubaldo Jimenez, is currently a free agent. Without Masterson they'd have Corey Kluber, Zach McAllister, Danny Salazar, and Trevor Bauer in the rotation. That's young, sure, but they'd need more to become a playoff rotation.
In fact, they might need more now in order to be a playoff rotation, further confounding the situation.
Masterson is a free agent after this year, leaving the Yankees again in a position where they need rotation upgrades. That could be a pro, as Mike wrote yesterday, but how many of those six pitchers will actually make it to free agency?
Pros
Masterson improved his game in 2013, increasing his strikeout rate and improving his performance against left-handed hitters. At the same time, he still generates a huge number of ground balls.
At age 29 in 2014, Masterson is in position for a monster year. At various points in the past he has shown a decent walk rate (2011), a high strikeout rate (2013), and the ability to pitch over 200 innings (2011 and 2012). If he puts them all together in his walk year, he'll provide insane value.
Since coming up in 2008, and throug his 1013 career IP, Masterson has never hit the DL. That's only slightly misleading; a ribcage injury last September would have put him on the DL if it weren't for expanded rosters. True, Masterson did undergo shoulder labrum surgery — but on his non-throwing shoulder. Perhaps that threw him off in his career-worst 2012.
After earning just over $5.5 million last season, Masterson appears in line for a $10 million salary this season, according to Matt Swartz of MLB Trade Rumors. That's easily affordable for the Yankees.
Unfortunately, in a situation like this, the pros also lend themselves to cons. The Indians will likely get more value out of Masterson, especially considering their current state of pitching, than they would in a trade. The necessity of adding a third team pretty much puts the nail in the coffin on this one. Maybe there's one nail left to be hammered down, leaving just enough breathing room to keep our hopes alive.