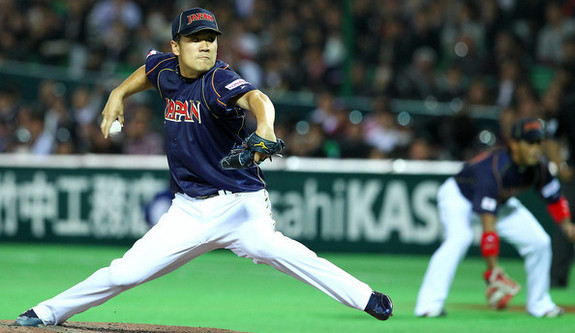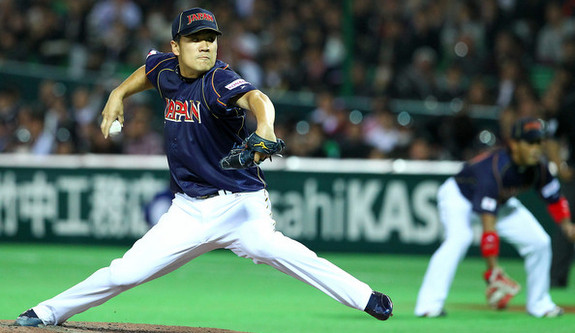 Two weeks and three days from now, we will know where Masahiro Tanaka will spend the 2014 season. He's either going to sign with one of the 30 MLB teams by 5pm ET on January 24th or return to the Rakuten Golden Eagles for another year. I like having a hard deadline like that. Wish they could do it for every free agent.
The Yankees are expected to pursue Tanaka very aggressively and in fact, they've already made contact with his agent Casey Close. They haven't made an offer yet, at least as far as we know, but that will happen at some point relatively soon. The new posting system means the price for Tanaka will be enormous, larger than other Japanese imports and easily the richest deal ever given to an international player. (The current record is the $68M the White Sox gave Jose Abreu a few weeks ago.)
Who is Tanaka though? I mean, we know who he is, but what are his strengths and weaknesses? How is he expected to fare in Major League Baseball compared to the less competitive Nippon Professional Baseball? We've read bits and pieces about the right-hander in recent months but I think it's time to put together a one-stop shop for all things Tanaka. That's what I tried to do with this post — create a smorgasbord of information on the guy. If you have a question about him, hopefully the answer is here. Let's dive in.
The Vitals
Born: November 1st, 1988 (age 25)
Height: 6-foot-2
Weight: 205 lbs.
Bats/Throws: right/right
Background (i.e. short version of Wikipedia): Tanaka drew up in Itami, a suburb of Osaka in southern Japan. He attended Komazawa University Tomakomai High School in Hokkaido, which is a couple hundred miles from home in northern Japan. The Rakuten Golden Eagles, Nippon Ham Fighters, Orix Buffaloes, and Yokohoma BayStars all selected Tanaka with their first round pick in the 2006 NPB draft. The teams then drew straws and Rakuten won his rights. The NPB draft is weird.
Tanaka's nickname is Ma-kun and it's often abbreviated to just Ma. It doesn't actually mean anything from what I can tell, it's just a high school nickname that stuck. Tanaka's wife is Mai Satoda, a big time pop star in Japan.
Scouting Reports
This seems like the next logical step in this information overload. Here is a scouting report on Tanaka from Ben Badler (subs. req'd) back in August:
At 6-foot-2, 205 pounds, Tanaka throws a low-90s fastball that can touch 96 mph. Even though Tanaka can reach the mid-90s, his fastball is the pitch that gives some scouts pause because it comes in on a flat plane, making it more hittable than the velocity might suggest. Tanaka has two secondary pitches that have earned grades of 60 or better on the 20-80 scouting scale, including a 70 splitter with late downward action to keep hitters off his fastball. His low- to mid-80s slider is another plus weapon, while he'll mix in a curveball as well.
And here is another scouting report, courtesy of Keith Law (subs. req'd) and his top 50 free agents list from November (Tanaka ranked third behind Robinson Cano and Jacoby Ellsbury):
Tanaka used to pitch away from contact, but in the past two years, he has become more aggressive within the zone with his fastball, and his splitter is a solid 60 on the 20-80 scale. His fastball sits in the low 90s, and his slider will flash above-average to plus, while he mixes in a below-average curveball and a cutter, the same "kitchen-sink" approach pitchers often use in NPB but have to simplify when they come to MLB.

Tanaka's delivery doesn't include as much hip rotation as many pitchers developed in Japan; he hides the ball behind him but doesn't generate much torque, and he's got a big hook in the back of his delivery. He also missed a month with an undisclosed injury in spring 2012, which has to be a concern given his high workloads dating to high school.

The optimistic view of Tanaka sees incredible control and at least one pitch, possibly two, to miss MLB hitters' bats, making him worth the $15 million-plus it'll take in annual salary to sign him. There are absolutely reasons for skepticism here, but the same holds true for every free-agent starter on this list.
Courtesy of Sweeny Murti, Rakuten closer and former Yankees hurler Darrell Rasner recently spoke about Tanaka as a teammate and gave us a glimpse of how he's been using his workouts to prepare for MLB:
He's a good teammate. I've watched him last couple years and he's studied English, he's worked really hard on that. He was very good with us foreign guys (one-time Yankees Andruw Jones and Casey McGehee and former Phillies/Astros/Royals pitcher Brandon Duckworth also played for Rakuten in 2013). Just him working English and trying to communicate with the non-Japanese speaking players was really cool. A great teammate, fun in the clubhouse. His work ethic is awesome and just all around good guy, good heart.

…

The ball is different. The major league ball is a lot slicker and a little bit bigger. I don't know what it is, but (Japanese baseballs) do have some (grip) to them. But (Tanaka) plays catch with the major league ball and throws bullpens with the major league ball. I personally don't think its going to be a big thing for him. His competitiveness will get him through little things like that that other guys complain about. He's going to get through those.
This last nugget from Jeff Passan back in November isn't really a scouting report, but it does shed some light on how the Yankees view Tanaka:
Yankees officials are not concerned the rough tenures of Japanese pitchers Hideki Irabu and Kei Igawa would in any way repeat themselves with Tanaka. In fact, Yankees scouts compare his temperament and makeup to a player with far more success in New York: Hideki Matsui.
In other parts of their write-ups, both Balder and Law says Tanaka is viewed as someone who can step right into a big league rotation and be a number two starter almost immediately. It's worth nothing other successful Japanese starters have gone through what amounts to a one-year transition period — they really took off in their second MLB season, not the first.
Obligatory Video
Because we have to, here is some video of Tanaka from the 2013 season:
That's every one of his strikeouts, both regular season and postseason. I didn't bother to count but there are around 200 of 'em.
Obligatory Stats
Because we have to, here are Tanaka's career stats with Rakuten:
Yr
Age
Tm
W
L
ERA
GS
CG
IP
H
R
ER
HR
BB
SO
WHIP
HR/9
BB/9
K/9
K/BB
'07
18
Rakuten
11
7
3.82
28
4
186.1
183
83
79
17
68
196
1.347
0.8
3.3
9.5
2.88
'08
19
Rakuten
9
7
3.49
24
5
172.2
171
71
67
9
54
159
1.303
0.5
2.8
8.3
2.94
'09
20
Rakuten
15
6
2.33
24
6
189.2
170
51
49
13
43
171
1.123
0.6
2.0
8.1
3.98
'10
21
Rakuten
11
6
2.50
20
8
155.0
159
47
43
9
32
119
1.232
0.5
1.9
6.9
3.72
'11
22
Rakuten
19
5
1.27
27
14
226.1
171
35
32
8
27
241
0.875
0.3
1.1
9.6
8.93
'12
23
Rakuten
10
4
1.87
22
8
173.0
160
45
36
4
19
169
1.035
0.2
1.0
8.8
8.89
'13
24
Rakuten
24
0
1.27
27
8
212.0
168
35
30
6
32
183
0.943
0.3
1.4
7.8
5.72
7 Seasons
99
35
2.30
172
53
1315.0
1182
367
336
66
275
1238
1.108
0.5
1.9
8.5
4.50
Tanaka won the Sawamura Award (Cy Young equivalent) in both 2011 and 2013. Otherwise the stats looks good to me. I reckon the guy can pitch.
Stats, Now With Context
Did you know that offense (particularly power) had declined so much in Japan these last few years that NPB started using what amounted to a juiced ball in 2013 and didn't bother to tell the Japanese players' union until midseason? True story. Because of that, we need to add some context to Tanaka's stats otherwise we don't know what they're telling us.
Here's a table from David Golebiewski that compares Tanaka's performance over the last three seasons to the performances of other NPB aces during the three years before they came to MLB:
By now you know how ERA+ works, right? One hundred is league average and the higher the number, the better the pitcher performed relative to rest of the league. It's the same idea for K+, BB+, and HR+, just using strikeout, walk, and homerun rates, respectively. Got it? Good.
As you can see, Tanaka's performance relative to the rest of NPB these last three years is very much on par with Yu Darvish's performance the three years before he came stateside. He's also been way better than Daisuke Matsuzaka was before he came to MLB, ditto Kei Igawa and Hiroki Kuroda and pretty much everyone else. As far as NPB pitchers go, Tanaka has been as good as it gets.
About That Workload
Recently, both Tom Verducci and Passan noted Tanaka's massive career workload is a red flag. And make no mistake, it has been massive: over 1,300 innings before his 25th birthday, not counting the postseason. The only MLB pitcher to approach that number in recent years is Felix Hernandez, who chucked 1,388.1 innings before turning 25. Clayton Kershaw (1,180), CC Sabathia (1,165.1), Matt Cain (1,095.2), Dontrelle Willis (1,022.2), and Jon Garland (1,009) are the only other pitchers this century to throw more than a thousand innings before their 25th birthday. Here's the full list, if you're interested.
Of course, bulk innings are only one piece of the workload equation. Total pitches are another factor to consider and Tanaka sure has thrown a ton of pitches over the years. Here are some numbers from Passan:
Over the last five years, he has averaged more pitches per start, 113.3, than any pitcher in the major leagues. The closest is Justin Verlander at 112.9 and Felix Hernandez ranks second at 106.5. And it's not just the per-game haul. Some of the individual outings Tanaka has logged horrify the pitch-count phobes.

There were the 742 pitches Tanaka threw over six starts in a two-week span as a 17-year-old at the national high school baseball tournament. And the back-to-back 137- and 142-pitch starts at 20 years old. The coup de grace came during the Japan Series this season, in which Tanaka went 160 pitches during a Game 6 loss, then came back the next day and threw another 15 in relief to close out Rakuten's championship victory.
Amazingly, Passan never mentions in his article that NPB starters are on a seven-day schedule, not a five-day schedule like MLB starters (Verducci mentions it in passing). They start once a week in Japan, which allows their pitchers to throw a few extra pitches each time out. So while Tanaka has a lot of high individual game pitch counts, he also had extra rest. Here's another note on his workload from J.J. Cooper:
Over the past four seasons, Tanaka has averaged eight innings per start and he's pitched a complete game in nearly 40 percent of his starts. Over that same time frame Justin Verlander, considered the iron man of current U.S. starting pitchers, has averaged just under seven innings an outing and has pitched a complete game in 10 percent of his starts.

But Tanaka has been starting only once a week, not once every five days. And he's been doing it against lineups where he can quite clearly gear up for the middle of the lineup while cruising through the bottom third with lesser stuff, something BA's Ben Badler noted frequently during the 2013 season.
Does that mean Tanaka's workload is not a concern? Of course not. Throwing so many innings and pitches — especially at such a young age — is generally a bad idea. Pitching is an unnatural act and doing it a lot will lead to injury. It's inevitable. The injury could come next week, next year, next decade, who knows? But do it long enough and you're going to get hurt, guaranteed.
Dice-K and (to a lesser extent) Darvish were subject to similarly high workloads at a young age and were mostly lauded for being durable. That tone has changed in recent years, especially since Matsuzaka broke down two years after coming to MLB. As Verducci wrote two years ago, the Rangers made an effort to control Darvish's workload after signing him by reducing his side work and using off-days to give him extra rest throughout the season. Tanaka's next team figures to do something similar but there is no sugarcoating it: his workload is a red flag.
Force Those Comps
I hate comps, the cool shorthand for player comparisons. They're forced more often than not, especially when it comes to performance. Tanaka is from Japan and therefore we should only compare him to other Japanese pitchers, right? No. Well, not unless we're talking about workload/transition from NPB to MLB kinda stuff.
If we must (and I guess we must) come up with some comps for Tanaka, we should compare him to similar pitchers regardless of whether they were born in Japan, the Dominican Republic, or Southern California. We should compare him to other pitchers who don't walk anyone and operate with a low-90s fastball, one knockout offspeed pitch (preferably a splitter), plus another very good offspeed offering.
Jim Bowden mentioned Dan Haren as a comp for Tanaka while Tony Blengino (former stats guy in the Mariners' front office) mentioned Jered Weaver. Both pitchers are workhorse righties with average-ish fastballs and an array of secondary pitches. Haren in particular seems like a strong comp* because he used a splitter as well, though he is several inches taller than Tanaka and that's something to consider. Pre-shoulder surgery Freddy Garcia could be another comp as well.
* Haren averaged 4.7 bWAR and 227.1 innings per season from age 25-30, in case you're wondering. Everyone should be thrilled if Tanaka turns into Haren.
It's also worth pointing that like Tanaka, both Haren and Weaver work up in the zone with their fastballs and they've succeeded in MLB by generating weak fly balls. They don't get many grounders but the fly balls they get usually don't travel very far. Here are their batted ball distance charts, courtesy of Baseball Heat Maps: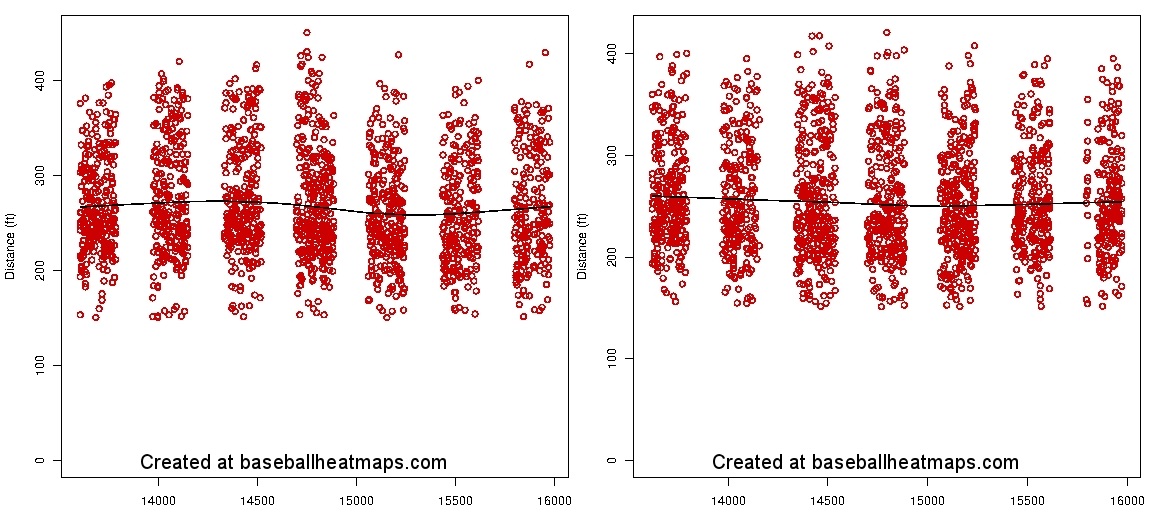 Haren is on the left and Weaver is on the right. You can click the image for a larger view, if you must.
The red dots are individual fly balls and the vertical clusters are seasons, so that's 2007-2013 from left to right. As you can see, both guys have consistently averaged 275-ish feet per fly ball over the years. A 275-ish foot fly ball is an out with a defensively competent outfield. There's a reason Haren (.288 BABIP from age 25-30) and especially Weaver (.268 BABIP from age 25-30) have enjoyed lower than league average (.297) batting averages on balls in play over the years. Those weakly hit fly balls are easy outs.
Anyway, back to Tanaka. Dave Cameron came up with some statistical comps — I don't necessarily agree with his 46-54% ground ball rate assumption, but let's roll with it — and the group ranges from awesome (James Shields, Cole Hamels, Zack Greinke) to eh (Jon Niese, Wandy Rodriguez, Edwin Jackson). More than anything, Cameron's list reinforces that the range of possible outcomes is huge. We can slap a comp on any player but they're usually unfair and almost always incorrect. Masahiro Tanaka isn't the next Darvish. He isn't the next Igawa either. He isn't the next anyone. He's the first Masahiro Tanaka.
Let's Talk Money
Thanks to the new posting system, Tanaka is a free agent with a $20M surcharge called a "release fee." Only the team that signs him has to send the $20M to Rakuten and apparently the release fee is paid out in installments over several years, so it isn't even a huge one-time payment (like posting fees under the old system) that would burden a small market club. The new system is very player friendly but it really sucks for his former team in Japan. Hard to understand why NPB agreed to it.
The FanGraphs crowdsourcing says most fans expect Tanaka to receive a six-year contract in the $120M-124M range, and according to our poll, that's maximum most RAB readers are comfortable paying him. That's just the contract, so add in the $20M release fee on top of that and total outlay is $140M-144M for six years. There's always a chance some team will go nuts and blow everyone else out of the water with a big offer, but six years and $120M-ish seems like the contract benchmark right now.
The Rangers paid a total of $107.7M for Darvish (contract plus posting fee) while the Red Sox paid $103.1M for Dice-K. Tanaka has way more negotiating leverage than both of those guys thanks to the new system, plus teams have more money to spend right now than ever before. It really is a perfect storm — the available free agent pitchers are all sketchy, the new national television contracts just kicked in, and the new posting system was implemented.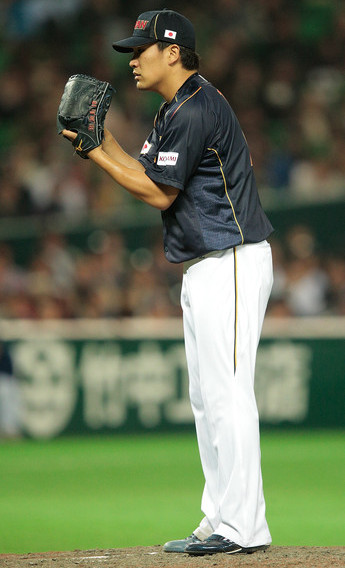 Given the Darvish and Dice-K costs plus general inflation, that $144M or so outlay for Tanaka actually seems like it might be a little light. I wonder if it'll end up being closer to $160M between the contract and release fee. Either way, it's the shape of that financial commitment that hurts the Yankees and really all big market teams. Only the contract is subject to the luxury tax, not the release fee. Darvish and Dice-K commitments were basically split right down the middle, posting fee and contract. Tanaka will be almost all contract.
The Yankees spent the last two years making move to help them get under the $189M luxury tax threshold in 2014 but lol that went right out the window as soon as they missed the postseason last year and lost nearly $60M in ticket revenue alone. Even with Robinson Cano in Seattle, the Yankees are going to be over the luxury tax threshold this coming year no matter what happens with Alex Rodriguez's suspension. There's certainly no way they'll be under if they sign Tanaka or a similarly priced pitcher.
A six-year contract worth $120M contract carries a $20M average annual value, so adding Tanaka would instantly cost the team $10M in luxury tax money next year. If they are over the $189M threshold in 2015 and 2016 — seems likely given their current contract commitments — that's another $20M total in luxury tax money thanks to Tanaka. The Collective Bargaining Agreement expires following the 2016 season and who knows what will happen with the luxury tax then. Given how healthy the game is financially, I think they'll have to raise the threshold to $200M or so at the very least. But I digress.
Tanaka would not be a $140M-ish commitment for the Yankees. He would really be something like a $170M-ish commitment thanks to the luxury tax, maybe more depending on what happens with the next CBA. Thanks to their payroll level, every dollar the Yankees spend on player contracts from here on out is really $1.50. That's not insignificant and, as Hal Steinbrenner has made abundantly clear the last two years, ownership is very concerned about the bottom line.
The Competition
I looked at the competition for Tanaka a few weeks ago, but since then Badler reported the Mariners are seen as the favorite to sign him. At the same time, Ken Rosenthal reports the Mariners' front office needs to persuade ownership to open up the wallet to make another big move(s). Given the size of Tanaka's inevitable contract, just about every GM will have to convince their owner he's worth it. I'm not sure Seattle is unique in that regard.
Based on everything we've heard in recent weeks, here's how the competition for Tanaka stands right now:
Serious Bidders: Cubs, Dodgers, Mariners, Yankees
Second Tier Threats: Angels, Blue Jays, Phillies, Rangers, Red Sox, Tigers
Interested But Financially Disadvantaged: Braves, Diamondbacks, Indians, Orioles, Pirates
That's half the league right there. Some of those second tier clubs could simply be playing possum and preparing a massive offer for Tanaka. They all have the financial wherewithal to make a market changing offer if ownership really wanted.
The great unknown here is Tanaka's personal preferences. Is he simply going to shoot for the largest payday? Or does he want to go somewhere where he's comfortable and the travel back to Japan is relatively easy? Is being able to wear #18 — considered the "ace number" in Japan — important to him? That would put the Yankees (Kuroda) and Mariners (Hisashi Iwakuma) at a disadvantage. Those and a million other questions can be answered only by Tanaka and his agent. The Yankees' greatest advantage here is their money — they can match pretty much any offer he gets if they really wanted — and maybe (only maybe) the presence of Kuroda and Ichiro Suzuki as well. Just because they're all Japanese doesn't mean they're guaranteed to get along, you know.
Tanaka is the first truly great Japanese pitcher who will be able to pick his MLB team. Darvish and Dice-K were stuck going through the posting system and both Kuroda and Iwakuma were considered good but not great pitchers when they came over as free agents. (Both have exceeded expectations in MLB.) By my unofficial count, 37 players have come over from Japan as free agents and there was no discernible location bias: 14 signed with East Coast teams (including NPB stars like Hideki Matsui and Kaz Matsui), 12 signed with West Coast teams (Kenji Johjima and Hideo Nomo), and the other 11 signed with Middle America teams (Tadahito Iguchi and Kosuke Fukudome). Japanese players have not shown an inclination to stay on the West Coast so the travel back to Japan is easier, but Tanaka may feel differently. We just don't know.
* * *
Thanks to the new posting system, Tanaka is the most compelling free agent in recent memory. He's a complete unknown at the big league level yet the tools are there for him to be an impact player right away. It's almost as if a draft prospect like 2009 Stephen Strasburg or 2011 Gerrit Cole were a free agent, except you don't have to worry about stretching him out to 200 innings. Some team — and I truly hope it is the Yankees — will pay Tanaka a boatload of money without being completely sure of what they're buying.
Hopefully any and all of your questions where answered in this post but I really doubt it. So much about this situation and Tanaka himself is mystery to us, from where we sit. Despite all the money being thrown around and all the scouting that has taken place — the Yankees have heavily scouted Tanaka, including sending both assistant GM Billy Eppler and former special assignment scout Don Wakamatsu to see him — no one knows how this guy will fare in MLB until he gets up on a mound. I find this whole situation fascinating and I'm really looking forward to seeing it play out.