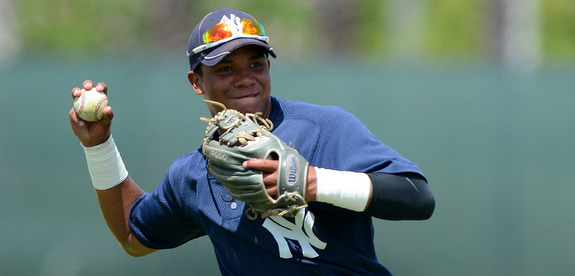 Pitchers and catchers are due to report on Friday, so between now and then we're going to look at the best prospects in the Yankees' system heading into the new season. My annual Preseason Top 30 Prospects List will be posted tomorrow morning, but first we're going to look at some players on the outside looking in. These are the guys with a chance to jump into the Top 30 next year.
Only one of last year's Not Top 30 Prospects made the actual Top 30 this year, but another was among the final cuts. As a reminder, these five prospects should not be considered prospects 31-35. The are simply five prospects who I believe have a chance to make next year's Top 30 with a healthy and strong 2014 season. That's all.
RHSP Domingo Acevedo, 19
Signed to unknown bonus during the 2012-13 international signing period, Acevedo pitched to a 2.63 ERA (2.05 FIP) with 43 strikeouts (24.2%) and eleven walks (6.2%) in 41 innings down in the Dominican Summer League last year, and he's poised to come stateside in 2014. He is a massive kid, listed at 6-foot-7 and 242 lbs. despite not turning 20 years old until this June. His fastball cashes the check that big frame writes, sitting in the mid-90s and running as high as 99 on occasion. Acevedo's top secondary pitch is a changeup, which at this point is just okay and still a work in progress. His breaking ball needs work as well. Yes, he's very raw and he has a lot of development ahead of him, but Acevedo has a huge ceiling and could soon rank among the system's best arms.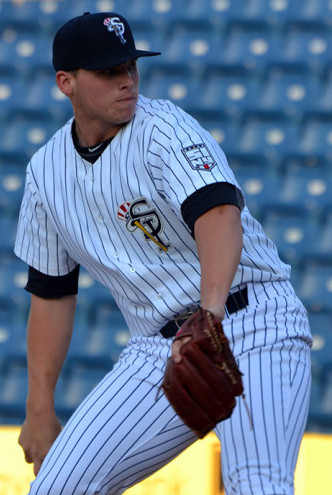 RHSP Rookie Davis, 20
Davis, the team's 14th round pick in the 2011 draft, dominated with Short Season Staten Island last year, posting a 2.36 ERA (2.72 FIP) with 39 strikeouts (20.6%) and 13 walks (6.9%) in 42 innings. That performance earned him a late-season promotion to Low-A Charleston, where he threw ten scoreless innings with eight strikeouts and zero walks in two spot starts. Davis is another big guy, listed at 6-foot-3 and 235 lbs., and these days his fastball sits 91-93 mph after sitting 89-90 in high school. His big breaking curveball has developed into a reliable secondary pitch and his changeup has made some progress as well. With that big frame and the makings of a three-pitch mix, Davis has all the look of a mid-rotation workhorse. He'll likely rejoin the River Dogs to start the season.
RHSP David Palladino, 20
As big as Acevedo is, he's no Palladino. The Bergen Country raised right-hander is listed at 6-foot-9 and 235 lbs., but unlike other pitchers that size, he does a good job of repeating his delivery. Palladino's fastball is an easy 90-93 mph, occasionally touching 96-97. A mid-70s curveball is his top secondary offering but also throws both a slider and a changeup. His mechanics can fall apart from time to time, but Palladino has a good fastball and three distinct offspeed pitches. There's little doubt he can remain a starter long-term thanks to his strong frame and deep repertoire, and if either his slider or changeup develops into a reliable third pitch, he could shoot up the minor league ladder in a hurry. Palladino pitched to a 4.67 ERA (3.85 FIP) with Short Season Staten Island after being drafted in fifth round last year and is likely to join Davis in the Low-A Charleston rotation when the 2014 season opens in a few weeks.
SS Thairo Estrada, 17
The Yankees signed Estrada for only $49k back in 2012 and they aggressively pushed him to the U.S. last year, but he more than held his own in the Rookie Gulf Coast League: .278/.350/.432 (~130 wRC+) with eleven doubles, five triples, two homers, and seven steals in 50 games. Thairo is right-handed hitter with a real quick swing and the ability to consistently get the fat part of the bat on the ball. He's a speedy runner and a slick fielder who showed the Yankees he could play both second base and shortstop during his GCL stint last summer. There are questions about how much power Estrada will have in the future because his swing is so level and he's on the small side (listed at 5-foot-11 and 155 lbs.), but he also has plenty of development left ahead of him. Thairo could return to the GCL for another year not only because he's so young, but because both 2B Gosuke Katoh and SS Abi Avelino (and SS Tyler Wade) are likely heading to Short Season Staten Island.
LHSP Omar Luis, 21
Luis was New York's last big international signing before the new spending restrictions were put into place, agreeing to a $4M bonus that was reduced to $2.5M after something popped up in his pre-signing physical. His pro debut with the Rookie GCL Yanks was uneven — 5.68 ERA (~3.10 FIP) with 43 strikeouts (26.2%) and 29 walks (17.7%) in 31.2 innings — but somewhat expected after he spent eight months waiting for his visa. There was quite a bit of rust to shake off. When at his best, the 6-foot-0, 210 lb. southpaw sits anywhere from 90-95 mph with his fastball while showing two swing-and-miss pitches in his changeup and curveball. Some herky jerky-ness in his delivery affects his command. Luis will be eligible for the Rule 5 Draft next winter due to a contract snafu, but he hasn't exactly made a strong first impression between the poor showing in the GCL and a recent DUI arrest. Still, as a three-pitch lefty who received a sizable bonus, the Yankees will have their eyes on Luis this summer and strongly consider him for a 40-man roster spot after the season. I expect him to start the year with a full season team, possibly High-A Tampa.