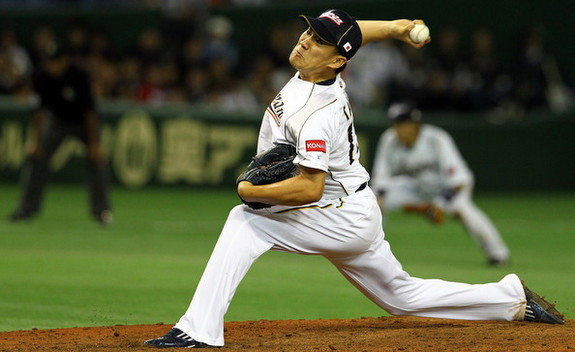 Regardless of what Brian Cashman says during radio interviews, the Yankees have very high hopes for Masahiro Tanaka. No team spends $155M on a guy unless they expect him to be an impact player. Sure, there may be an initial adjustment period coming over from Japan, but the Yankees are expecting Tanaka to slot in near the top of their rotation for at least the next four years.
Just about every scouting report we've seen these last few weeks says Tanaka owns a swing-and-miss splitter, arguably the best split-finger fastball in the world. That's the pitch that separates him from the Kei Igawas and Kaz Ishiis of the pitching world and has everyone thinking he'll be a number two-ish starter long-term. Despite that out-pitch splitter, Tanaka's strikeout rate hasn't been all that impressive in recent years:
The big league average was 7.6 K/9 and 19.9 K% last season, so striking out fewer than one-quarter of batters faced in NPB doesn't exactly scream "ready to dominate MLB," especially considering the downward trend in Tanaka's strikeout rate. Having a swing-and-miss splitter that is racking up fewer and fewer strikeouts is a red flag, no doubt. We do have some explanation for the dropping strikeout rate though, courtesy of Keith Law (subs. req'd):
Tanaka used to pitch away from contact, but in the past two years, he has become more aggressive within the zone with his fastball, and his splitter is a solid 60 on the 20-80 scale.
According to Law, Tanaka essentially started pitching to contact these last few years. The hitters in Japan are not all that great, and it seems like he realized he didn't need to nibble on the edges to succeed, he could simply pound the zone. That approach won't work in MLB, or at least it won't work as well. Tanaka will have to go back to living on the corners, and by all indications, he can do that.
Sticking to the edges of the plate should help increase Tanaka's strikeout rate naturally — he is bound to get some favorable calls on borderline pitches, especially since Brian McCann and Frankie Cervelli are better than average pitch-framers — but other factors will work in his favor as well. First and foremost is the general hitting style around the league. Here's something Buster Olney (subs. req'd) wrote a few weeks ago, with an assist from former Yankee Casey McGehee, who was Tanaka teammate with the Rakuten Golden Eagles in 2013:
McGehee believes that Tanaka will continue to improve pitching in the major leagues because the style of play suits Tanaka. The bottom of the lineups in Japan, McGehee said, are often rounded out with hitters whose goal is merely to fend off the forthcoming pitch. They'll shorten their swing, foul the ball off, and survive to see another pitch. Hitters in the majors, McGehee noted, are more apt to look to do damage — to take bigger and more aggressive swings, in turn having plate appearances with few pitches.
The league average strikeout rate in Japan last year was 6.7 K/9 and 17.5 K%, so a large portion of the hitters definitely focused on simply making contract. The idea of hitters "whose goal is merely to fend off the forthcoming pitch" is not a thing that exists in MLB. Don't get me wrong, they're all trying to make contact, but the emphasis is on hard contact. Strikeouts are generally more accepted these days, as long as the trade-off involves a higher on-base percentage and more power.
The idea of a pitcher coming over from Japan and improving his strikout rate in MLB seems kinda silly — the competition level in NPB is clearly not the same as is in the big leagues — but it's hardly unprecedented. Here are how the five most recent NPB imports fared after coming over to the States:
| | MLB K% | Final NPB Season K% | Final Three NPB Seasons K% |
| --- | --- | --- | --- |
| Yu Darvish | 30.1% | 31.2% | 27.8% |
| Hisashi Iwakuma | 20.6% | 19.1% | 18.2% |
| Hiroki Kuroda | 18.2% | 16.7% | 18.5% |
| Wei-Yin Chen | 18.6% | 14.3% | 18.9% |
| Daisuke Matsuzaka | 20.8% | 27.7% | 25.2% |
Chen is from Taiwan but he did pitch for the Chunichi Dragons in Japan from 2005-11 before signing with the Orioles. Anyway, aside from Dice-K, recent Japanese starters have maintained if not improved their strikeout rate after coming over to MLB. The hitters over here are better than the hitters in Japan, but they will also sell out for power and strike out more often. Furthermore, the bottom of the zone has expanded in recent years (as Jon Roegele recently explained), which should help Tanaka and his diving splitter.
There is one other thing to consider, and that is pitching coach Larry Rothschild. Rothschild came to the Yankees with a reputation for improving strikeout rates and that has held true during his time in pinstripes: Yankees pitchers had a 7.38 K/9 (19.2 K%) during the three years before Rothschild and a 7.80 K/9 (20.5 K%) in the three years with Rothschild. Obviously personnel has something to do with that, but veteran guys like CC Sabathia and Andy Pettitte have seen their strikeout rate improve under Rothschild. Tanaka may do the same.
It's pretty obvious why strikeouts are good, right? Nothing bad can happen when the ball is not put in play, and that is especially true for the Yankees, who could have a pretty ugly infield defense this year. Tanaka's strikeout rate with Rakuten last year wasn't anything special, but there are a number of reasons why he might whiff more batters in MLB going forward. His pitching approach, more aggressive hitters, the expanding zone, Rothschild, all of that and more can work to his advantage. Tanaka doesn't necessarily need to strike a ton of guys out to be effective, but the more strikeouts he records, the better off he and the Yankees will be.