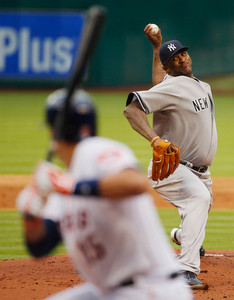 The Yankees dropped their season-opener to the Astros on Tuesday for more than a few reasons, including a rebuilt offense that didn't show up until about the seventh inning. CC Sabathia shoulders most of the blame because he was awful, allowing six runs in six innings. Doesn't matter who you're playing, climbing out of a 6-0 hole is tough for any lineup.
That game really was a tale of two Sabathias. He was abysmal in those first two innings, allowing all six runs on six hits, including two homers and two doubles. Over his final four innings, Sabathia kept Houston off the board and held them to a walk and two singles, one of which didn't leave the infield. Five of his six strikeouts came in those final four innings and only one of the 14 batters he faced after the second hit the ball in the air. Sabathia was terrible the first two innings and pretty damn good the final four.
As I mentioned yesterday, the mid-start turn-around was so drastic that you have to think some kind of adjustment was made. Maybe Sabathia did it on his own, maybe pitching coach Larry Rothschild pointed something out, maybe it was Brian McCann. We've seen CC struggle early in a start before figuring it out before, so Opening Day wasn't that unique, but it was especially noticeable on Tuesday. For what it's worth, Sabathia chalked it up to adrenaline.
"It got out of hand early," said CC to Chad Jennings after the game. "That's been the toughest thing for me. I do get so excited. I feel like I'm a kid again. I would sleep in my uniform if I could the night before Opening Day. I think it's just the nervousness, the jitters, wanting to start the season off good so bad, I end up pitching bad."
It's very possible Sabathia's adjustment was simply calming down, but whatever it was, it should show up in the results somewhere. His velocity held steady all game — his fastball averaged 89.7 mph on Tuesday, down from 90.3 mph on Opening Day last year — and while Sabathia said he starting throwing his new cutter in the later innings, PitchFX didn't pick any up. Maybe the system is broke, maybe the cutting action was so big they were classified as sliders. Who knows?
Whenever Sabathia struggles, it seems like it's because he misses his location. That sounds obvious, I know. Sure, he gives up the occasional hit on a pitcher's pitch like everyone else, but the Astros punished him early because he was missing out over the plate. I'm going to point this out again: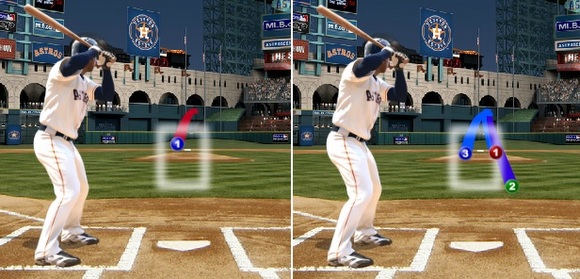 Those are the homers by Jesus Guzman (left) and L.J. Hoes (right). Dexter Fowler swatted a similar pitch to center, leading off the game with a double. Belt high offerings right out over the plate. That's no way to pitch.
So did Sabathia's location improve in innings three through six? To the PitchFX data: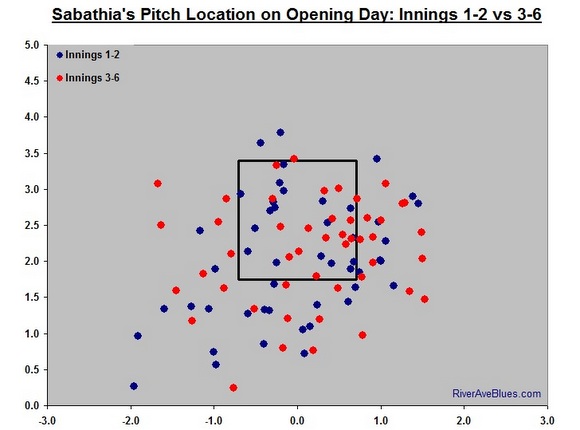 Just to be clear, that is looking from the catcher's perspective.
I was hoping there would be a big blob of blue pitches over the middle of the pitches and a bunch of red on the edges, but no dice. That would have been cool. Sabathia threw 99 pitches in the start, including 50 in the first two innings and 49 in the final four, so the sample is split right down the middle. That's convenient. There are two things going on in this graph that I want to look at specifically, so let's make life easy: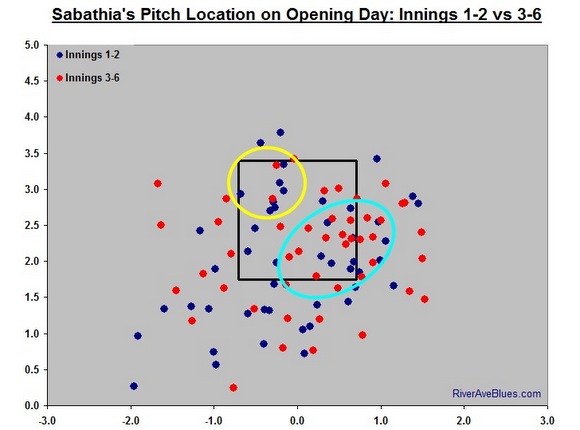 Like I said, two things I want to look at, hence the colored ovals. To the details:
Yellow Oval: The Astros had eight right-handed or switch hitters in the lineup, so these pitches are more or less in the wheelhouse. Belt high and right out over the plate. Sabathia threw seven pitches in this general area in the first two innings, resulting in the two homers, Fowler's double, Jason Castro's run-scoring fielder's choice, a foul ball, a called strike, and a swing and a miss. In innings three through six, he threw only two pitches in this area, getting a foul ball and a swing and miss. If you want to count that one extra pitch at the top of the zone that's hiding under the yellow oval, that's another swing and miss. So yes, Sabathia did a better job of staying out of the danger zone in those final four innings.
Blue Oval (or cyan, whatever): I'm not going to count pitches and look at individual results here. I'm pointing this part of the strike zone out because it's the outer half of the plate and generally the bottom half of the zone. With those eight righty bats in the lineup, that where you'd want a left-hander to pitch, down and away. Sabathia didn't throw too many pitches down there in the first two innings — he was really all over the place in those two innings, geez — but he did a much better job of locating the ball down and away in his final four innings. Getting the ball out of the wheelhouse and instead burying it down there is a surefire way to improve performance.
Location is very important but it is just one piece of the pitching pie. I also want to look at whether Sabathia changed up his pitch mix as the game progressed, so here's the breakdown:
| | Batters Faced | 1st Pitch FB | FB% | CH% | SL% |
| --- | --- | --- | --- | --- | --- |
| Innings 1-2 | 13 | 6 | 40.0% | 24.0% | 36.0% |
| Innings 3-6 | 14 | 9 | 55.1% | 20.4% | 24.5% |
That is … the exact opposite of what I expected. I thought Sabathia would have thrown fewer fastballs and particularly fewer first-pitch fastballs in those last four innings. Instead, he threw more fastballs than he did earlier in the game. He really pounded the zone with his heater late. Very surprising, at least to me. I guess he just got into a groove and was better able to drive the ball down and away to all those righties.
At some point between the second and third innings, something happened that helped Sabathia better locate his pitches, particularly his fastball. The PitchFX data confirms this. We have Point A (innings 1-2) and Point B (innings 3-6), but no knowledge of Sabathia got there. Maybe he did just calm down. Maybe it really is that simple. I can't help but think some kind of mechanical adjustment was made, something that helped him get the ball down and get it on the outer half of the plate against righties.
"I just think it was a matter of relaxing. I didn't want to go out and overthrow and be all over the place, but I think backing off didn't help either so I got to find a place in the middle where I can pitch good," said Sabathia to Jennings and Jorge Castillo. "I've got 34, hopefully, more starts left. I'm definitely not going to pitch like I did tonight in the first two innings. I know I can pitch, and I know I can get guys out. I feel great. I'm not going to beat myself up about this."
Sabathia has always been super-accountable and when he struggled last year, he crushed himself after every start. Tuesday though? Eh, no big deal, I'll be fine. I wonder if that is a function of knowing the problem and knowing how to solve it. Sabathia stunk last year and he always seemed to be looking for a fix. There were no answers and he as clearly frustrated. This year, it seems like he knows what was wrong in those first two innings and knows the solution. He found it in the middle of the start. That he didn't tear into himself after the game may be an indication that is the case.
Let's not try to soften the blow here, Sabathia was terrible overall on Opening Day. He didn't give the Yankees much of a chance at all. That he turned it around literally between innings and settled down is encouraging. We don't know what changed, but something did. I guess there's always a chance nothing changed too. We are talking about the Astros. It's early in the season though and this is the time for optimism, so let's say he fixed something. Sabathia has a big test against the Blue Jays on Sunday, so we 'll get to see if whatever adjustment was make between the second and third innings on Tuesday is a sustainable formula for success.