The old saying is that you need five years to evaluate a draft class, but I'm not sure how true that is. On one hand, the prospects and non-prospects usual separate themselves within three or sometimes even two years. On the other hand, most players don't get much of an opportunity to have a big league impact within five years of being drafted, so it's not a enough time to truly know what you have. Five is a convenient number though (hooray round and half numbers!), so with the 2014 draft two days away, let's review the Yankees' 2009 draft haul, five years after the fact.
Because of their massive free agent spending spree during the 2008-09 offseason, the Yankees forfeited their first (for Mark Teixeira), second (for CC Sabathia), and third (for A.J. Burnett) round picks in the 2009 draft. They did still have first and second round compensation picks after failing to sign Gerrit Cole and Scott Bittle the previous year though, so it's not like they were stuck waiting until the fourth round to call a name. As Ken Rosenthal reported, New York was ready to draft Mike Trout with their first selection (29th overall), but the Angels grabbed him 25th overall. That was the Teixeira pick. The Yankees would have had to not sign Teixeira, Sabathia, and Burnett to keep that pick, and even then the Angels still would have had the 24th pick. They weren't getting Trout, so let's move on already. The Bombers did land two players currently on their active 25-man roster, however.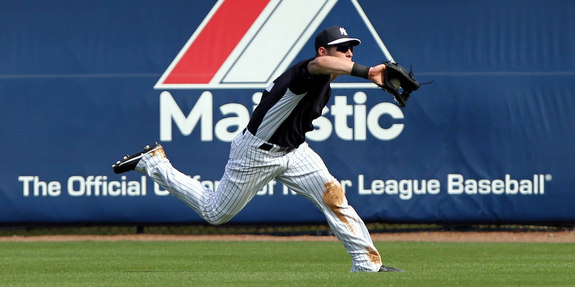 The Sladerunner
With the pick for Cole, that 29th overall selection, the Yankees drafted a toolsy, athletic, and somewhat troubled high school outfielder from Texas named Slade Heathcott. According to Gene Sapakoff, Heathcott's stepfather was in prison, he battled alcohol addiction and lived in his truck as a high school senior, and was nearly shot when he broke into a stranger's home in a drunken rage. That's … pretty scary stuff.
The Yankees did their homework though, and they believed in Heathcott's talent enough to give him a $2.2M bonus right before the signing deadline, which is exactly double slot money. It is still the largest bonus the team has ever given a draft hitter or high school player. Heathcott barely played after signing late and he never made it to Instructional League in the Dominican Republic after the season.
"I drank so much the night before, I blacked out. I hurried to the airport with my bag but my passport fell out. Having to explain that is how the Yankees found out about all my drinking," said Heathcott to Sapakoff. The Yankees sent him to Alcoholics Anonymous and gave him a mentor (ex-Yankee up and down reliever Sam Marsonek), after which Heathcott quite drinking. As far as I know, he has not had a relapse.
The Yankees held Slade back in Extended Spring Training before sending him to Low-A Charleston in the middle of the 2010 season. His full season debut was cut short by a shoulder injury that required surgery. Heathcott was bumped up to High-A Tampa the next year, but again his season ended abruptly due to another shoulder injury that again required surgery. It kept him out for half of 2012 as well. The shoulder has been fine since, but this past offseason he needed knee surgery. (He torn his ACL in high school as well.)
Since signing, Heathcott has played only 309 regular season games in parts of six seasons. His best season was 2012, when he hit .302/.380/.461 with five homers and 19 steals in 65 games, almost all for High-A Tampa. Heathcott's career highs are 103 games played and 444 plate appearances, both set last year. He missed the start of this season due to the knee surgery, played nine games with Double-A Trenton, then landed back on the disabled list with more knee problems.
The Bombers drafted Heathcott because he has high-end athleticism and exciting tools in his speed, raw power, and defense, but he has been hurt so much these last few years that he has not been able to develop those tools into baseball skills. Part of the problem is that he plays all out, all the time, and is prone to hurting himself with slides and dives and all that. Heathcott remains one of the team's better prospects — the Yankees added him to the 40-man roster last winter to protect him from the Rule 5 Draft — but the injuries have really hurt his development.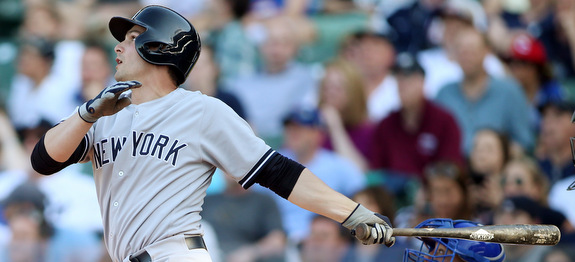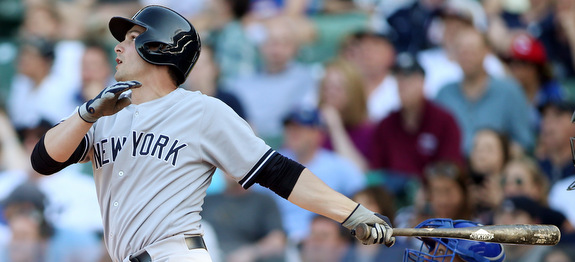 That's John Ryan To You
The best prospect the Yankees landed in the 2009 draft was their second rounder, the compensation pick for Bittle. They used that pick plus a $1.25M bonus for a Florida high school infielder/catcher named John Ryan Murphy, who they immediately moved behind the plate full-time. Apparently someone called him J.R. after the draft and he never bothered the correct them, so the nickname stuck until he spoke up last winter. Go figure.
Murphy steadily climbed the minor league ladder and made tremendous improvement behind the plate — "It's been a long process. I was not very good when I was drafted. I've come a long way … I'm completely different from when I signed. Slowly, but surely, there's been a total evolution," he said to David Laurila last year — then last year his bat caught up to his defense. Murphy hit .269/.347/.426 between Double-A and Triple-A last season, then earned a September call-up as the team's third catcher.
When Frankie Cervelli blew out his hamstring back in April, the Yankees called up Murphy and he has been pleasantly productive as Brian McCann's backup. He doesn't have star potential behind the plate, but he looks very much like someone who will be a solid all-around starting catcher that might crack and All-Star Game roster once or twice during his peak. At worst, Murphy spend a bunch of years in the show as a backup. Now five years later, he is clearly the best player the club drafted in 2009.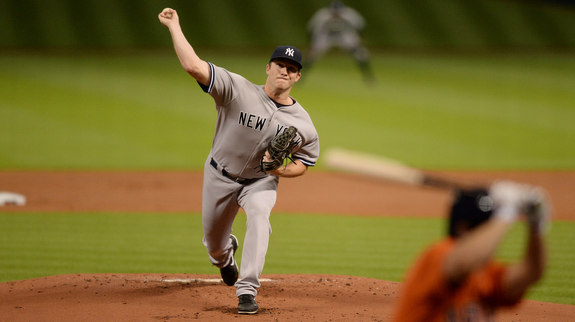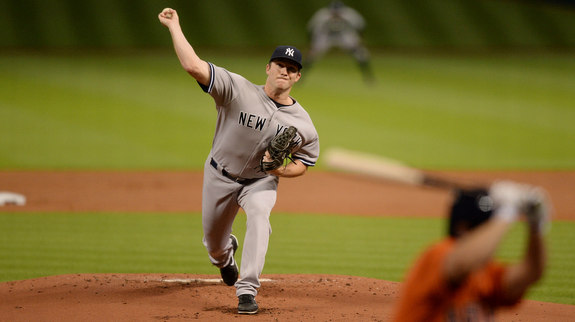 Long Man, Then Setup Man
The Yankees did not have a third rounder, and they used their fourth rounder on one of those cliched "safe" college arms. They selected senior right-hander Adam Warren out of UNC, where he spent four years being overshadowed by higher profile prospects like Daniel Bard, Andrew Miller, and Matt Harvey. The Yankees gave Warren a $195k signing bonus and three years later he was in the big leagues.
As you know, Warren's big league debut was a total disaster. The White Sox clobbered him for six runs in 2.1 innings in a spot start in June 2012. It was ugly. Warren did not pitch in the big leagues again until April 2013, when the made the team as the long man out of Spring Training because Phil Hughes hurt his back at the end of camp. He pitched to a 3.39 ERA (4.32 FIP) in 77 innings as a swingman, and this season Warren has emerged as a late-inning force as a mostly one-inning setup man (1.71 ERA and 2.34 FIP). Turning a fourth rounder into at worst a serviceable big league arm and at best a high-leverage reliever is a great get for New York.
Other Notables
Two other players from the 2009 draft have reached the big leagues with the Yankees, but only as emergency call-ups due to injury. The first is 15th rounder Shane Greene, who did not pitch at all during the spring of 2009 because he was rehabbing from Tommy John surgery. One of the team's scouts saw him throwing a bullpen while rehabbing and invited him to Tampa for a private workout. They like what they saw enough to draft him and give him a $100k bonus. Greene pitched in one MLB game earlier this year and is currently in Triple-A.
The other player is right-hander Bryan Mitchell, who was called up for a day in April, but did not pitch. He was the team's 16th round pick in 2009, and the Yankees gave him $800k to skip out on his commitment to UNC. Mitchell is a classic "big stuff, needs to learn how to harness it" pitching prospect currently in Double-A. Like Greene, he was placed on the 40-man roster over the winter. Righties Caleb Cotham (fifth round), Brett Gerritse (12th round), and Graham Stoneburner (14th round) remain in the system as organizational arms.
Big Arms, Small Busts
In addition to Stoneburner, Greene, and Mitchell, the Yankees rolled the dice on several other pitchers with big arms in the mid-to-late rounds. Righty Sean Black (seventh round) was the highest unsigned pick in the 2006 draft (59th overall by the Nationals), but he took a step back in college and never regained the stuff he showed in high school. Lefty Sam Elam (eighth round) had a huge arm and extreme control problems, walking 64 in 76.1 innings in Notre Dame before walking 51 in 30 pro innings. Lefty Gavin Brooks (ninth round) blew out his shoulder a year after signing. Lefty Evan DeLuca (44th round) received a $500k bonus to skip out on his commitment to San Diego. He posted a 98-95 K/BB in 109 pro inning before being released. The Yankees took shots in the dark with all four of these guys and none worked out. Only DeLuca required a substantial bonus.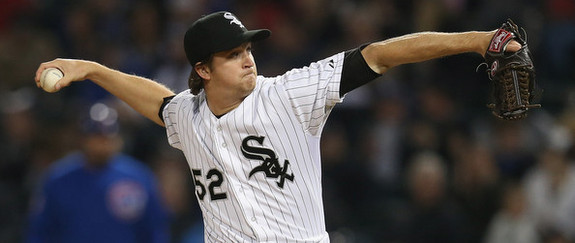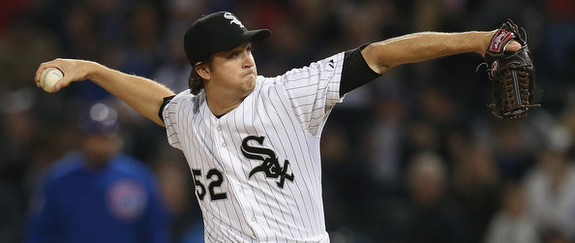 Unsigned Gems
Unlike the 2007 (Drew Storen) and 2008 (Cole) draft classes, New York did not fail to sign a player in 2009 who has since gone on to be even a very good prospect. The biggest name among the unsigned players is outfielder Pat White (48th), who was more notable for his football exploits as a quarterback at West Virginia. In fact, he never even played baseball in college. White played in 13 games for the Dolphins in 2009 and has since bounced around to the UFL and CFL.
Two of the Yankees' unsigned 2009 draftees have reached the big leagues with other teams. Lefty Tyler Lyons (tenth round) returned to Oklahoma State for his senior year, was drafted in the ninth round by the Cardinals in 2010, and has gone up and down as a replacement level spot starter the last two years. Righty Jake Petricka (34th round) was the White Sox's second round pick in 2010 following his senior year at Indiana State. He's a hard-thrower with control problems who has seen some time as a setup man for Chicago this year.
The Yankees also failed to sign local outfielder Jeremy Baltz (45th round), who had a decorated career at St. John's. The Padres drafted Baltz in the second round of the 2012 draft and he current plays in their farm system. Baseball America did not rank him among the team's top 30 prospects in their 2014 Prospect Handbook. Infielder Stephen Bruno (26th round) was a seventh rounder of the Cubs in 2012 and was not among their top 30 prospects before the season, according to Baseball America. Outfielder Andrew Aplin (33rd round) was ranked as Houston's 19th best prospect by Baseball America before this season. They selected him in the fifth round of the 2012 draft.
* * *
The Yankees have already gotten value out of this draft class thanks to Warren, and it certainly looks like Murphy has a big league future ahead of him. Greene and Mitchell are interesting arms who might most help the team as trade bait. The Yankees are still waiting on Heathcott and he will be the biggest factor in determining if this was a good draft or a great draft.