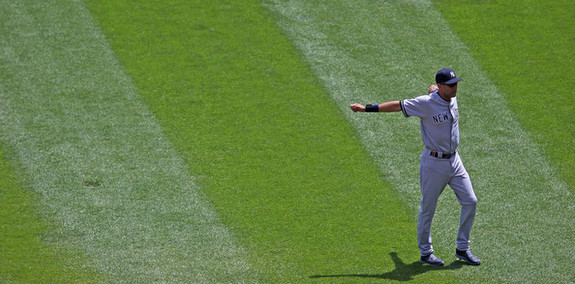 Got some stray links to pass along before the Yankees wrap up their four-game series with the Royals in Kansas City later tonight.
Jeter Remains Atop AL All-Star Voting At Shortstop
MLB released the updated voting results for the All-Star Game starting lineup yesterday, and Derek Jeter remains the leading vote-getter at shortstop. He's about 160,000 votes ahead of Alexei Ramirez and is the sixth highest vote-getter in the league overall. There's no way Jeter belongs in the Midsummer Classic based on his performance, but he's a megastar and the face of baseball. People want to see him in his final year and that's what the All-Star Game should be all about.
No other Yankees are leading their respective positions in the voting, though Brian McCann does rank second behind Matt Wieters at catcher. Wieters is currently on the disabled list with an elbow injury and is not close to returning. McCann may end up starting the game in his place. Mark Teixeira ranks fifth at first base while Jacoby Ellsbury, Carlos Beltran, and Brett Gardner rank fifth, eighth, and 13th in the outfield, respectively. The full voting results are right here. Miguel Cabrera, Robinson Cano, Josh Donaldson, Nelson Cruz, Jose Bautista, Mike Trout, and Melky Cabrera are in position to start the game alongside Jeter and potentially McCann.
Bad Without Shifts, Sightly Less Bad With Shifts
The Yankees have been using infield shifts to the extreme this season, at least in part due to their range-challenged infield. It's not just Jeter either. Yangervis Solarte and Brian Roberts aren't the rangiest of players either. And yet, every game we see balls get by the shift, though that is unavoidable. Balls are always going to get through any defensive formation.
According to Ken Davidoff, the Yankees rate as the worst defense in baseball at -16 runs saved when not using the shift. When they do use the shift, they're at -4 runs saved, which also rates as the worst in baseball. Compared to the rest of the league, the Yankees are terrible defensively. Compared to themselves, the Yankees with the shift are less terrible than the Yankees without the shift.
"If they weren't shifting as much as they have been, things would look even worse. So, it's not that the shift itself has been ineffective, but the Yankees' infield defense overall that has been ineffective, with or without the shift," said Joe Rosales, a researcher at Baseball Info Solutions, to Davidoff. Watching a ball get through the shift is frustrating, but without them, there would be far more balls sneaking through the infield.
The Story Behind Teixeira's Fake Talk Show
I mentioned this in the open thread last night, but, in case you missed it, Mark Teixeira has a fake talk show on YES called Foul Territory. It's actually pretty funny and the clips came out of nowhere. I'm not sure anyone thought Teixeira is capable of doing something funny. I know I didn't. He's always come off as rather business-like and uninteresting, to be honest.
Dan Barbarisi dug into the story behind Foul Territory, which was Teixeira's idea and a way to help new Yankees feel welcome. It's not a coincidence the only player interviews are McCann, Ellsbury, and Masahiro Tanaka (one with Roberts is forthcoming). The shows have a general framework but otherwise do not have a script and are ad-libbed. It's pretty amazing, really. There are two more clips coming (Roberts and Jeter) and Teixeira is open to recording more if the demand is there.
"I wanted a way for the new guys to get broken in, in kind of a funny way—not necessarily hazing, because I'm hazing myself more than anything," said Teixeira to Barbarisi. "If the fans want (more episodes), we'll have to give it to them."
The Wrong End Of The Hard-Hot Spectrum
And finally, ESPN stats guru Mark Simon posted some data on hard-hit balls this morning. Long story short, the Yankees don't rank very well. They rank 23rd in the league with a .145 HHAV (hard hit average, or hard-hit balls per at-bat) offensively and 26th in the league with a .165 HHAV on the pitching side. The hitters aren't hitting the ball hard and the pitching staff is allowing a lot of hard-hit balls. That … is a pretty bad combination. Throw in a generally bad team defense and it's a minor miracle this club is 31-31 after 62 games. It could be much, much worse.