Even though it is not really the halfway point of the season, there is no better time to review the first half than the All-Star break. This week we'll hand out some simple, straightforward, and totally subjective grades, A through F, for the catchers, infielders, outfielders, rotation, and bullpen. We've already covered the catchers, infielders, and outfielders, so now let's move on to the rotation.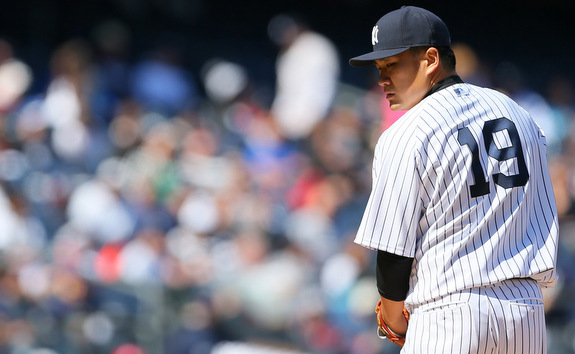 Masahiro Tanaka — Grade A
I didn't think it would be possible for Tanaka to meet, nevermind exceed expectations after the Yankees invested $175M in the 25-year-old right-hander this winter. A contract (and release fee) like that comes with ace-sized expectations and given everything he had to adjust to — five-day pitching schedule, new hitters, tougher parks, new culture, etc. — I didn't think there was any chance he would pitch that well right away. I didn't think he'd be bad, he'd be really good but there would be an adjustment period, right? How could there not be?
Well, there wasn't. Tanaka showed up to Spring Training on the first day and looked like he had been wearing pinstripes for years. The transition was seamless, or at least he made it appear that way. He was all business from day one, embracing the five-day schedule and the new workout routines (remember all the running early in camp?). Tanaka was the position player of Hideki Matsui. The guy who fit in so well, so soon that it was like he was born to wear pinstripes.
Tanaka lived up to the hype on the field, of course. That's most important. He has thrown 129.1 innings in 18 starts, and among the 45 AL pitchers with enough innings to qualify for the ERA title, Tanaka ranks third with a 2.51 ERA, third with 4.1 bWAR,, fourth with a 3.7% walk rate, fourth with a 7.1 K/BB ratio, fifth with a 26.6% strikeout rate, sixth with 3.2 fWAR, tenth with a 3.07 FIP, and 20th with a 45.9% ground ball rate. The only negative in his game is the long ball; he'll give up some dingers (1.04 HR/9 and 14.4 HR/FB%). It's a minor nuisance. Other than that though, Tanaka was one of the five best starting pitchers in the league in the first half.
Unfortunately, Tanaka suffered a partially torn elbow ligament in what was scheduled to be his second to last start before the All-Star break. Three doctors recommended he rehab the injury rather than undergo season-ending Tommy John surgery, so Tanaka received a platelet-rich plasma injection earlier this week and is currently resting before starting a throwing program. The expectation is that he will be able to return to the rotation later in the year, but surgery will remain a possibility if the rehab is less than perfect. It sucks but it is what it is. Tanaka managed to exceed expectations before the injury. What a stud.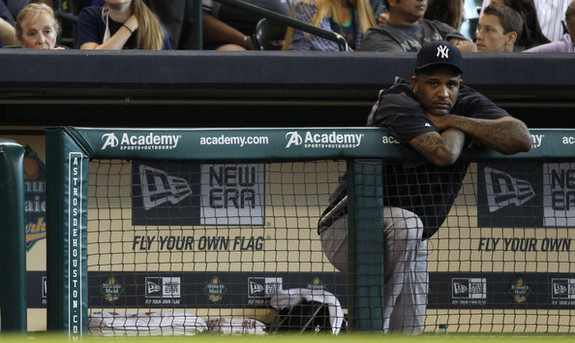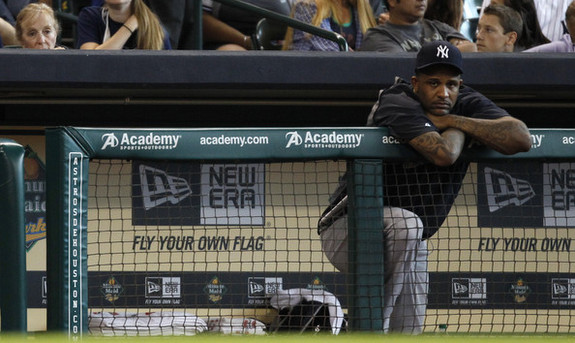 CC Sabathia — Grade F
I was optimistic about Sabathia's chances of rebounding this year, though I didn't have much to base that on other than blind faith and Sabathia's track record. I'm not even talking about getting back to being an ace. Just being a solid mid-rotation workhorse would have been plenty good enough for me. Instead, Sabathia gave the team a 5.28 ERA (4.79 FIP) in eight starts and 46 innings before going down with a degenerative knee condition. A stem cell procedure apparently did not work and now he's facing the possibility of microfracture surgery, which could be career-threatening.
Rather than shake off the career worst 2013 season, Sabathia got worse and added in a serious injury this year. Not good. I mean, if you really want to squint your eyes and find a silver lining, know that his strikeout (9.39 K/9 and 23.0 K%) and walk (1.96 BB/9 and 4.8 BB%) rates were outstanding. That … really doesn't make me feel much better at all. Maybe an incomplete would be a more appropriate grade given the injury (which might have led to the poor performance), but eight starts is one-fourth of the season. That's not insignificant.
Anyway, Sabathia's knee injury is very serious and remember, he's only 33. We're not talking about some guy approaching 40 here. Sabathia is still relatively young and an ultra-competitive type who leaves everything on the field — remember when he started four games in 12 days for the Brewers on the eve of his free agency? You're kidding yourself if you think he's just going to walk away from the game because of the knee injury — and now there's a chance he may never pitch again. Like, for real.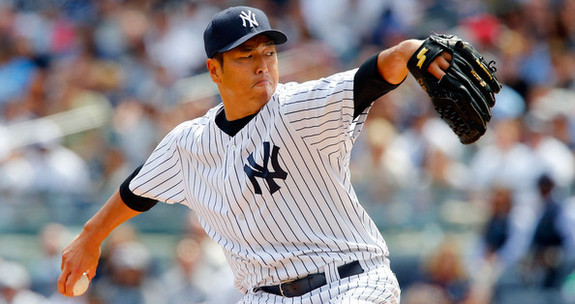 Hiroki Kuroda — Grade C
There were plenty of reasons to be skeptical of Kuroda coming into the season, specifically his age (39) and brutal finish to the 2013 season. The Yankees re-signed him though, and while he has not pitched as well as he did the last two years, Kuroda has given the team innings every fifth day and is the only Opening Day rotation member not to come down with an injury. His 4.10 ERA (3.91 FIP) can be split up into a 4.62 ERA (3.75 FIP) in his first eight starts and 48.2 innings and a 3.72 ERA (4.02 FIP) in his last eleven starts and 67.2 innings, if you choose.
With Tanaka and everyone else going down with injuries — for weeks too, these aren't 15 days on the disabled list and you're good to go type of injuries — the Yankees need Kuroda to remain that reliable innings eater in the second half. Actually, they need him to be better than that, which is a problem because of his late-season fades. The Yankees absolutely can not afford that this year, not if they want to contend. Kuroda is currently the staff ace by default and the team needs him to reverse his recent trends and be better in the second half than he was in the first.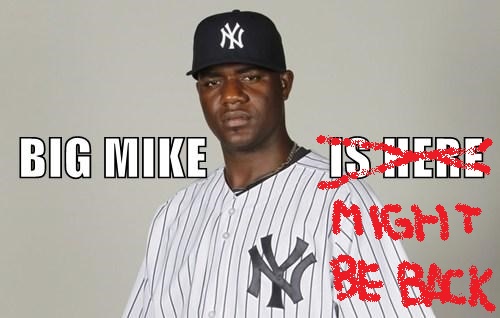 Michael Pineda — Grade D
It was fun while it lasted, wasn't it? Two years after the trade that brought him to New York, Pineda was finally healthy enough to help the Yankees, and he started the year by pitching to a 1.83 ERA (2.73 FIP) in four starts and 19.2 innings. He was an ace! An ace on a very strict pitch count (no more than 94 pitches or six full innings in his four starts), but an ace nonetheless. The Yankees were finally getting some kind of return on the trade and it was glorious.
Then it all came to a crashing halt in Fenway Park in late-April. Two starts after the internet caught him with a glob of pine tar on his hand, Pineda was caught with an even bigger glob of pine tar on his neck. Red Sox manager John Farrell did not let it slide this time. He alerted the umpires and Pineda was ejected and eventually suspended ten games. While serving the suspension, he suffered a back/shoulder muscle injury and has been sidelined since. He just started throwing off a mound last week (after the #obligatorysetback). Given his recent history, there's no possible way the Yankees could count on Pineda to return to help the rotation in the second half. If he does come back, it's a bonus. But man, those 19.2 innings were pretty awesome, weren't they?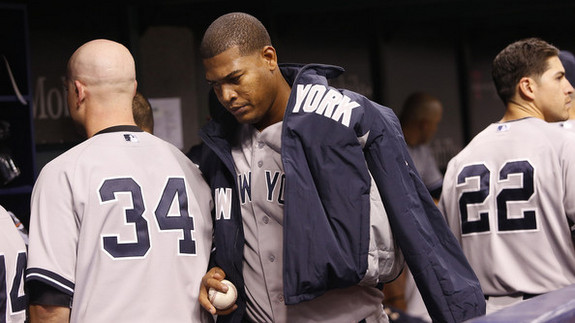 Ivan Nova — incomplete
I went back and forth between giving Nova an F or an incomplete. He did make four starts this year, after all. Four terrible starts, with 40 base-runners and an 8.27 ERA (6.91 FIP) in 20.2 innings. But he also blew out his elbow and needed Tommy John surgery in late-April. I'm giving him the benefit of the doubt and assuming the elbow contributed to his poor performance and that he was never really healthy this year. I don't know, an F just seems too harsh for a guy that barely pitched before his elbow ligament snapped. Maybe I'm being too kind.
The Yankees lost Nova for the season and that's a pretty significant blow. Not just for this year either, the timing of the injury means he will start next season on the disabled list and the team won't really know what to expect from him. This is an injury that impacts two seasons, not only one. This was supposed to be the year for Nova to build on his strong second half of 2013 and stop the up and down nonsense, establishing himself as a no-doubt big league starter. That won't happen.
David Phelps — Grade B
Once the injuries started to strike, Phelps worked his way into the rotation and has remained there ever since. He's pitched to a 3.94 ERA (4.31 FIP) in 89 total innings, including a 3.96 ERA (4.08 FIP) in 13 starts and 77.1 innings since moving into the rotation. The Yankees have also been able to count on Phelps for innings — he's thrown at least five full innings in all 13 starts (even before he was fully stretched out) and at least six full innings eight times in his last ten starts. That's been much-needed.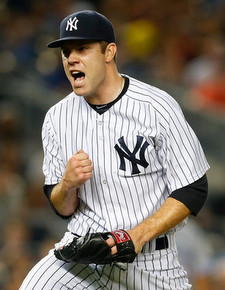 There were some questions about Phelps and his ultimate role coming into the season — remember, he missed most of the second half last season with a pair of forearm strains — but things worked themselves out and he's become one of the team's three most reliable pitchers in the wake of the injuries. He's been a godsend. You can't ask anything more of a sixth starter. Now the Yankees need Phelps to keep it up in the second half. He's in the rotation for good.
Chase Whitley — Grade C
It was definitely a tale of two first halves for Whitley. He came up following all the injuries and was outstanding in his first seven starts, posting a 2.56 ERA (2.75 FIP) in 28.2 innings. Considering he was a full-time reliever as recently as last July and the rotation was in total disarray, getting that kind of production out of Whitley was a minor miracle. The Yankees needed it desperately.
Then everything came crashing to a halt one night in Toronto last month, when the Blue Jays punished Whitley for eight runs in 3.1 innings. It wasn't just a bump in the road either. He has a 9.43 ERA (6.14 FIP) in 21 innings since. (That includes two scoreless innings in relief.) After allowing eleven runs on 44 base-runners (one homer) in his first seven starts, Whitley has allowed 20 runs on 40 base-runners (five homers) in his last four starts. Those first seven starts were so good that I'm not going to go any lower than a C, especially since we're talking about a guy who had never started regularly until this year. All things considered, Whitley's been a plus even if he'll only be a reliever going forward. He helped much more than I thought he would as a starter.
Vidal Nuno — Grade D
Nuno was actually the first guy to be pulled out of the bullpen and stuck in the rotation, but that had more to do with timing than anything. He was the only one rested and able to make a spot start because of a doubleheader in April, and he lined up perfectly to replace Nova after he blew out his elbow. That's all. Nuno had a 5.42 ERA (5.18 FIP) in 78 total innings for the Yankees, including a 4.89 ERA (4.86 FIP) in 14 starts and 73.2 innings before being traded away two weeks ago. There were some good starts mixed in there and more than a few duds as well.
Brandon McCarthy and Shane Greene — incomplete
These two both joined the rotation last week. I mean literally. Greene made his first career start last Monday and McCarthy made his first start in pinstripes on Wednesday. Throw in Greene's second start last Saturday and they've combined to allow six run (three earned) in 20.1 innings. They also have a combined 57.1% ground ball rate, which is pretty awesome even if it is a super small sample. Greene's mid-90s sinker and upper-80s slider make me think he has more rotation staying power than either Nuno or Whitley, but, either way, we'll see plenty more of these two in the second half.
* * *
Any time a team loses four of its five Opening Day rotation members, including three within the first six weeks of the season, they're going to be scrambling for pitching. No team has enough depth to go nine starters deep. The Yankees have been able to tread water thanks to Phelps and some timely outings from Whitley and Nuno, who have since been replaced by McCarthy and Greene. The team clearly needs another starter in the wake of Tanaka's injury and, frankly, they could have used another starter before that. This is a patchwork staff held together by Kuroda, Phelps, and McCarthy at the moment, and there's no telling how much longer the duct tape will hold.