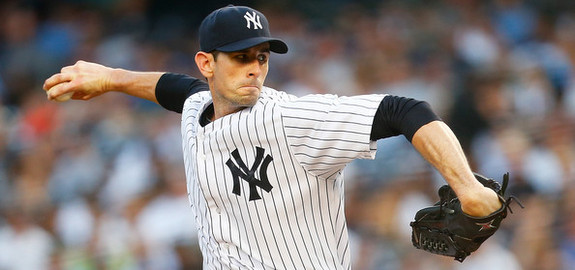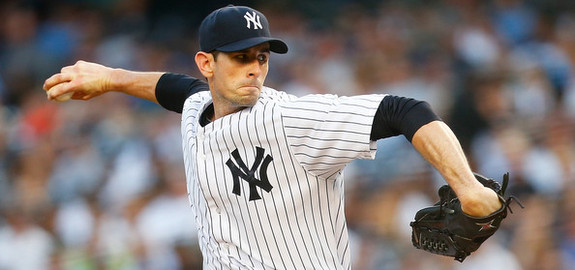 With David Phelps hitting the disabled list yesterday, you can make a pretty strong argument the five best starting pitchers in the Yankees organization are out with injuries. Phelps (elbow) joins Masahiro Tanaka (elbow), CC Sabathia (knee), Ivan Nova (elbow), and Michael Pineda (shoulder) on the shelf, which is a nice little staff. It's remarkable the Yankees are still even remotely in the hunt for a postseason spot with all those guys out.
As of right now, the current rotation is Hiroki Kuroda, Brandon McCarthy, Chris Capuano, Shane Greene, and TBA. Esmil Rogers seems likely to replace Phelps in the rotation, at least until Pineda returns. Pineda made his first rehab start over the weekend, and, from the sound of it, he'll make two more before rejoining the team. His return is far from a sure thing, of course. He's already suffered one setback this summer and his rehab from surgery took much longer than expected. Still, Pineda is by far the team's best hope for pitching help from within in the near future.
The Yankees know for certain Sabathia and Nova are not coming back this year following surgery. Pineda might be ten days away and, if everything goes right, Tanaka will be back in September. He played catch yesterday for the first time since getting hurt — the clip they aired during last night's game showed he was basically lobbing the ball, a nice reminder of how far away he really is — and still has a long way to go before returning to the rotation. Bryan Mitchell, Chris Leroux, and Bruce Billings are stashed in Triple-A, but none sound particularly appealing.
The trade deadline brought the Yankees upgrades at second base and in right field even though just about every rumor connected them to some kind of pitching. Starters and relievers. They added McCarthy a few weeks ago and continue to pick through the scrap heap with guys like Capuano and Rogers, but that's it. July 31st is not a hard trade deadline, however, so the Yankees still have an opportunity to add an arm or three through a waiver deal this month as teams fall out of the race. Some teams will inevitably look to shed some salary in the coming weeks. Happens every year.
Before Phelps got hurt, Capuano was the obvious one to go whenever the team acquired another starter. He's done an admirable job in his two starts but he always seems to be walking a tightrope, and at some point he'll slip up. The Yankees want to be find an alternative before that happens. But, now that Phelps is hurt though, Capuano is only second in line to be replaced behind the TBA pitcher, Rogers or whoever. They can barely keep their head above water with all these pitching injuries. Just when you think they're ready to upgrade one spot, someone else goes down.
The rotation is averaging only 5.2 innings per start since the All-Star break and only once have the Yankees gotten seven full innings from a starter in the second half — Kuroda's outing in Texas last week. Heck, on only three other occasions did they have a starter record even one out in the seventh since the Midsummer Classic I'm usually anti-eight-man bullpen, but the Yankees absolutely need one right now. It's a necessity, not overkill. The starters aren't giving the team length and someone has to get those outs. It can't be the same guys every night.
Of course the Yankees have remained on the lookout for pitching this month and will continue to do so. The injury to Phelps increases the urgency for another arm — hard to believe that's really possible at this point, they've been desperate for an arm for weeks now — and could force the team to be a little more aggressive in trade talks. Maybe that means being more willing to take on salary or give up a better quality prospect. Brian Cashman has shown he can find useful pieces at more than reasonable prices this summer and he has to do it again (and again?) to help the rotation.