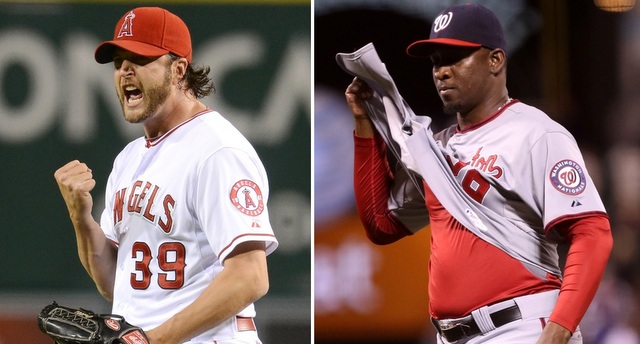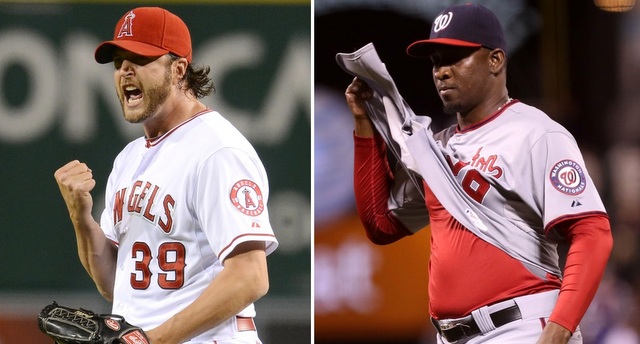 With both Andrew Miller and David Robertson now off the board, the free agent reliever market is starting to heat up. Luke Gregerson and Pat Neshek agreed to deals with the Astros earlier today, Sergio Romo is in talks with several teams, and I'm sure many more relievers are drawing interest right now as well. The Yankees don't absolutely need another reliever, but there's always room in the bullpen for another quality late-inning arm.
Two of the more, shall we say, veteran relievers on the market are right-hander Jason Grilli and ex-Yankee Rafael Soriano. New York is said to be at least "monitoring" both guys. Both Grilli and Soriano are on the wrong side of 35 — well, Soriano turns 35 next week, so close enough — whose best days are likely behind them, but are still good enough to be assets in relief. Plus they both figure to come on short-term contracts. Is either a fit for the Yankees? Let's look.
Recent Performance
Because they are older relievers on the downside of their careers, I think we're better off focusing on what Grilli and Soriano did this past season moreso than the last two or three seasons and especially what they did earlier this careers. I don't think what Soriano did in his first stint in New York tells us a whole lot about what he'll do in 2015, for instance. That was a long time ago in reliever years. So here's what these two did during the 2014 season:
| | IP | ERA | FIP | K% | BB% | GB% | HR/FB% | RHB wOBA | LHB wOBA |
| --- | --- | --- | --- | --- | --- | --- | --- | --- | --- |
| Grilli | 54.0 | 4.00 | 3.37 | 24.3% | 8.9% | 32.0% | 6.5% | 0.313 | 0.310 |
| Soriano | 62.0 | 3.19 | 3.08 | 23.4% | 7.5% | 31.6% | 4.8% | 0.297 | 0.273 |
Grilli had a pretty bad first half (3.95 ERA and 4.63 FIP) and a better second half (4.05 ERA and 2.08 FIP), at least when you look at things like strikeout and walk rates rather than runs allowed. Soriano was the opposite — he had a dynamite first half (0.97 ERA and 2.43 FIP) but a yucky  second half (6.48 ERA and 4.05 FIP). Both guys lost their closer's jobs to ex-Yankees draft picks (Mark Melancon and Drew Storen) during the summer too.
Grilli and Soriano are very similar pitchers. They strike out an above-average number of hitters, walk about a league average number of hitters if not a tick more, and don't get any ground balls. Instead of grounders they get a lot of weak pop-ups, which are actually preferable. Pop-ups are damn near automatic outs. A ridiculous 17.7% of Grilli's fly balls last year were infield pops, and he's consistently been over 14.0% infield pop-ups since resurfacing with the Pirates a few years ago. Soriano had a 7.7% infield pop-up rate in 2014 after sitting well over 12.0% from 2010-13.
Soriano's decline in pop-up rate is not necessarily a sign of decline — he had a 12.0%+ pop-up rate from 2006-08, dipped down to 7.3% in 2009, then jumped right back up to 12.0%+ from 2010-13. It could just be one of those weird random baseball things. Like when Robinson Cano hit .271 in 2008 and .320 in 2009. Both Soriano and Grilli rely on pop-ups and strikeouts to get their outs, which is a really great strategy, though it is worth noting Grilli's strikeout rate dropped quite a bit in 2014 while Soriano's has been holding steady for a few years now:

Source: FanGraphs — Jason Grilli, Rafael Soriano
Grilli bounced around earlier of his career and didn't turn into a stellar late-inning reliever until the 2011 season, when the Pirates gave him a shot. Since that 2011 season he's been a strikeout machine, much moreso than Soriano. Even in 2014, in which Grilli's strikeout rate dropped considerably, he still fanned more batters than Soriano. That said, it was still a significant drop. Grilli struck out 36.9% of batters faced in 2012, 36.6% in 2013, and 24.3% in 2014. Big drop.
Overall, Grilli and Soriano are very similar pitches who got different results this past season. Grilli's declining strikeout rate is a red flag, moreso than Soriano's drop in pop-up rate. They'll both make you pull your hair out with walks from time to time too. Grilli was better than Soriano from 2012-13 (2.82 ERA and 2.42 FIP vs. 2.68 ERA and 3.48 FIP), but at his age I don't think you can bank on 2012-13 Grilli coming back. The upside for both guys at this point of their careers is probably maintaining their 2014 performance in 2015 and not declining any. Obviously that seems more realistic for the soon-to-be 35-year-old Soriano than the 38-year-old Grilli.
Stuff Breakdown
Both Grilli and Soriano are fastball/slider guys, so this will be a pretty straight forward comparison. (Soriano threw a ton of cutters earlier in his career but has since scaled back on it big time.) Grilli's fastball has consistently sat right around 93 mph since he returned to the show with Pittsburgh while Soriano's has been gradually declining from 92.6 mph with the Yankees in 2012 to 91.5 mph with the Nationals in 2014. They both throw their sliders a lot, basically one-third of the time, and Soriano throws his in the mid-80s, a bit harder than Grilli's low-80s offering.
Since they're both fly ball pitchers, I'm not going to bother looking up the ground ball rates for their fastballs and sliders. Instead we'll just focus on the swings and misses over the last few seasons:
| | Grilli FB | Grilli SL | Soriano FB | Soriano SL |
| --- | --- | --- | --- | --- |
| 2012 | 14.9% | 18.2% | 10.9% | 13.9% |
| 2013 | 12.3% | 20.9% | 9.1% | 13.7% |
| 2014 | 10.3% | 15.6% | 13.6% | 16.7% |
The MLB average swing and miss rate for fastballs and sliders are approximately 6.9% and 15.2%, respectively. Grilli gets a ton of whiffs with both his fastball and slider, though they are trending in the wrong direction. Soriano has gotten an above-average amount of empty swings with his fastball but, up until the 2014 season, a below-average amount with his slider. Soriano's swing and miss rates were better than Grilli's in 2014 while Grilli's were better than Soriano's from 2012-13.
Given his age, it's no real surprise Grilli wasn't able to generate as many swings and misses this past season, and that's a red flag. Chances are he'll get even fewer swings and misses next season. Soriano's whiff rates actually ticked upwards and that's encouraging. Neither guy has a big platoon split — Soriano did last season but bounced back this season — so their fastballs and sliders work against batters on both sides of the plate. How much longer will that last?
Injury Histories
This is where it gets really ugly. Grilli had Tommy John surgery back in 2002 and missed the entire 2010 season with a torn quad. He missed two months with an elbow strain in 2003, three weeks with elbow inflammation in 2009, and six weeks with a flexor tendon strain in 2013. An oblique strain sidelined him for a month this past season. That's a lot of elbow issues over the years. Grilli has thrown 50+ innings each year from 2012-14, the first and only other time he's done that since 2006-08.
Soriano, meanwhile, just threw 50+ innings in three straight seasons for the first time in his career. He had Tommy John surgery way back in 2004 then needed another surgery to correct a nerve issue and remove a bone spur from his elbow in 2008, which caused him to miss most of the season. Soriano also missed three months with elbow inflammation while with the Yankees in 2011. His history of elbow problems is pretty severe, though aside from some shoulder fatigue and a concussion when he was hit by a comebacker, both back in 2006, he hasn't had any other injury problems.
Both Grilli and Soriano have a long history of elbow problems and also of not staying healthy for extended periods of time. If they managed to throw 50+ innings in 2015, it'll be the first time either guy throws that many innings in four straight seasons in their careers. Given their ages and injury histories, I'm not sure how reasonable it is to expect them to continue to stay on the field going forward. Not saying it can't happen, just that there's a risk factor.
Contract Estimates
Grilli has definitely reached the point in his career where he'll have to go year to year to continue playing. No club is giving a just turned 38-year-old reliever multiple guaranteed years. Soriano, on the other hand, is still young enough and close enough to his best seasons that he might be able to secure a two-year pact. Here are some contract estimates:
FanGraphs Crowdsourcing: Two years, $14M for Soriano. (No results for Grilli.)
Jim Bowden (subs. req'd): Two years, $16M for Soriano. One year, $3.5M for Grilli.
Keith Law (subs. req'd): One year, $3M to $4M for Soriano. One year, $2M to $3M for Grilli.
KLaw seems to hate relievers, so I'm inclined to throw out his contract numbers for Soriano based on the other estimated. Based on FanGraphs and Bowden, Soriano's looking at something like two years at $7.5M annually. Based on Bowden and Law, Grilli's looking at a one-year deal at $3M or so. Those numbers make sense to me. Soriano's deal would be similar to what the Padres gave Joaquin Benoit last year and Grilli's deal would be in line with basically every late-career reliever contract in recent history.
Wrapping Up
At this point, with Robertson and Miller off the board, all remaining free agent relievers have some kind of red flag. Grilli's strikeout rate fell a ton last year and Soriano had that brutal second half. Both guys also have a history of elbow problems. The Yankees know Soriano from his time in New York — that doesn't necessarily mean it will be easier to strike a deal, remember Brian Cashman very publicly said he didn't want to sign him, so maybe Soriano holds a grudge or something — but Grilli would be coming in blind.
There is clearly a spot in the bullpen for another veteran late inning reliever, and both Soriano and Grilli could assume the closer's job so Dellin Betances and Andrew Miller could remain in setup roles. I would prefer the Yankees to stick to a one-year contract so they could more easily cut bait at midseason if necessary, which would take them out of the running for Soriano. Of course, the team may feel differently and could be open to bringing Soriano back on a two-year contract. Both are qualified for the late innings and both are risky. Pick your poison.