The Yankees remade their bullpen this offseason — assuming Adam Warren is the fifth starter, the only player in the 2014 Opening Day bullpen projected to be in the 2015 Opening Day bullpen is Dellin Betances — and five of the seven spots are pretty well set. Betances and Andrew Miller will be the late inning guys, David Carpenter and Justin Wilson will be the middle inning guys, and Esmil Rogers figures to be the swingman.
That leaves two spots open and thus far the Yankees have not tipped their hand in Spring Training. There are no obvious favorites for those spots. The club has a bunch of options, both 40-man roster guys and non-40-man roster guys, and they can go in any number of directions. Two long men, two one-inning guys, two lefties, two righties, one of each, whatever. The depth is there and the Yankees will use all of it this year. That's baseball. The pitching staff has to be fluid. Here are the team's 40-man depth arms heading into the regular season.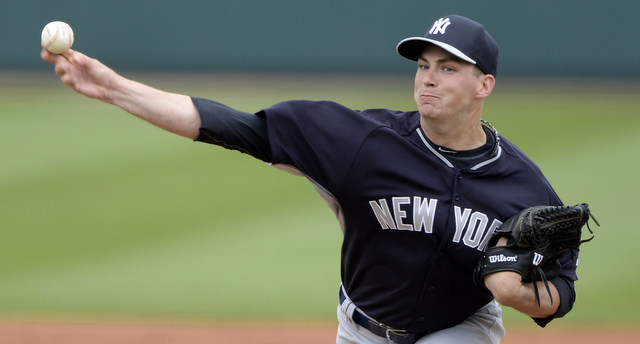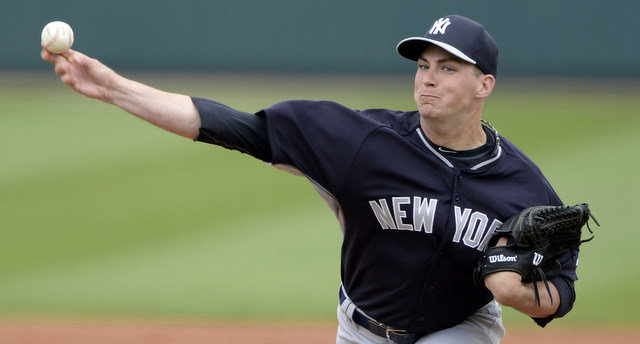 Danny Burawa: Stuff, Not Strikes
Last winter the 26-year-old Burawa went unselected in the Rule 5 Draft. The Yankees didn't roll the dice again. They added Burawa, a Long Island kid, to the 40-man roster in November despite his control problems because his stuff is vicious. He sits mid-to-high-90s with his running fastball and mid-to-upper-80s with his slider, and his crossfire delivery adds deception. Burawa has a great, great arm.
The problem is strikes, as I mentioned. Burawa walked 11.3% of batters faced last year and had to be demoted from Triple-A Scranton to Double-A Trenton at midseason. His career walk rate in the minors is 11.1%. The Yankees have three option years to help Burawa harness his stuff, and if that doesn't happen, it's hard to see him as anything more than an up-and-down arm. His stuff is so good the team will be patient though.
Jose DePaula: Lefty Long Man
The Yankees surprisingly signed DePaula to a one-year contract this offseason, adding him to the 40-man roster even though he has zero MLB experience and threw only 130 innings from 2012-14 due to oblique and shoulder issues. His shoulder started acting up again this spring — DePaula went for an MRI a week ago and everything came back clean, though it has limited him to mostly bullpens — which took him out of the running for a Opening Day roster spot. DePaula, 27, is a generic low-90s fastball, mid-80s changeup, mid-70s curveball strike-throwing lefty. He'll work as a starter in Triple-A to start the year and could emerge as a spot starter or long relief option at some point this summer.
Chris Martin: Tall Up & Down Righty
Martin, 28, was the final link in a fringe reliever transaction chain. Preston Claiborne was designated for assignment to clear a spot for Gonzalez Germen, who was acquired from the Mets. Germen was then designated for assignment when the Yankees acquired Martin from the Rockies. New York acquired Germen because they felt he was better than Claiborne, and then they acquired Martin because they felt he was better than Germen.
Martin is basically the model Yankees reliever based on the team's ostensible preferences. He's super tall (listed at 6-foot-8), throws hard (PitchFX had him averaging 94.6 mph in 2014), and has a history of striking guys out (career 24.9 K% in Triple-A). His back story is pretty interesting too. Like Claiborne before him, Martin is slated to fill an up-and-down role this year, riding the bus back and forth between Triple-A and MLB whenever a fresh arm is needed. He's not exactly a young prospect, so I'm not sure how much room for improvement there is.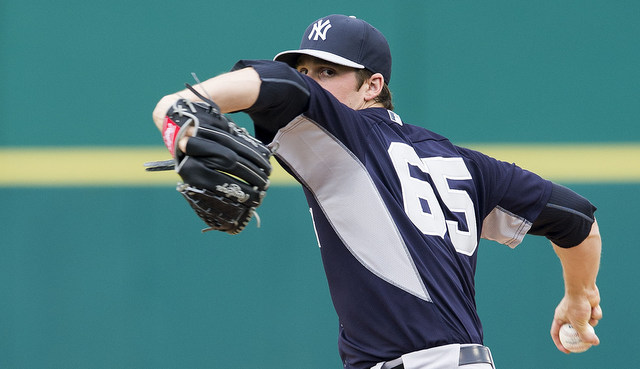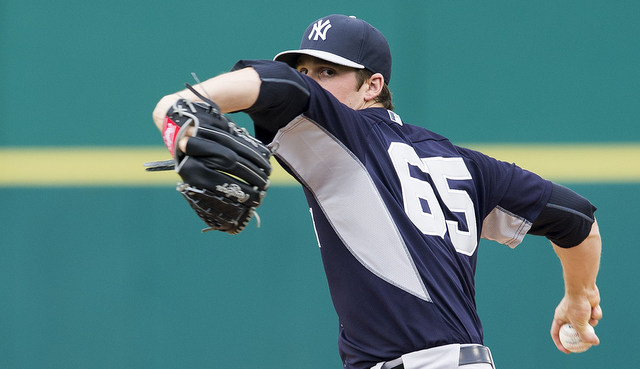 Bryan Mitchell: Seventh Starter?
The fifth starter competition was basically a two-horse race between Warren and Rogers, with Mitchell as one of the guys on the periphery of the competition. The Yankees always seemed intent on sending him to Triple-A for more refinement, which makes sense at this point of his career. Mitchell has very good stuff, but he will turn only 24 next month and has only 51.2 career innings above Double-A. He's also prone to bouts of wildness.
There's a chance — albeit a small one — Mitchell can be the 2015 version of 2014 Shane Greene, coming up at midseason to solidify the rotation. He's ahead of where Greene was at age 24 developmentally, though he still needs to iron out his control after walking 10% of batters faced between Double-A and Triple-A in 2014. The thin starting pitching depth chart means Mitchell may be pushed into MLB action this year, though if you gave the Yankees a truth serum, I think they'd admit they'd like him to get a full year in Triple-A before being a September call-up.
Branden Pinder: Bullpen Sleeper
The Yankees like Pinder enough to protect him from the Rule 5 Draft this past winter even though a groin injury limited him to 39.1 innings last year, mostly at Double-A and Triple-A. The 26-year-old Pinder is more of a high probability guy than a high upside guy despite sitting low-to-mid-90s with his fastball and low-80s with his slider. Pinder throws a ton of strikes (5.9 BB% in 2014) and that about sums him up. He's a fastball/slider reliever who won't walk the park. Pinder has already been optioned to Triple-A Scranton, though I definitely expect him to get called up at some point. He has sneaky staying power, the kind of guy who gets called up and before you know it, he's making his 40th appearance of the season.
Jose Ramirez: The Perpetual Tease
So, will this be the year Ramirez stays healthy? The 25-year-old has tremendous stuff and has for years, but he's can't stay on the field and it's been an issue his entire career. Last year a lat strain limited him to 22.1 innings between Triple-A and MLB. When he's actually on the mound, Ramirez has filthy stuff, sitting mid-90s with his fastball and getting swings and misses with both his slider and changeup, so the potential to be an impact reliever exists. He just can't stay healthy. Ramirez made his big league debut last summer and figures to see the Bronx again this year. Until he manages to get through a full season in one piece, he's going to continue to be a tease.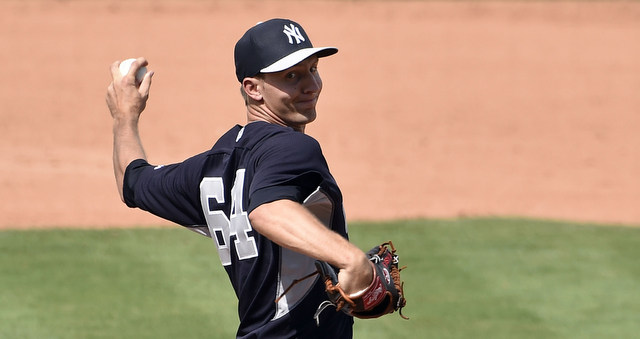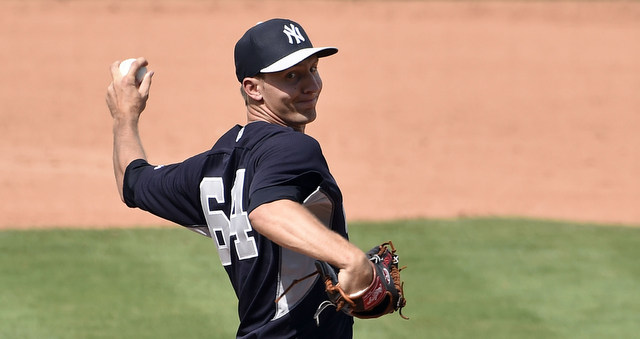 Chasen Shreve: The Third Lefty?
Out of all the players in this post, Shreve may have been given the biggest opportunity to win a bullpen job in Spring Training. He leads full-time Yankees' relievers in Grapefruit League innings and has faced a ton of righties as the team gave him a chance to show he can be more than a lefty specialist. Camp hasn't gone well (seven runs in eight innings) and that may earn Shreve a trip to Triple-A to start the year, but the Yankees have made it pretty clear they want him in MLB at some point.
Shreve, 24, had an excellent minor league season with the Braves last year, pitching to a 2.67 ERA (1.92 FIP) with 35.5 K% and 4.9 BB% in 64 innings between Double-A and Triple-A. He changed his approach last year and decided to simply air it out each pitch, which led to all that success last year. Shreve now sits in the low-90s and has both a slider and a promising split-changeup hybrid, which suggests he can be more than a lefty specialist. There's still a chance Shreve will make the Opening Day roster, but, even if he doesn't, I'm certain we'll see him in the Bronx this year, sooner rather than later.
Chase Whitley: Depth & Versatility
If the fifth starter's race was purely Spring Training performance based, Whitley probably would be considered the frontrunner for the job. He's allowed just one run in eleven innings and has been efficient, though he hasn't faced the best competition either. Whitley had a nice little run as a starter last season before the wheels fell off, which wasn't entirely unexpected since he is a career reliever who converted to a starter last season. He has three pitches though, so the Yankees are keeping him stretched out because why not?
Whitley, 25, might have the best chance to make the Opening Day roster out of anyone in this post. He could assume something similar to the old David Phelps role, working one inning or four innings at a time, depending what the team needs that night. Rogers could fill that role as well, though the Yankees have indicated they would like to take it easy on their starters early in the season, so carrying two multi-inning bullpeners could make sense. Either way, we'll see Whitley in MLB this season at some point. I'm sure of it.