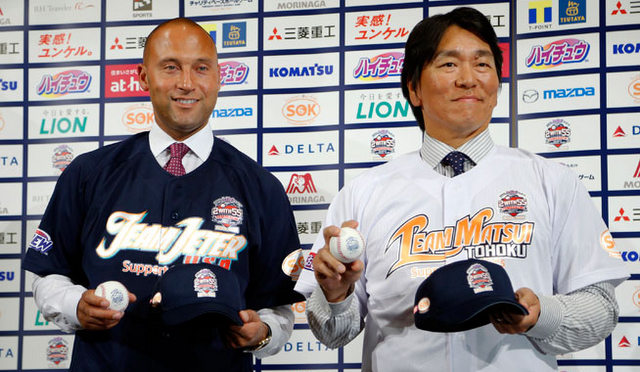 The Yankees are playing the Astros at 1:05pm ET this afternoon (Michael Pineda vs. Dallas Keuchel), but there will be no video broadcast of the game. No YES, no MLB.tv, no nothing. Lame. So, on this day with unwatchable Yankees baseball, here are some miscellaneous links to help you pass the time.
Jeter, Matsui To Participate In Home Run Derby For Charity
Derek Jeter and Hideki Matsui will square off in a Home Run Derby at the Tokyo Dome tomorrow to help raise money to support children affected by the earthquake and tsunami that devastated the region in 2011, reports the Associated Press. There will be over 600 participants in the event, including a group of baseball players from the Tohoku region, which was hit hardest by the disaster.
"(Derek) will make an enormous contribution to this event. He is a tremendous human being and was a great teammate and I'm sure the kids will be thrilled to see someone of his stature," said Matsui to the Associated Press. Jeter and Matsui will also hold a baseball clinic for kids. Some photos of Jeter at sumo matches made the rounds a few days ago and I figured he was just on vacation. Great work by Jeter and Matsui to get together for charity. Hopefully some video of the Home Run Derby pops up soon.
The Deception & Dominance Of Betances
Owen Watson put together a really great article looking at an underrated part of Dellin Betances' game: his deception. We all know he throws high-90s with a nasty breaking ball, but his release point and delivery is incredibly consistent for both pitches, so hitters don't get any sort of hint of what's coming. This GIF is pretty great:
That's two pitches laid over one another. One pitch is a 98 mph fastball (taken), the other an 82 mph curveball (swing and miss). Dellin's delivery and release point are the same and both pitches look identical out of his hand. It's basically impossible to tell whether a fastball or breaking ball is coming before the hitter's brain has to tell his body to swing or not, hence all those called strikes he was getting on curveballs last year. They look like high fastballs out of the zone and hitter gives up.
Yankees Hired New Nutritionist This Offseason
The search for a competitive advantage extends beyond the field of play these days, with teams looking for ways to keep their players healthier through improved diet and rest. The Yankees hired a new nutritionist this offseason named Cynthia Sass, according to David Waldstein, and her job is to provide the team with the best possible diet and persuade players to eat it. "We're trying to build a more perfect beast," said Brian Cashman to Waldstein.
Teams typically provide players with two meals per day — breakfast and lunch for day games, lunch and dinner for night games — but they can't force players to eat them. Sass, who spent the last eight years with the Rays and had previously worked with the Phillies and New York Rangers, has added healthy alternatives to the daily menu and will educate players, then adjust the menu based on their preferences. "I'm not there to shove it down their throat," she said. "It's not going to happen overnight. The goal is to make the best foods for athletes always available. If they want more of it, we'll provide it."
The Yankees have had nutrionists over the years — every team has — but the goal this winter was the refocus their efforts in hope of gaining a competitive advantage. The team also hired former minor league pitcher John Kremer as their "high performance science director" to coordinate the nutritionist, food preparation, medical staff, trainers, coaches … basically everyone who impacts team performance. Teams haven't necessarily ignored the diet of their players, they just haven't done as much to optimize it as you'd think. Sass was hired to do that for the Yankees.
MLB Schedules Every Game 162 At Same Time
In an effort to boost the drama and excitement of the final day of the regular season, MLB has scheduled Game 162 for every team at the exact same time this year, writes Bill Shaikin. All 15 games on October 4th — yes, the season ends October 4th — will begin at 3pm ET. The Yankees will be in Baltimore playing the Orioles that day.
"If a game impacts another game, they're all occurring at the same time, so no team would be put into a lame-duck situation because their fate already had been decided by an earlier result," said MLB COO Tony Petitti to Shaikin. "If we do have games coming down to the wire, we want to make sure we maximize that day."
Last year the NL Central and second AL Wild Card spot came down to Game 162. The Pirates lost to the Reds, giving the Cardinals the division title and allowing St. Louis to scratch Adam Wainwright later that afternoon so he could start him in Game 1 of the NLDS. That sort of situation won't happen this year. I love this idea and as a baseball fan I hope the final day of the regular season is pure chaos. Hopefully the Yankees are involved somehow.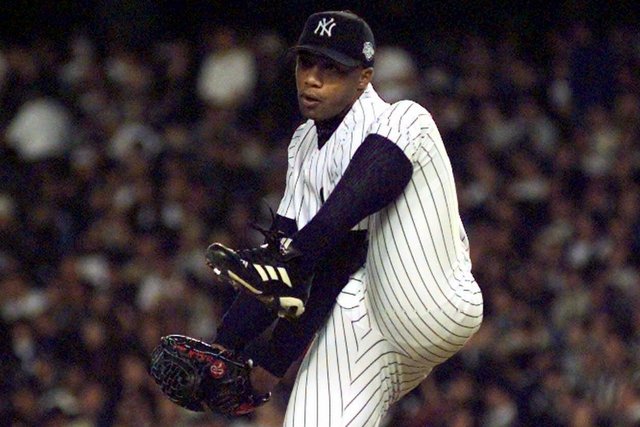 MLB Likely To Play Exhibition Game In Cuba In 2016
Commissioner Rob Manfred confirmed to Brian Costa the league is likely to play a Spring Training game in Cuba next season. MLB has been in talks with the government about returning to the island as the two countries work to rebuild their relationship. MLB last played a game in Cuba in 1999, when the Orioles played the Cuban National Team.
"To the extent that we can play a role in helping the United States government effectuate a change in policy, that we're following their lead and we're acting in a way that's consistent with what they want us to do, that's an honor for us," said Manfred to Costa. "The combination of their input and where we are in our calendar for 2015 makes the most likely point in time to be Spring Training of 2016. It's not a three-day exercise to play a meaningful exhibition game in Cuba. You need a little lead time to get that done, to put everything together, to be able to broadcast it in the way that it deserves."
It's unclear right now if MLB would play a single exhibition game in Cuba or several. In the past the league has played two games when playing overseas, though traveling to Cuba is much easier than traveling to, say, Taiwan, like the Dodgers did in 2010. Anyway, the Yankees are baseball's most recognizable and marketable team, so I suspect they will be given consideration for the game(s) in Cuba next spring. Imagine the Yankees vs. Yasiel Puig and the Dodgers or Jose Abreu and the White Sox with Orlando Hernandez throwing out the first pitch. That would be fun.
In-Market Streaming May Be On The Horizon
According to Josh Kosman, MLB will soon announce a deal allowing fans to stream games online in each team's home market. So New Yorkers will be able to watch the Yankees and Mets on their iPad or laptop instead of sitting in front of a television. The particulars (cost, etc.) aren't known yet, but Kosman says teams with their own networks will require fans to subscribe to the network to stream online. You won't be able to simply purchase MLB.tv and watch the Yankees, you'll have to subscribe to YES through their cable provider. That's better than nothing, I guess.