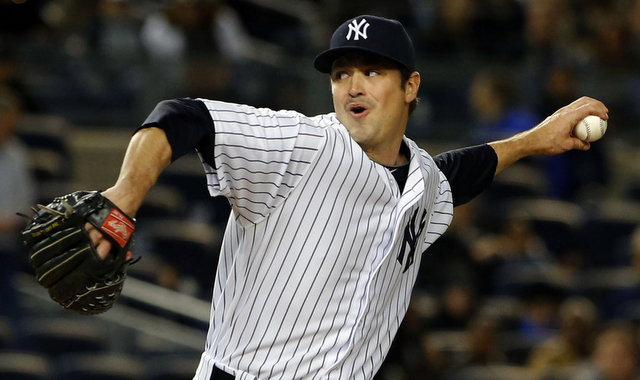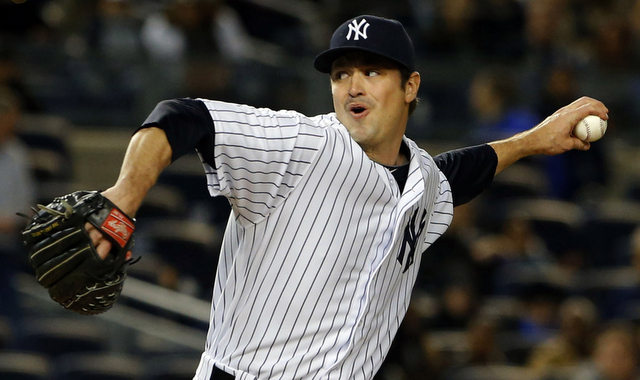 It's really fun when something goes exactly according to plan in baseball. Almost nothing goes as planned in this game, so on those rare occasions when things work out as intended, it's cause for celebration. And so far this year, the Yankees' bullpen is worth celebrating. The relief crew has been every bit as good as advertised coming into the new season.
With David Robertson leaving as a free agent and the Yankees not having a Proven Closer™ on the roster heading into Spring Training, we really had no idea how the bullpen would shake out. We had a pretty good idea who the team's seven relievers would be — well, we had a good idea who four would be (five before Adam Warren was needed in the rotation) and who was in the running for the other three — we just didn't know who would slot into what role. Three weeks into 2015, those roles are becoming clear.
Closer: Andrew Miller
For a number of reasons, the co-closers experiment never did get off the ground. It sounded great in theory, but Dellin Betances' sudden (and thankfully temporary) reversion to pre-2014 Dellin in Spring Training threw a wrench into things. For the first week, week and a half of the regular season, Betances had no idea where the ball was going and wasn't exactly trustworthy in big spots.
That opened the door to the full-time ninth inning work for Miller. He got his first save in the second game of the season thanks to what appeared to be a matchup situation — Joe Girardi went to Betances to face the right-handed meat of the Blue Jays lineup (Russell Martin, Jose Bautista, Edwin Encarnacion, and Josh Donaldson) in the eighth inning and Miller got the final three outs against lesser hitters in the ninth. That's all it took. His foot was in the door.
Closer is maybe the most unique job in baseball. Once a player has some success closing out games in the ninth inning, managers tend to stick with that guy going forward. Miller nailed down that first save, did it again five days later, and again four days after that, and boom. He is now very clearly the closer, recording eight of New York's nine saves on the young season. Miller is the closer even if Girardi won't admit it just yet.
"I still believe they both can do the job," said the manager to Chad Jennings following Monday's game. "It gives me a lot of options. It's working the way we're doing it. … (The plan is) just to stick with what we're doing. I'm sure at some point one of them may be down and the other guy may have to do something else. Maybe they pitch a couple days in a row and I want to give one of them a day off. I still believe they're really interchangeable."
1996 Mariano/2014 Dellin: Dellin Betances
Boy this guy is some kind of luxury, isn't he? Things got a little dicey for Betances at the end of Spring Training and the start of the regular season, but he's turned it around and is back to being a multi-inning force at the end of games. It's one thing to have a really great setup man like, say, Wade Davis or what the Yankees had with Robertson all those years. It's another to have a guy who can do it for four or five outs fairly regularly.
Now, I don't think we'll Betances throw 90 innings again this season, that's just not something a reliever can do year after year after year these days, but I definitely think we'll see him get four or five outs on occasion. Heck, we've seen it already. Girardi used Betances to get five outs against the Rays eleven days ago then again to get four outs against the Tigers last week. It's not necessarily something he should do every single time out, but Dellin gives Girardi the flexibility to pitch multiple innings if necessary.
With Miller locked into the closer's job for the time being, Betances will remain in basically the same role he had last year, as Girardi's go-to setup weapon. He's settled into that role the last two weeks or so. The co-closers idea was fun. This works too. Dellin's role is high-leverage outs-getter. That's the most important thing.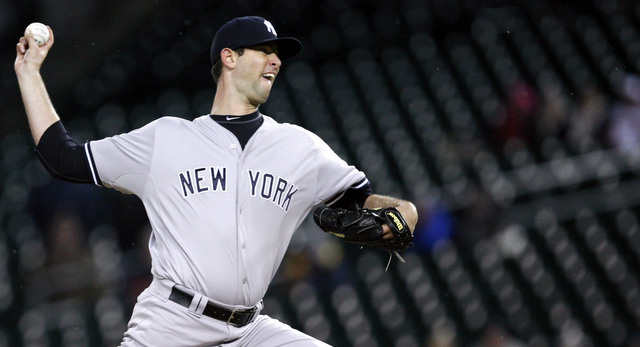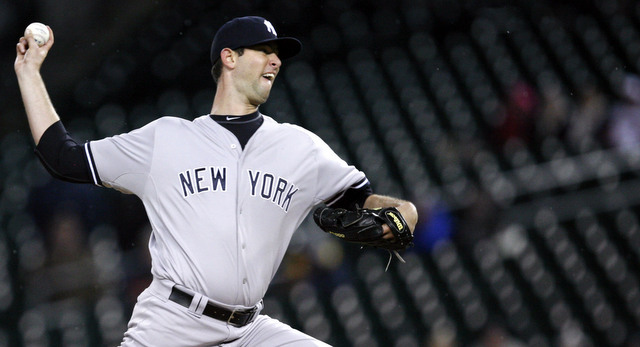 Reliever Girardi Likes More Than We Realized: Chris Martin
So, Chris Martin. He had just an okay Spring Training, but Girardi and Brian Cashman and everyone else kept talking about how much they liked him, and now here he is at the end of April leading the Yankees with 12 relief appearances. I guess they weren't joking around.
Martin started the year as the designated "only when losing" reliever — his first six appearances came with the Yankees trailing — but he's gradually worked his way up the pecking order. Girardi used him for five outs in a two-run game Sunday night and then in a save situation when Miller was unavailable Tuesday. Considering the results (11 IP, 7 H, 3 R, 3 ER, 2 BB, 13 K), it's hard to blame Girardi for giving Martin some more responsibility.
Previous members of the "Reliever Girardi Likes More Than We Realized" club include David Huff, Cody Eppley, Cory Wade, Luis Ayala, Sergio Mitre, and Brian Bruney. Martin was a scrap heap pickup — the Yankees got him in a cash trade with the Rockies after he'd been designated for assignment — who has already justified the minimal investment. He's already worked his way into some important innings.
Reliever Girardi Doesn't Seem To Trust: David Carpenter
Doesn't it seem like Girardi still doesn't fully trust Carpenter? He went to Martin for the save on Tuesday night instead of the more experienced Carpenter, then gave a weird answer when asked why he went Martin over Carpenter after the game. He basically said he was saving Carpenter for extra innings. Trust him in extra innings but not a save situation? Okay then.
Anyway, Girardi used Carpenter to get the final out of the seventh inning with a two-run lead Sunday night, then for a full inning in a tie game yesterday, but three of his four appearances prior to that came with the Yankees up by at least six runs. Two of them were with the Yankees up by nine runs. (Aside: Hooray for talking about the Yankees being up nine runs on occasion!)
Of those four appearances, the one Carpenter made with the score closer than six runs was the meltdown in Baltimore. Girardi brought him into the the sixth inning of a game the Yankees were leading by one, then Carpenter allowed three runs on two hits and a walk in one-third of an inning. Perhaps that blowup knocked the righty out of the Circle of Trust™ for the time being. That sure appears to be the case.
Lefty Specialist: Justin Wilson
One of the reasons Wilson was so interesting when he came over from the Pirates was his lack of a platoon split — from 2013-14 he held right-handed and left-handed batters to identical .268 wOBAs. And yet, Girardi has used Wilson as a left-on-left matchup reliever exclusively for nearly two weeks now. Here's a real quick rundown of his recent appearances:
April 17th: Faced one batter, the lefty hitting Kevin Kiermaier. (strikeout looking)
April 19th: Brought in to face one batter, the lefty hitting David DeJesus, who was replaced by pinch-hitter Logan Forsythe. (fly out)
April 22nd: Faced five batters (two lefties, three righties) with the Yankees up six runs and then nine runs. Girardi was just counting down outs.
April 23rd: Brought in to face one batter, the lefty hitting Alex Avila, who was replaced by pinch-hitter James McCann. (ground out)
April 26th: Faced one batter, the lefty hitting Curtis Granderson. (pop-up)
April 27th: Faced three batters, two lefties (James Loney and Kiermaier) sandwiched around one righty (Brandon Guyer).
April 29th: Faced one batter, the lefty hitting Kiermaier. (line out)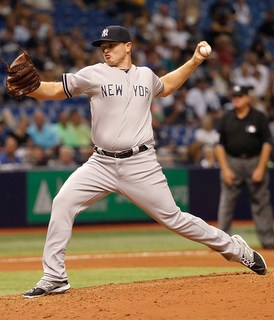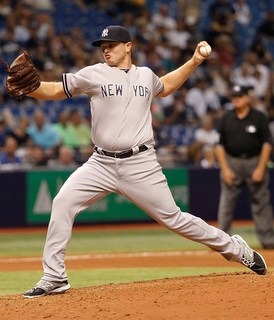 So Girardi hasn't been completely opposed to using Wilson against right-handers lately, but more often than not he's been brought in for pure matchup work and not to throw a full inning. It could be that he has fallen out of the Circle of Trust™ — Wilson was charged with two runs in that Baltimore meltdown — and is now working his way back into favor.
Of course, Wilson's strike-throwing issues are likely playing a role here as well. He's always had a below-average walk rate — Wilson walked three of the first five and four of the first 13 batters he faced this year, and he's walked five of 18 righties faced with only two strikeouts — and his early-season control issues may have scared Girardi off a bit. I can't blame him. For now, Wilson is the middle innings lefty specialist and not someone we figure to see in real high-leverage spots anytime soon.
Long Man: Esmil Rogers
Coming into the regular season, this was the only bullpen role we could easily predict. We all knew Rogers was going to be the long man — he got stretched out as a starter in camp but Warren beat him out for the fifth starter's job convincingly — and by and large he's done a nice job. He's got a 2.35 ERA (3.53 FIP) with 16 strikeouts and three walks in 15.1 innings. What more do you want from a long man? Rogers is a necessary evil — everyone seems to hate him but a veteran long man Girardi can run into the ground to spare the more important arms is a nice thing to have. Not all innings are pretty. Esmil's hear to pick up the ugly ones.
The Last Spot: Chasen Shreve & Co.
As always, the last spot in the bullpen has been a revolving door early on in 2015. Shreve has held it down for the most part but he's already been optioned once in favor of a fresh arm(s). Kyle Davies, Matt Tracy, Joel De La Cruz, and Branden Pinder have all seen big league time this year. Trust me, it won't be the last time Shreve is sent down for a fresh arm this year.
Bullpens have to be flexible — what's the point of having all those guys sitting and waiting in Triple-A if there's no way to get them on the roster when they're needed? — and this last spot gives the Yankees that flexibility. Shreve is good! But sometimes the furniture needs to be rearranged, and as the low man on the bullpen totem pole, he goes down to Triple-A when needed. If Shreve pitches well and Martin hits the skids at some point, it could be Martin who winds up in the minors whenever a fresh body is needed next. That's just the way it goes.
* * *
For all the talk about the co-closers system coming into the season, Girardi has made it pretty clear over the years that he likes having relievers in set roles. He doesn't need to say it, it shows in the way he uses his bullpen. Girardi has always had a set closer and preferred to have a set eighth inning guy as well. He's even had a set seventh inning guy at times. The various relievers have settled into those various roles these last few weeks, and I'm sure that makes Girardi happy. It's easier to manage when you already know who is going to pitch in what situation. At the beginning of the season, that wasn't always clear. Now it is.