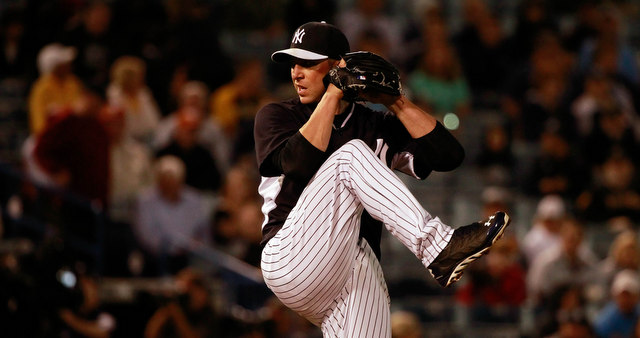 In his third minor league rehab start last night, left-hander Chris Capuano allowed two runs on seven hits and no walks in six innings with Triple-A Scranton. He stretched out to 76 pitches, which is the most important thing, not the results. Capuano is basically going through Spring Training right now, working to gain a feel for his pitches and delivery. Outs aren't the priority.
Joe Girardi told reporters earlier this week the Yankees "shouldn't really need to see much more than that," referring to Capuano throwing six innings in his third rehab starter. "It's possible (he could be activated for his next start), yeah," added Girardi. By no means is Capuano some kind of rotation savior, but he's a perfectly serviceable big league pitcher, and pitching depth is never a bad thing. His return may not have a big impact but it is welcome.
When the time comes the Yankees will have to decide how exactly to use Capuano and where to slot him into the pitching staff. I suspect they'll use his first outing back as a way to give everyone else in the rotation an extra day. One of spot sixth starter things the Yankees have been talking about since before Spring Training. After that though, Capuano's return gives the team plenty of options.
Option No. 1

: Capuano to the rotation, Whitley to the bullpen, Pinder to Triple-A

Branden Pinder came up when Chris Martin hit the DL a few days ago and he feels like nothing more than a placeholder. He could go back to Triple-A pretty easily to clear a spot for Capuano. Chase Whitley has made three starts for the Yankees this year — one good, one bad, one great — but is a reliever by trade, and his long-term future likely lies in the bullpen. Plus his ability to go multiple innings could help lighten the load on the team's other bullpeners. This would be the simple and straightforward "Whitley and Pinder are lower than Capuano on the pitching totem pole, so they get bumped down a notch" move.
Option No. 2

: Capuano to the rotation, Pinder in the bullpen, Whitley to Triple-A

A few weeks ago Girardi kinda sorta admitted the plan all along was to stash Whitley in Triple-A early this season so he could come up every so often to make spot starts, giving the rest of the rotation rest. Masahiro Tanaka's injury then forced Whitley into the rotation full-time. With Capuano set the return, the Yankees could simply go right back to that original plan and send Whitley down so they can bring him up periodically when the other starters could use an extra day. Pinder would stick around as the last reliever in the bullpen in that case.
Option No. 3

: Capuano to the rotation, Warren to the bullpen, Pinder to Triple-A

Through six starts, Adam Warren has looked very much like a reliever miscast as a starter. He hasn't been bad per se — a 4.65 ERA and 4.31 FIP from your sixth starter is fine in moderation — but his effectiveness drops off considerably once the lineup turns over and his velocity isn't close to what it was last year. He also seems to tire out around the 80-pitch mark. Warren went from 23.5 K% and 7.4 BB% as a reliever last year to 12.0 K% and 9.8 BB% as a starter this year. See what I mean? It all points to reliever.

With Capuano coming back, the Yankees have the option of sticking Warren back in the bullpen and leaving Whitley in the rotation until either Tanaka or Ivan Nova comes back in a few weeks. Warren would be able to step right back into that "trusted third reliever" role behind Dellin Betances and Andrew Miller, giving Girardi a third option for high-leverage spots. The role Warren filled last year, basically. And since he's stretched out, he could go two or three innings at a time if necessary. That's valuable.
Option No. 4

: Capuano to the bullpen, Pinder to Triple-A

This option seems unlikely, especially since Brian Cashman just told Lou DiPietro that "when I signed (Capuano), I signed him to be part of the rotation" the other day. Capuano does have bullpen experience though, including just last year with the Red Sox, when he had a 4.55 ERA (4.05 FIP) in 31.2 innings before being released. Rather than rearrange the rotation, the Yankees could simply stick Capuano in the bullpen and use him … somehow. I'm not sure what role he would fill (long man? lefty specialist? one-inning reliever?) but that would sort itself out in time. Always does. Option No. 4 is the most unlikely option. I don't think it's completely off the table though.

* * *

The Yankees are going to have to make a decision once Capuano is ready to be added to the roster, which figures to be just a few days away now. This won't be a particularly impactful decision — whatever option they choose could be reversed pretty easily — but it is a decision nonetheless. I think the Yankees will go with Option No. 2 and send Whitley down so he can again serve as the sixth starter. Whether that is a best option is another matter. What do you think the Yankees should do when Capuano returns?

What should the Yankees do when Capuano returns?