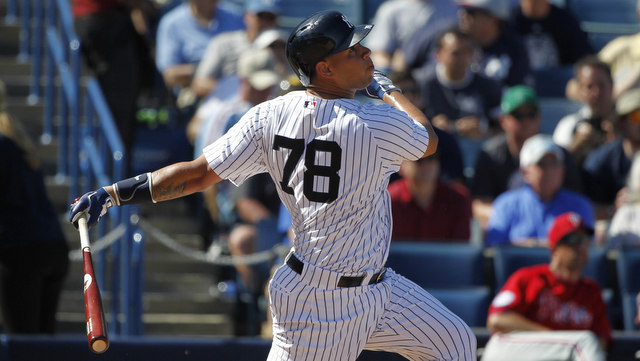 At this time last year, Gary Sanchez's prospect stock was down. He had just wrapped up a good but not great season with Double-A Trenton — Sanchez hit .270/.338/.406 (108 wRC+) with 13 homers in 110 games for the Thunder in 2014 — which left people still waiting for that huge breakout season. A 2009 Jesus Montero season, basically.
I argued prospect fatigue was setting in. Although he was still only 21 at the time, it felt like Sanchez had been around forever. We've been hearing about him since 2009 and looking at his stats since 2010. Prospects are like toys. We love them, then toss them aside when the next flashy one arrives. Sanchez fell behind others like Aaron Judge and Greg Bird.
This year though, Sanchez finally had a dominant year at the plate, hitting .287/.340/.516 (140 wRC+) with 18 home runs in 93 games split between Double-A Trenton and Triple-A Scranton. He made his MLB debut in September and went 0-for-2 in two garbage time at-bats, and actually made the wildcard game roster as the third catcher and extra righty bat.
Sanchez, now 22, is currently annihilating the Arizona Fall League. He has gone 17-for-40 (.429) with five home runs and 36 total bases (and 15 RBI, if that's your thing) in nine games for the Surprise Saguaros. Bird was named AzFL MVP last year after going 31-for-99 (.313) with six homers and 55 total bases in 26 games. Sanchez was recently named AzFL Player of the Week, because duh.
The numbers are nice, but, more importantly, Sanchez grew as a person and matured this year. He's had some attitude issues over the years, most notably getting suspended a few years ago because he refused to catch a bullpen session. "Everything has improved all around. I don't care where you come from. When you are 21 or 22, everyone grows," said departed assistant GM Billy Eppler to George King (subs. req'd) in September.
Sanchez did a little growing up, his defense continues to make incremental progress — a scout recently told Therron Brockish Sanchez has "soft hands and showed good blocking skills," and rated his future defense a 50 on the 20-80 scouting scale, meaning MLB average — and he had a big year at the plate. Plus he made his MLB debut. The 2015 season was a smashing success for Sanchez.
So now what? Where do the Yankees and Sanchez go from here? Sanchez is saying all the right things — "As a kid, you always dream to have that call, and I thank God that it happened this year. But I feel that it is not over yet. I want to continue to improve to where one day, I can play in the big leagues every single day," he said to Antonio Cannavaro earlier this week — and the Yankees haven't said anything, which isn't surprising. The way I see it, the Yankees have three options with Sanchez this offseason.
Option 1: Trade Him!
Over the last few years the Yankees have prioritized catcher defense. The only bad defensive catcher they've had since 2007 or so was Jorge Posada. Sanchez has definitely improved behind the plate, but even if he lives up to that scout's projection and becomes a 50 defender, is that good enough for the Yankees? Maybe! But they seem to look for elite glovemen, not average defenders. Sanchez's trade value might not get any higher than it is right now, with him destroying the AzFL.
Option 2: Keep Him You Idiot!
Sanchez has played only 35 games at Triple-A, so hanging on to him and sending him back to the RailRiders to start next season is perfectly reasonable. In fact, I'd say it's the most likely outcome. Sanchez still has work to do behind the plate and at this point of his career, he's better off playing everyday in the minors than sitting on the big league bench as a backup. John Ryan Murphy was big league ready defensively last year. Using him as the backup made sense. Sanchez? Nah, he needs more reps and lots of them. Triple-A is always an option.
Option 3: Trade Someone Else
This seems unlikely, but it is possible, I guess. The Yankees could move Murphy to fill another position — plenty of teams needing catching help and the dirt cheap Murphy would be quite attractive — and go with Sanchez as Brian McCann's backup. Or they could try to move McCann and accelerate the youth movement with a Murphy/Sanchez catching tandem. That would be something else. Of course, McCann's contract and no-trade clause would be quite the obstacle.
A few months ago I would have expected Sanchez to be traded this offseason because his defense isn't up to the team's apparent standards. Right now I think they're likely to hold onto him, see what steps forward he takes next season, then make a decision. The bat is too promising to move right now. Next season will be Sanchez's last minor league option year — he could qualify for a fourth option I suppose, that stuff always confuses me — which means it's big leagues or bust come 2017.
That's not necessarily a problem. If Sanchez continues to hit well — 22-year-old catchers who hit 18 home runs in the upper minors are exceedingly rare, you know — the Yankees can make room for him, even if they have to shoehorn him into the lineup at DH or even first base. Mark Teixeira and Carlos Beltran will be gone after 2016, after all. The roster logjam will clear up a bit.
A year ago at this time Sanchez appeared to be fading as a prospect, a guy who was more hype than tools and production. That wasn't completely undeserved. Either way, it's no longer the case now. Sanchez made big strikes this year, especially with his maturity, and he put himself in position to help the Yankees as soon as next year. Surely he noticed the team turned to Bird and Luis Severino when they needed help this summer. That's some nice motivation.
I would never rule out a trade. Can't do it. At this point though, I think the Yankees will keep Sanchez and he'll head into next season as the third catcher on the depth chart. It's not often a team goes through an entire season with their top two catchers staying healthy — the Yankees got lucky and did that this past season — so Sanchez figures to start in Triple-A and come up whenever help is needed.
Development rarely goes smoothly and according to plan. Sanchez hit some bumps in the road, overcame them, and put himself in position to be discussed as a serious part of the Yankees' future. Where does he fit exactly? That remains to be seen.