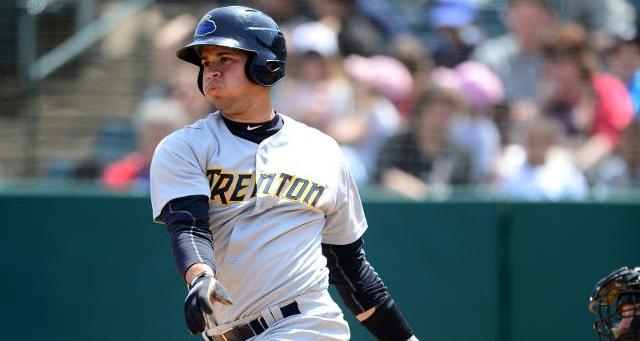 With Spring Training right around the corner, prospect season is in full swing around baseball, as new team top ten and global top 100 lists are posted just about everyday. (My annual top 30 Yankees prospects list will be going live next Friday, by the way.) The lists ultimately don't mean anything, they're just someone's opinion, but they are fun to discuss and debate. Prospects can be very polarizing.
Prior to both the 2013 and 2014 seasons, I ranked C Gary Sanchez as the Yankees' top prospect. So did Keith Law. Baseball America had Sanchez third prior to 2013 and first prior to 2014. Sanchez was also a staple on top 100 lists those two years, ranking as the 57th and 35th best prospect in the game by Baseball America prior to 2013 and 2014, respectively. Law him 18th and 68th those two years. Baseball Prospectus had him 47th and 85th, and MLB.com had him 36th and 47th. On and on it goes.
This year though, Sanchez has slid down the rankings. Both Keith Law and Baseball Prospectus ranked him as the third best prospect in the system a few weeks ago while Baseball America had him fifth. That is partly due to other players in the organization (specifically OF Aaron Judge and RHP Luis Severino) breaking out, but people have also soured on Sanchez. He had not appeared on any top 100 lists this year. Not Law's, not Prospectus', not MLB.com's, and almost certainly not Baseball America's when it is released next week.
I'm not going to call Sanchez's absence on the various top 100 lists crazy — they're all excellent and well-informed lists, every one of 'em — but I guess I do find it surprising. Well, I do and I don't. It isn't surprising because people are clearly down on him. It is surprising because Sanchez is still a pretty damn good prospect. I mean, look at this snippet from Baseball America's recent scouting report:
If everything clicks, he's a frontline catcher with the potential for a .280 average and 20-25 home runs annually. His throwing arm remains an impressive tool as well, one that ranks between 70-80 on the scouting scale, and he threw out 39 percent of basestealers.
That's pretty awesome. Sanchez isn't that guy yet, obviously, if he was he'd be in the big leagues, but that's the kind of talent he has. "Sanchez will show you flashes of the ability that once made him a top-25 prospect in all of baseball," wrote Law in his top ten post before getting to the caveat, "but he'll also take whole pitches or innings off mentally, and catching isn't a position you can play half-fast."
That last part is Sanchez's biggest issue. He's had some work ethic related mishaps — Sanchez infamously refused to catch a bullpen session with Low-A Charleston a few years ago and was sent back to Extended Spring Training for disciplinary reasons — and his defense hasn't improved as hoped, and that's the scouting reason why he's tumbling down the prospect rankings.
I also think there's another factor: prospect fatigue. It happens all the time. Sanchez signed with the Yankees as a 16-year-old in 2009, so he's been in the system for five full seasons now. That's a lot. People are getting sick of his seeing his name on prospect lists. Following prospects is not about instant gratification but people always love their new toys more than their old ones. Sanchez has been around a long time and people are getting tired of him.
And yet, Sanchez just turned 22 last month. He's only four months older than LHP Jacob Lindgren, who the Yankees just drafted last summer. Sanchez hit .270/.338/.406 (108 wRC+) with 13 homers as a full-time catcher in Double-A last year at age 21, making him 3.7 years younger than the average Eastern League player according to Baseball Reference. Heck, he's been three years younger than the competition every season of his career.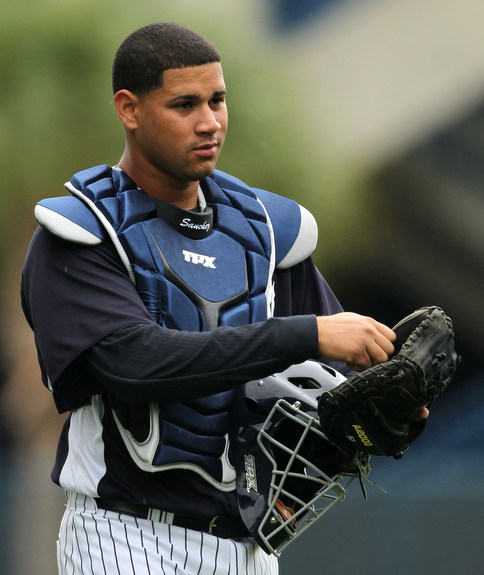 If the Yankees signed some college catcher out of the draft, sent him right to Double-A, and he did what Sanchez did age 21 last year, we'd all think it was pretty awesome. But instead everyone has been pretty underwhelming by Sanchez. Everyone's waiting for the big breakout year — a Jesus Montero year, if you will — that still hasn't come even though Sanchez hasn't ever actually been bad.
This brings us to another point I want to discuss: 2015 being a make or break year for Sanchez. I mean, no. The idea that a 22-year-old kid is facing a make or break year that will determine if he's a prospect going forward or someone to forget about is silly. No one with half a brain would write off a 22-year-old with Sanchez's ability. That said, I do think it is a make or break year for Sanchez with the Yankees' organization.
The Yankees clearly prioritize catcher defense and have for years — the only bad defensive catcher they've had since 2007 is Jorge Posada. They called Montero a future big league catcher as long as possible until finally trading him away because no, they really didn't think he was a catcher. Peter O'Brien was traded for the very same reason last summer. Sanchez has better defensive tools and a much better chance of sticking behind the plate than either Montero or O'Brien, but he's still rough at the position and the improvement hasn't come as quickly as hoped.
If that defensive improvement doesn't come this year, a year in which Sanchez is slated to head to Triple-A Scranton, then his days with the organization are probably over. The Yankees will cut bait like they did with Montero and O'Brien and cash Sanchez in as a trade chip even though he has a chance to be an impact bat. So it's not a make or break year for Sanchez's career overall, but I do think it's a make or break year for him with the Yankees. That makes sense, right?
Because Sanchez was a huge money international signing ($3M!) and has been one of the top rated prospects in the system for years, people have been watching and waiting for that mammoth season that validates all the time we've put into following him. It hasn't happened and people are getting tired of waiting — I think the same thing happened with Dellin Betances two or three years ago too — but that doesn't make him any less of a prospect. Sanchez is still really good and has loads of ability. But, unless he improves his defense this year, chances are he's going to find himself in another organization.