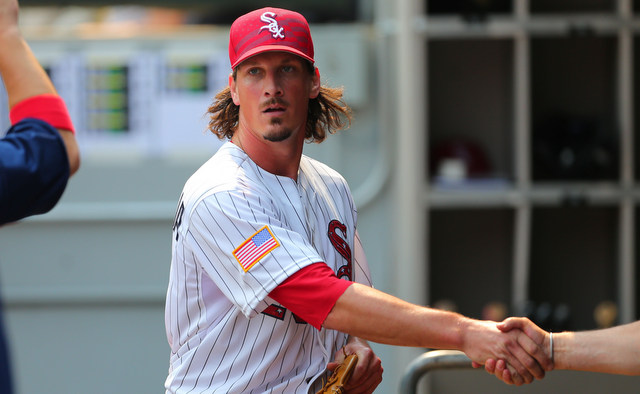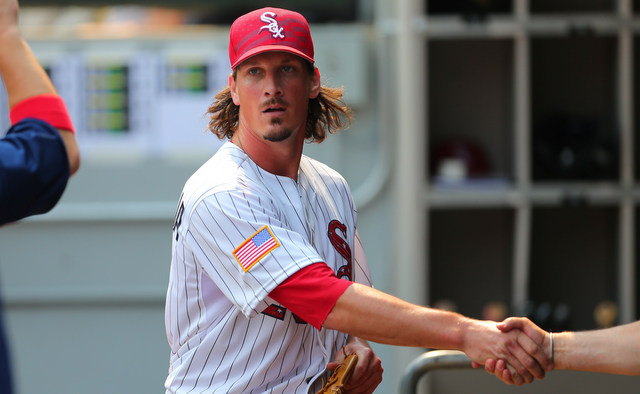 This doesn't surprise me. According to Jon Heyman, the Yankees have "real interest" in impending free agent Jeff Samardzija and are likely to pursue the right-hander this offseason. The free agent signing period opens five days after the end of the World Series, so sometime in early-November.
Samardzija, 30, had a miserable walk year in 2015, pitching to a 4.96 ERA (4.23 FIP) in 32 starts and 214 innings for the White Sox. Even with the poor season, I expect the ChiSox to make Samardzija a qualifying offer, meaning he'll cost a draft pick to sign. Bringing him back on a one-year, $15.8M contract wouldn't be the end of the world for Chicago. They could always trade him if they won't want him at that price. Someone would take him.
There's a few reasons why I say Heyman's report isn't surprising. For starters, the Yankees have had interest in Samardzija dating back to at least the 2013 Winter Meetings, so this isn't coming out of nowhere. There are also several ties to Samardzija in the organization. Larry Rothschild was his first big league pitching coach with the Cubs and special advisor Jim Hendry originally drafted Samardzija during his time as Cubs GM.
Samardzija had a rough year in 2015, no doubt about it, but he was excellent as recently as 2014 (2.99 ERA and 3.20 FIP). He's also a workhorse, throwing at least 213 innings in each of the last three seasons. He had 19 starts of at least seven innings this summer. The Yankees had 35 (!) as a team. Wouldn't it nice to have one guy who didn't tax the bullpen every time out? Everyone once in a while Samardzija does this too:
Heyman says the Yankees like Samardzija for a few reasons, most notably his potential and competitiveness. I'll add that he throws hard (averaged 94.2 mph in 2015), he never walks anyone (5.4%), and he's a big dude (listed at 6-foot-5, 225 lbs.). Those are three traits the Yankees love. Just look at their pitching staff. Huge guys who throw hard and throw a lot of strikes are their thing.
At this point, I think Samardzija is what is his. Guys who don't fulfill their potential by time they reach their 30th birthday usually don't ever get there. That doesn't mean he's bad! He was bad this year but not the few years before that. Samardzija probably won't ever be an ace, but he can be a good and occasionally great innings-eater. The Yankees could use someone like that.
The qualifying offer could really throw a wrench into things because I don't think the Yankees will forfeit a first round pick to sign any non-Jason Heyward free agent this offseason. They're likely looking at Samardzija as a bounceback candidate, a one-year contract guy who can prove himself and try again on the open market next winter. I can't imagine they like the idea of a long-term deal. We'll see.