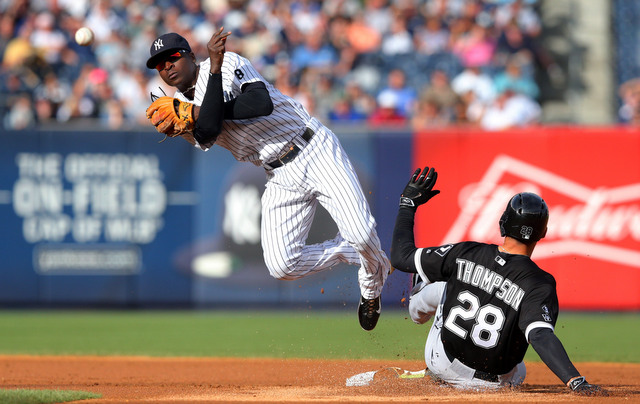 Last season, Yankees icon Derek Jeter called it a career and retired following a first ballot Hall of Fame worthy 20-year career. Jeter announced his plan to retire in Spring Training, so it was no surprise, yet replacing him was going to be a daunting task. The Yankees had no one in the farm system ready to step in at shortstop and the free agent market offered only imperfect solutions.
Rather than open their wallets for someone like Asdrubal Cabrera or swing a trade for a proven veteran like Jimmy Rollins, the Yankees went for youth, acquiring Didi Gregorius from the Diamondbacks in a three-team trade that sent Shane Greene to the Tigers. Greene was pretty good for the Yankees last year. It was a risky move. At the time of the trade, Didi was only 24 years old with a career 84 wRC+ and a reputation for being a standout defender. Gregorius was the shortstop of the future? No, Gregorius is the shortstop of the present and future.
The Pursuit
First things first: the Yankees did not simply pull Didi's name out of a hat last winter when looking for a shortstop. They've been pursuing him for years. We first heard the Yankees connected to Gregorius during the 2013 Winter Meetings, when there was talk of a three-way trade involving Brett Gardner (!) and Justin Masterson. There were also some more rumors at the 2014 trade deadline.
Jon Heyman reported special advisor Gene Michael loved Gregorius while Brendan Kuty reported pro scout Eric Chavez and third base coach Joe Espada were big believers as well. Chavez played with Didi with the Diamondbacks while Espada spent the last few seasons in the front office and scouted Gregorius in Triple-A. Lots of people vouched for Didi, and the Yankees finally pulled the trigger on the trade on December 5th, a week before the Winter Meetings.
The Promise of Spring
Coming into Spring Training, the Yankees talked about platooning Gregorius with Brendan Ryan at shortstop, which was their way of lowering expectations. They always seem to do that with notable pickups. Gregorius was very impressive in Spring Training, hitting .271/.308/.458 in 20 Grapefruit League games while flashing some serious leather. It was a very promising first impression. There was definitely some excitement about Gregorius given his play in the spring.
The Ugliness of April
Most fans aren't wackos like me who obsessively watch Spring Training games, so Gregorius didn't make his real first impression until the regular season started. And boy, was his first impression bad. Gregorius went 0-2 at the plate and was hit by a pitch on Opening Day, and, with the Yankees trailing 6-1 with two on and two outs in the eighth, Didi was thrown out trying to steal third base.
Where was he going? Who knows. It was an awful and pointless stolen base attempt given the game situation, with the Yankees desperately in need of as many base-runners as possible. The bad base-running decisions continued in the coming days as well. Most notably, Gregorius was caught taking too big a turn around first base on his first hit of the season, and was thrown out wandering too far away from the bag.
It wasn't just the base-running blunders either. Gregorius didn't hit a lick in April — he put up a .206/.261/.238 (36 wRC+) batting line with only two extra-base hits (both doubles) in 69 plate appearances during the season's first month — and his defense was shaky as well.
It wasn't so much physical errors in the field — Didi did make three errors in April, but only one was a routine play, the other two were tough plays he failed to complete — but mental mistakes. Gregorius cut off a throw from the outfield and didn't make the relay throw home, allowing a run to score. He slid to stop a hard-hit grounder and still tried to turn the double play rather than going for the sure out at first. Stuff like that.
The first month of the Didi Gregorius era was not pretty. Fans at Yankee Stadium chanted "Der-ek! Je-ter!" every time he made a mistake, others wanted him benched with Stephen Drew moving to shortstop, and others wanted him sent to Triple-A. It was understandable! Gregorius looked awful in every phase of the game in April. Aside from sitting him against some tough lefties later in the month, the Yankees stuck with Didi.
The Rise of Didi
Gregorius' early season slump continued into mid-May — he was hitting .204/.269/.241 (41 wRC+) as late as May 17th — and the calls for a demotion only grew louder. The bad base-running mistakes stopped though, and his defense did improve quite a bit, but the offense was non-existent. Didi wasn't hitting righties, wasn't hitting lefties, wasn't hitting for average, wasn't drawing walks, wasn't hitting for power, nothing. He contributing nothing at the plate.
The Yankees had Alex Rodriguez work with Gregorius on his defense early in the season, and they again turned to veteran players to help their young shortstop, this time offensively. Hitting coach Jeff Pentland enlisted A-Rod and Carlos Beltran to help Gregorius, and their message was essentially this: be more selective at the plate and taking batting practice as seriously as game at-bats. "Alex and Carlos had a big hand in talking to Didi," said Pentland.
The results came almost immediately. Didi went 2-for-4 on May 20th, hit his first home run of the season in the next game, then hit his second home run of the season the game after that. He finished May on a 10-for-37 (.270) run and kept hitting into the summer months. In July and August, Gregorius was a legitimate threat the plate.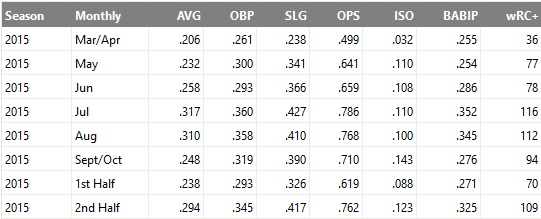 Didi slumped like the rest of the Yankees in September, but his overall performance at the plate took a huge step forward after working with A-Rod and Beltran. After bottoming out with that 41 wRC+ on May 17th, Gregorius hit .281/.331/.403 (101 wRC+) with nine home runs in 458 plate appearances the rest of the season. That is pretty awesome. He finished the year with a .265/.318/.370 (89 wRC+) batting line. The league average shortstop hit .256/.307/.375 (85 wRC+) in 2015.
Gregorius did not only improve at the plate. He also improved in the field, as his incredible natural gifts — especially that throwing arm, gosh — became more and more evident each passing week. Gregorius showed he can range for the ball in either direction, charge it and make a barehand play, go back for a basket catch, the works. He can do it all on the field. Here's a very necessary highlight reel:
That glove is why the Yankees the acquired Gregorius more than anything. Anything he gave them at the plate was going to be considered a bonus this year. The defense was the priority, and after that rocky start, he shined on both sides of the ball. Didi played a beautiful shortstop after those early season blunders. He went from being the guy no one wanted in the lineup to the guy everyone wanted the ball hit to with the game on the line. It was quite a turn around.
In retrospect, I underestimated the difficulty of replacing Jeter. Yes, Jeter was not very good last year, but he's still Derek Jeter, and that's an awfully tough act to follow. The pressure of replacing a legend seemed to overwhelm Gregorius early in the season and that's understandable. Replacing Jeter was never going to be easy no matter who did it. By the end of the season, Didi looked way more comfortable on the field. Way, way more comfortable.
Situational Struggles
Although he improved as the season went on, Gregorius did struggle in so-called situational at-bats. For starters, he didn't hit lefties at all. He put up a .247/.311/.315 (73 wRC+) batting line against southpaws, which isn't a total disaster in terms of OBP, but it's not good. The leverage-based stats show Gregorius also struggled in big spots.

Gregorius is jumpy at the plate — he's got happy feet, for sure — and that gives off the impression of being overly aggressive in those situational spots. I'm not all that concerned about his situational struggles — Gregorius had 56 plate appearances in high-leverage situations, that's all — but it is something that can be improved. At the same time, we're talking about a guy batting eighth or ninth. His performance in those spots shouldn't be crucial to the team's success.
Looking Ahead to 2016
Between his league average-ish offense (by shortstop standards) and strong defense, Gregorius ranked seventh among all shortstops in both fWAR (3.1) and bWAR (3.3) this season. He is clearly the shortstop of the present and the shortstop of the future. His play over the final four months of the season won him over with fans — "Di-di! Di-di!" chants became fairly common at Yankee Stadium — and Didi will be back at short next season, hoping to further improve his game. Gregorius was arguably the most promising development for the Yankees this summer.