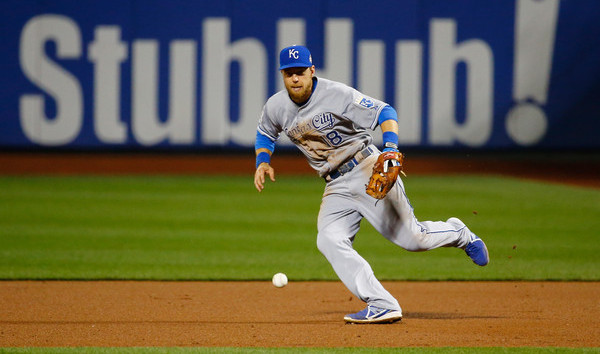 It's the offseason, which means the Yankees don't want to trade their best prospects, don't want to spend big on free agents, and don't want to surrender their first round pick. They like their team and are comfortable with their roster. It's the same stuff we hear every winter and no, it's not always true. There's just nothing better to say without being self-defeating.
So, naturally, the Yankees say they're not willing to meet Ben Zobrist's asking price this offseason, report Dan Martin and Ken Davidoff. New York tried to acquire Zobrist from the Athletics at the trade deadline but balked at Oakland's asking price: Rob Refsnyder and Adam Warren. Martin and Davidoff say the Mets are more likely to pursue Zobrist than the Yankees.
Zobrist, 34, hit .276/.359/.450 (123 wRC+) with 13 home runs and more walks (11.6%) than strikeouts (10.5%) in 535 plate appearances for the A's and Royals this past season. He also missed a few weeks due to minor knee surgery. Zobrist played second base, third base, and the two outfield corners in 2015. He's played shortstop and center field as recently as 2014.
Brian Cashman said the Yankees are seeking "more balance" at second base, which means if they do make a move, it'll be for a more well-rounded player than Refsnyder and Dustin Ackley. They have offense first second basemen. Zobrist certainly fits given his strong defense, and his versatility means he could play pretty much anywhere. Every team has a need for a guy like Zobrist.
For what it's worth, the FanGraphs crowd projects Zobrist to get three years and $42M. MLBTR projects three years and $51M. There is no draft pick involved — Zobrist was ineligible for the qualifying offer because he was traded at midseason — so it's a straight cash deal. The Yankees have plenty of cash. They just want people to think they don't.
Zobrist has slowed down a bit offensively the last few years and he is entering his mid-30s, so I certainly understand any hesitation to pay him $14M+ a year for the next few years. At the same time, it's a relatively short-term deal, and Zobrist would add a ton of much-needed flexibility to the roster.