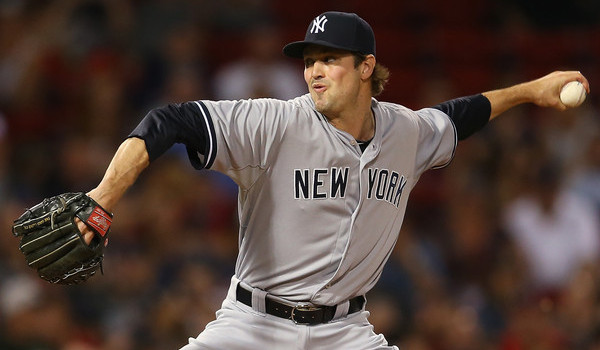 Late last week, the Padres started their payroll purge by trading their top two relievers. Joaquin Benoit and his $8M salary went to the Mariners for two prospects, then, on Friday, Craig Kimbrel and the $25.5M left on his contract were shipped to the Red Sox for four prospects. Just like that, Padres GM A.J. Preller shed $19.5M in 2016 salary.
By all accounts the Red Sox gave up a significant package to get Kimbrel, one of the best relievers in the game. MLB.com ranked OF Manuel Margot and SS Javier Guerra as the 25th and 76th best prospects in baseball, respectively. OF Aaron Judge and SS Jorge Mateo are ranked 17th and 87th, for comparison. Keith Law (subs. req'd) said he views both Margot and Guerra as top 50 prospects.
Furthermore, Alex Speier said he ranked LHP Logan Allen as the 12th best prospect in Boston's system in the upcoming 2016 Baseball America Prospect Handbook. IF Carlos Asuaje, the fourth piece heading to San Diego, is not a top or even mid-range prospect, but he is a big league ready utility man who Padres GM A.J. Preller confirmed will be given every opportunity to win a roster spot in Spring Training.
So that's two top 100 position player prospects, a strong lefty pitching prospect, and a big league ready utility man for two guaranteed years of Kimbrel plus an option for a third. And the Red Sox took on his remaining salary. Prospects are prospects, and there's a chance the Padres get nothing out of this trade, but at this very moment it looks like they landed themselves quite a haul.
And that is exactly why the Yankees are smart to listen to trade offers for closer Andrew Miller, as they have reportedly done this offseason. Seeing Miller's name on the block was a bit surprising, but deep down we all know everyone is available for the right price. It would take a lot to trade Miller — one report indicated the Yankees want three young MLB ready players — for obvious reasons. After all, the Kimbrel deal shows the trade value of elite relievers.
The Kimbrel trade also means one less elite closer is on the trade market for teams to consider. There are none in free agency — not unless you really love 33-year-old Darren O'Day going forward — and Aroldis Chapman is the best on the trade block. Others like Mark Melancon and Ken Giles could be available too. But, aside from the pre-arbitration-eligible Giles, Miller has by far the most favorable remaining contract situation among top reliever trade chips.
Chapman and Melancon will be free agents next winter after earning huge salaries next season. (MLBTR projects $10M for Melancon and $12.9M for Chapman.) Miller is owed $9M per year for the next three years. He'll earn approximately as much from 2016-18 that Kimbrel is guaranteed from 2016-17. And the performance is very comparable. Here's the last two seasons:

Kimbrel is widely considered the best closer in baseball and he's earned that reputation the last few years. On a rate basis though, Miller has been every bit as good — if not better, really — as Kimbrel the last two seasons. Heck, you could argue the Red Sox just traded four prospects to get Kimbrel to make up for the mistake of not re-signing Miller a year ago.
Anyway, the point is both Miller and Kimbrel are excellent relievers, among the four or five best in the world. Kimbrel was just traded for a monster prospect package, so it makes sense for the Yankees to at least listen to offers for Miller. Plenty of teams are seeking bullpen help. (Plenty really means every, in this case.) The Yankees don't have to trade Miller. Brian Cashman & Co. wouldn't be doing their jobs if they didn't listen though.
I think the Kimbrel trade was something of a perfect storm. The Padres wanted to cut payroll and the Red Sox are trying to get out of last place and back into contention, so there's a sense of urgency. They hired Dave Dombrowski to run the front office this summer, and Dombrowski is known to target big name players and use his prospects as trade currency, not to fill the big league roster. Everything all came together for this trade.
The Yankees might not find that perfect storm trade for Miller. I'm sure they'll field plenty of offers for the lefty. The question is can they get what they want? Remember, the Yankees plan to contend next year. They're rebuilding on the fly. They're getting younger and trying to stay relevant too. Not every rebuild as to be an Astros style total tear down. That is one way rebuilt. It is not the way to do it.
Trading Miller for prospects makes the Yankees worse in 2016 (and 2017?) and possibly better long-term, but the Yankees don't want to be worse next year. That's why they're said to be seeking MLB ready players in any trade. If they don't get a package to their liking, they'll simply keep Miller. After all, if the Yankees didn't have Miller and another team made him available, wouldn't we want the Yankees to go after him?
Thanks in part to the Royals, bullpens have become a major focal point the last few years. Starters are throwing fewer innings and the need for multiple high end relievers has become a necessity for contention, not a luxury. Teams are paying big for bullpen help — look at the Kimbrel trade and look at Miller's contract too, it smashed records for a non-closing reliever — and it's possible some team will pay big for Miller, in a way that improves the 2016 Yankees.