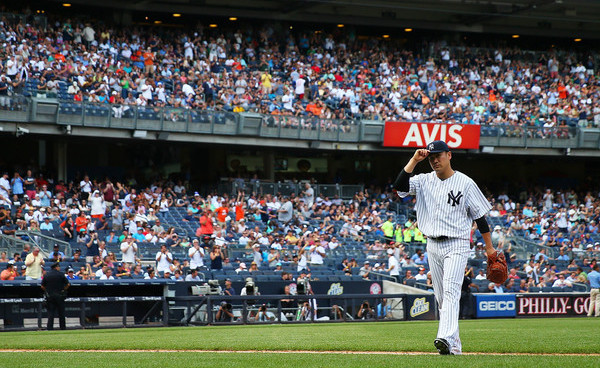 So far this offseason the Yankees have worked to improve their lineup (Starlin Castro), their bench (Aaron Hicks), and their bullpen (Aroldis Chapman). They've been looking for rotation help all winter, particularly a young starter they can control beyond 2017, but so far they've come up empty. With another seven weeks until Spring Training, the Yankees still have time to find another starter.
At the moment, the Yankees do have six starters for five spots, so they have some depth. I'd call it warm body depth rather than quality depth, but depth is depth. And the Yankees are going to need that depth too, because no team gets through a season using only five starters these days. Heck, teams are lucky if they get through a season using only seven starters. That's the nature of the beast.
The concern with the rotation is the dubious health of the incumbent starters. Every one of them except Luis Severino missed time with an injury last season. All of them except Severino and CC Sabathia had an arm injury. Masahiro Tanaka is coming off surgery to remove a bone spur from his elbow and Michael Pineda still hasn't made it through a full season in one piece in his four years with the Yankees.
"I think there's depth there but there's questions about health," said Joe Girardi at the Winter Meetings. "You have Tanaka coming off a minor surgery — I guess you can say there's no surgery that's really minor when it's to a pitcher's arm — you have Michael coming back after throwing a lot of innings last year. (Ivan Nova) should be better a year removed from his surgery. I think until you see him throwing in Spring Training and throwing the ball like he's capable of, you wonder a little bit."
The health concerns with the rotation are legitimate. The Yankees don't have anyone they can reasonably count on to stay healthy and take the ball every fifth day without incident. Yes, all pitchers are injury risks, but you can safely pencil guys like David Price and Zack Greinke and Jeff Samardzija in for 30 starts a year. They have the track record of durability. The Yankees don't have anyone like that. At least not with Sabathia at this point of his career.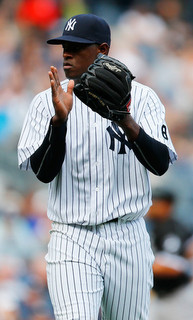 What the Yankees do have, however, is a lot of upside in their rotation. I feel like this is getting overlooked this offseason. Tanaka is a true difference maker when healthy. He's an ace on his best days, and even on his worst days he's merely ordinary and not awful. Severino has all the potential in the world and we've seen Pineda and Nathan Eovaldi have extended stretches of dominance (Pineda in 2014, Eovaldi in 2015).
I don't have high expectations for Sabathia, not even with the new knee brace, but at least Nova will be further away from Tommy John surgery. He's been very up and down in his career. The ups have been really good though! The downs? Well they're why he's the sixth starter and not assured a rotation spot. And who knows, maybe the new knee brace is the magic cure-all Sabathia needs. Even becoming a league average innings eater would be a huge upgrade.
Tanaka turned 27 last month and is the third oldest of the team's six starters. Sabathia is the elder statesman at 35 and Nova's the second oldest. He'll be 29 in two weeks. Pineda (26) and Eovaldi (25) are in their mid-20s and Severino's just a kid at 21. It would be one thing if the Yankees had a rotation full of Sabathias — veteran guys trying to stave off Father Time and remain effective in their twilight years. That's not the case. The rotation is pretty young aside from CC.
The best way to describe the Yankees rotation is boom or bust. There's a lot of injury risk and the bust rate is quite high. Much higher than I think anyone feels comfortable with. There's also the boom potential that is being ignored for whatever reason. Tanaka, Severino, Pineda, and Eovaldi are a helluva quartet. That's three young power starters with swing-and-miss stuff — now that Eovaldi has the splitter — plus Tanaka, a master at getting hitters to chase.
The rotation as is doesn't make me feel very comfortable because there are so many health question marks. I'm not sure adding a reliable innings guy would make me feel much better though. The Yankees may add a young controllable starter, but, for the most part, they'll sink or swim with this rotation in 2016. The injury risk is scary. But don't forget the upside either.
"I think our guys are capable of getting it done. But the thing is, you have to keep them out there for 30 to 32 starts," said Girardi. "I think our rotation has a chance to be good. But we've got to keep them out there."