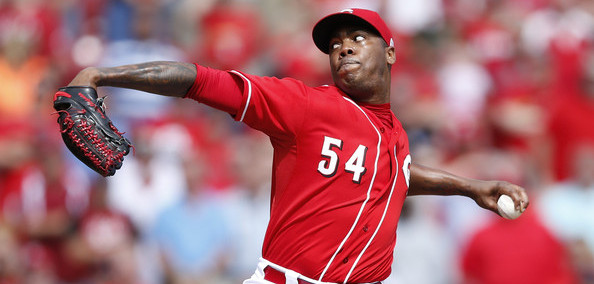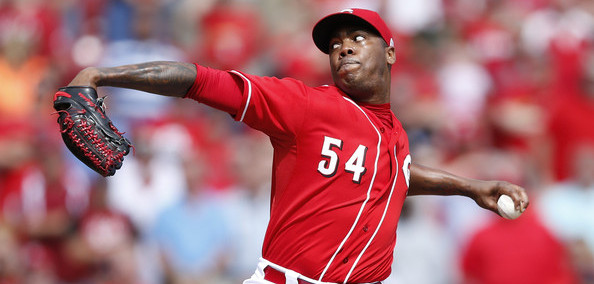 Last Friday the Yankees filed salary arbitration figures with four of their six eligible players prior to the 1pm ET deadline. Michael Pineda ($4.3M) and Dustin Ackley ($3.2M) signed new deals while Aroldis Chapman, Nathan Eovaldi, Didi Gregorius, and Ivan Nova filed salary figures. The two sides can still discuss a deal of any size. Friday was not a hard deadline for a 2016 contract.
Chapman filed a $13.1M salary figure, which is a touch more than the $12.9M projection MLBTR's model spit out. The Yankees, meanwhile, filed a $9M salary figure. That represents a mere $950,000 raise for Chapman. Here's what I wrote when the filing figure news broke:
First thought: Chapman should probably take the Yankees to a hearing. He made $8.05M last season. Would the arbitration panel really side with the Yankees and award him a raise of less than $1M after he saved 33 games with a 1.63 ERA (1.94 FIP) and 116 strikeouts in 66.1 innings in 2015? Seems really unlikely. The other third year arbitration-eligible closers (Kenley Jansen, Drew Storen, Mark Melancon) all received raises of at least $2.5M on Friday. I guess the Yankees think Chapman's earning potential will be dragged down by the domestic violence incident.
Jonathan Papelbon holds almost every arbitration record for relievers, and he received a $12M payday in his final season of eligibility back in 2011. Chapman is looking to break that record and he's not being unreasonable. Reliever salaries have increased significantly since 2011 and Chapman has been as good as any closer in history the last few seasons.
As I said Friday, it appears Chapman has a pretty good case should this thing go to an arbitration hearing next month. The Yankees, it seems, are using Andrew Miller as their salary reference point for Chapman. Free agent contracts are fair game for salary comparisons for players in their final arbitration year as Jeff Passan noted, and the team's $9M filing figure matches the average annual value of Miller's contract.
Chapman has very few peers statistically. Miller happens to be one of them. That they're both left-handed gives the comparison even more validity. We're talking about the two best lefty relievers in baseball here. (Okay, maybe two of the three best along with Zach Britton.) Here's what Chapman and Miller did last season, the most important season during contract talks:
| | IP | Saves | ERA | FIP | K% | BB% | fWAR | bWAR |
| --- | --- | --- | --- | --- | --- | --- | --- | --- |
| Miller | 61.2 | 36 | 1.90 | 2.16 | 40.7% | 8.1% | 2.0 | 2.2 |
| Chapman | 66.1 | 33 | 1.63 | 1.94 | 41.7% | 11.9% | 2.5 | 2.7 |
Pretty damn similar. Similar innings total, similar saves total, similar strikeout rate, WAR is in the same ballpark. Miller has the edge in walk rate but Chapman has him beat in ERA and FIP. The comparison is not crazy. Chapman was a bit better last summer but Miller isn't too far behind him. He is one of Chapman's few peers.
That comparison with Miller seems to be the basis of the Yankees' $9M filing figure. Should this thing go to a hearing, they're probably going to argue Miller is a comparable pitcher and he signed a deal worth $9M per season, so that's what Chapman deserves in his final year of arbitration. At least that's what I think is happening. I'm not sure how else they could have come up with that $9M number.
The Miller-Chapman comparison works for the 2015 season and that's about it. Go back further and it's advantage Chapman in a huge way, which is why he's in position for a record arbitration salary in the first place. Miller has been an elite reliever for only two seasons now — you could argue two and a half seasons based on his work in 2013 — Chapman's been doing it for four years.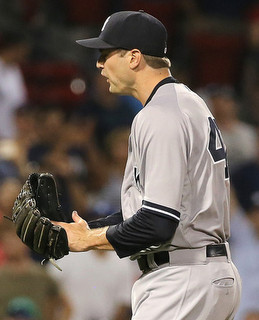 Saves pay, especially in arbitration. Miller has 37 career saves and he had one when he became a free agent. Chapman has 146 career saves. That's going to be the argument Chapman's side makes should this go to a hearing. Miller got that $9M per year contract in free agency as a setup man. David Robertson, another elite reliever who had only one year as a closer under his belt when he became a free agent, landed a contract worth $11.5M annually that same offseason. That will work against the Yankees.
The Yankees aren't stupid. They feel they have a strong argument to support that $9M filing figure and can win a hearing if necessary. From the outside, it looks like they filed way too low — again, we're talking about a $950,000 raise for one of the best relievers in the game coming off a great season — low enough that Chapman's side may not have much incentive to discuss a one-year contract smaller than their $13.1M filing figure these next few weeks.
Maybe the Miller comparison will stand up in front of the three-person arbitration panel, which tends to be not well-versed in sabermetrics. (Arbitration is a very antiquated process.) The fact fellow third year arbitration-eligible closers like Jansen, Storen, and Melancon all received raises north of $2.5M this offseason — Melancon's $4.25M raise is a record for an arbitration-eligible reliever — does not bode well for the Yankees should this get to a hearing.