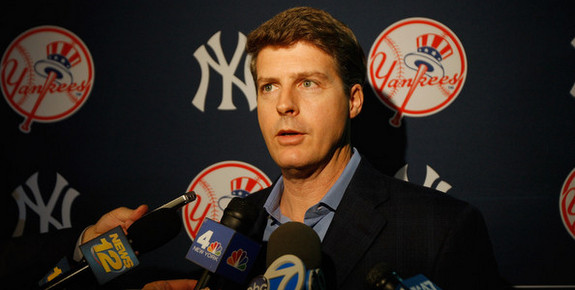 Today, at the quarterly owners' meetings in Coral Gables, Hal Steinbrenner told reporters he doesn't want payroll to climb much higher than it is right now. "I'm not comfortable with the payroll being too much higher than it is now," he said to Jon Heyman and Bob Nightengale. "(But) we've surprised people in the past."
This isn't a surprise, right? Payroll has held relatively steady for a decade now even though the new Yankee Stadium opened in 2009 and MLB signed ginormous new national television deals two years ago. To be fair, the Yankees do pay a ton in luxury tax and revenue sharing each year. But still, payrolls around the league are going up while New York's remain static.
Back of the envelope calculation: the Yankees currently have $223.6M on the books for next season per Cot's, assuming Aroldis Chapman and Ivan Nova win their arbitration cases. Add in the rest of the 40-man roster and the $12M or so each team has to contribute towards player benefits, and the payroll for luxury tax purposes is around $240M right now.
The Yankees finished last season with a $241.15M payroll for luxury tax purposes and are again right at that number. The salary they took on in the Chapman and Starlin Castro trades replaces what they shed in Chris Capuano, Stephen Drew, Chris Young, and Garrett Jones after the season. Also, the Yankees still haven't signed an MLB free agent this winter.
You don't have to look any further than the Yankees roster to understand why spending huge on free agents all the time isn't a great idea. That said, I think it's fair to say the team is not leveraging its financial might as well as they should. The rest of the league is catching up financially, so the market advantages of being a New York team are going to waste.
Hal has maintained his plan is to get under the luxury tax threshold in the near future, which would save the team tens of millions of dollars in luxury tax and revenue sharing. The Collective Bargaining Agreement expires in December, and I assume the $189M threshold will go up with the next CBA. After getting under in 2017, the team could increase payroll substantially. We'll see.