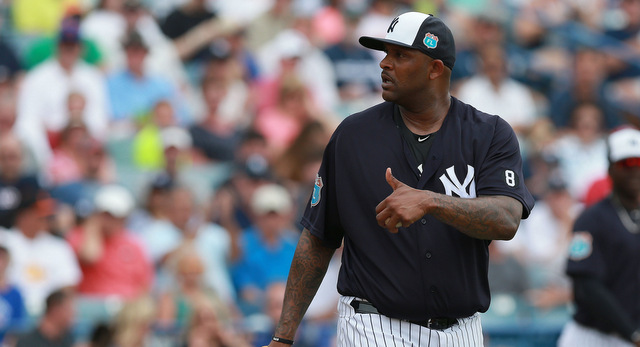 Yesterday afternoon, in his second start of the spring, CC Sabathia was roughed up for three runs (two earned) on five hits, a walk, and a hit batsman in only 1.2 innings of work. His defense didn't help matters — Sabathia himself made an error on a would-be inning-ending tapper back to the mound, then the inning snowballed — but there was still a lot of loud contact and two-strike foul balls.
It's only Spring Training, so the actual results don't hurt the team in any way. It was still discouraging to see Sabathia have the same problems — long at-bats, loud contact, inability to handle righties — that have plagued him the last two or three years. "I'm 35 years old. I've thrown a lot. We're here trying to win, so it is what it is," he said to Mark Feinsand after the game. "I'm just going out and getting work, getting ready. We'll see what happens."
Following the game Joe Girardi was inevitably asked whether Sabathia has a rotation spot locked up, and Girardi gave the same answer he gave all winter: "We're going to take what we feel is the five best. Bottom line," he said. If nothing else, that gives off the impression Sabathia is not guaranteed a rotation spot. Spring competition is a good thing, even among veterans. I just don't buy it at all. Not for a second. For a few reasons.
Sabathia wasn't one of their five best starters last year
It was pretty clear Sabathia was not one of the Yankees' five best starters last season, yet when the time came to make room for Ivan Nova, it was Adam Warren who went to the bullpen. Warren is gone, meaning there's even less competition for the fifth starter's spot. It's Sabathia vs. Nova, and Sabathia was better last season. Better ERA (4.73 to 5.07), better FIP (4.68 to 4.87), better strikeout rate (18.9% to 15.3%), better walk rate (6.9% to 8.0%).
There's always a chance Nova's performance will improve as he gets further away from Tommy John surgery. That's the hope, anyway. At the same time, the Yankees and everyone else have expressed confidence in Sabathia's new knee brace, especially since he pitched so well late last season. Point is, the Yankees showed last season they're willing to stick with Sabathia. Actions speak louder than words, and when they needed to open a rotation spot last year, they sent a more effective pitcher to the bullpen and kept running Sabathia out there every fifth day.
Sabathia might actually be one of their five best starters this year
Here's a not so fun twist: Sabathia just might be one of the five best starters in the organization right now. ZiPS prefers Nova to Sabathia (0.9 to 0.2 WAR), but both Steamer (1.6 to 0.8 WAR) and PECOTA (0.9 to 0.5 WARP) prefer Sabathia. And again, Sabathia out-pitched Nova last year, and Warren is no longer around as proven depth. Bryan Mitchell is likely next in line for a rotation spot. You don't have to try real hard to envision a scenario in which Sabathia out-pitches both Nova and Mitchell in 2016.
$25M
That's how much the Yankees owe Sabathia this season. That's not reliever money. It's ace starter money, and while Sabathia is no longer an ace, not too many owners would be happen marginalizing a player with that kind of salary. I'm sure the money was part of the reason Sabathia remained in the rotation last year. The Yankees want to get their money's worth.
If nothing else, the money is a tiebreaker. When the final rotation spot comes down to one guy making $25M and another guy making $4.1M (Nova), and you're not confident in either being even league average, the dude making $25M is going to get the job. Sabathia is a sunk cost. The Yankees owe him that money no matter what, but chances are they're going to want to try to salvage the investment as much as possible.
The Yankees don't base major decisions on Spring Training
I can't remember the last time the Yankees based a major decision on Spring Training. They'll use it to sort out bench spots or the final few bullpen spots, that sort of thing, but a major decision like a rotation spot? Nope. They tend to go into Spring Training with everything planned out and adjust only if necessary due to injury or a trade, something like that.
That's smart. Spring Training is a terrible time to make decisions. We see it each and every year. A player comes in, wins a roster spot with a strong showing in March, then reverts back to his previous self in the regular season. The reverse is true as well. A player struggles in camp then rights the ship in the regular season. There are way too many variables in Spring Training — sample size, the caliber of competition, players working on things, etc. — to take performance seriously.
The Yankees have a history of saying a spot is up for grabs when it really isn't, and this feels exactly like that. Girardi saying they're "going to take what we feel is the five best" is as much about motivating Nova as it is letting Sabathia know they need him to pitch better. In the end, everything the Yankees have done the last few years points to Sabathia getting a rotation spot over Nova. The only way I see CC not being in the rotation this summer is injury.