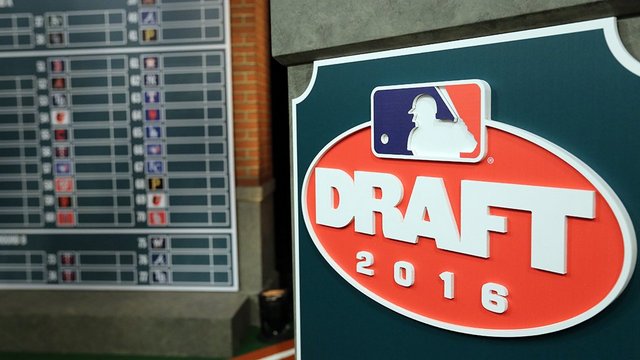 The top ten rounds of the 2016 amateur draft are in the books. The Yankees landed a premium talent in OF Blake Rutherford on Day One, and they spent most of Day Two manipulating their bonus pool situation to make sure they have enough cash to sign him. The draft wraps up today with rounds 11-40. Yes, 11-40. The draft was once 100 rounds, you know.
In addition to the usual Day Three fodder (organization filler, etc.), I expect the Yankees to grab some of the best available players throughout the day as a backup plan in case Rutherford doesn't sign. They'll lose the $2.44M tied to his pick if he doesn't sign, but they'll still have the savings from their picks in rounds 2-10 available. I fully expect Rutherford to sign. The Yankees still need a Plan B though. You can see all of their picks at MLB.com. Here are some stray links to check out:
No one has signed yet as far as we know. Both 2B Nick Solak (2nd round) and RHP Nolan Martinez (3rd) told Bryan Hoch they intend to sign, however. Solak has to wait for Louisville's season to end. They're very much a College World Series contender. Also, RHP Nick Nelson (4th) indicated to Pat McCann he plans to sign, and LHP Trevor Lane (10th) told Paul Pagnato he intends to sign.
Chris Crawford (no subs. req'd) and Jim Callis put together posts looking at the best (and in Crawford's case, also the worst) picks from Day Two of the draft. The Yankees aren't mentioned in either post. Also, Chris Mitchell used his KATOH system to project the college players taken on Day Two. The vast majority project out to replacement level. OF Dom Thompson-Williams (5th) leads the Yankees at +0.3 WAR.
Here are the best available players according to Baseball America and MLB.com. Like I said, I expect the Yankees to grab a few of the top remaining talents just to have backup plans in case Rutherford doesn't sign.
The draft resumes today at 12pm ET. Thankfully the picks are rapid fire today, one after the other. The entire draft used to be like that back in the day. It was pretty great. Here's the MLB.com broadcast and here's the MLB.com Draft Tracker. The Yankees have found some useful arms on Day Three in recent years (David Phelps, Shane Greene, Bryan Mitchell, Chase Whitley, etc.), so today is not insignificant. Enjoy the rest of the draft.