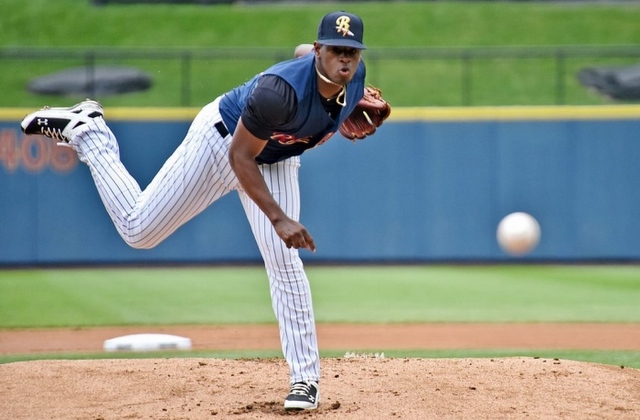 Last night, in preparation for a call-up later this week, the Yankees had right-hander Luis Severino throw 2.1 innings in relief for Triple-A Scranton. He allowed two hits and no runs and struck out five, so everything went well. Rosters expand on Thursday and Severino will apparently be among the first wave of call-ups.
The Yankees essentially have three options with Severino for the final month of the season. The three:
Leave him in Triple-A and let him pitch in the postseason.
Call him up and put him in the rotation.
Call him up and put him in the bullpen.
The Yankees are going with option No. 3 and that's fine. All three are fine, really. They all have their pros and cons. Option No. 1 would have allowed Severino to continue working on his changeup in games that don't matter. Option No. 2 would have given him a chance to work on his changeup in games that do matter. Option No. 3? Well, that's what we're here to discuss.
I know we're all still scarred from the Joba Rules and all that, but there are some very real benefits to letting a young starting pitcher prospect — Severino has eclipsed the rookie limit of 50 innings, but for all intents and purposes, he's a prospect — work out of the bullpen. Teams do it all the time. There are also some potential drawbacks. Let's discuss them as they pertain to Severino.
Pro: He'll help the Yankees win
In case you hadn't noticed, the middle relief kinda sucks right now. Tyler Clippard and Adam Warren are not Andrew Miller and Aroldis Chapman, but by and large they've done done the job in the seventh and eighth inning. Everything before them is shaky. We've seen too much Anthony Swarzak and Blake Parker these last few weeks.
Severino has the potential to be dominant in relief. Heck, we saw him dominate out of the bullpen a few weeks ago. He struck out ten and allowed one unearned run in 8.1 innings of relief with the Yankees last month, including 4.1 shutdown innings against the Mets on August 3rd.
Simply put, the middle innings are a total mess right now and Severino is the best arm available to the Yankees. They're still trying to make a run at a postseason spot — as they should! — and Severino is a potential solution to their bullpen problem. Putting him in a relief role improves the roster.
Con: He won't get to work on his changeup
The Yankees sent Severino to Triple-A a few weeks back because a) he was getting hammered as a big league starter, and b) he really needs to work on his changeup. He wasn't throwing it at all and Severino even admitted he lost confidence in it. That's not good. It needed to be fixed and the minors were the place to do it.
Severino went to Triple-A with orders to work on his changeup and actually throw it in games, and by all accounts he's done that. The results haven't been pretty since his latest demotion (11.1 IP, 19 H, 8 R, 3 BB, 16 K in two starts) but that's not a surprise because he's throwing his third best pitch more than he normally would. Hitters can sit on it. That's what happens.
Unless the Yankees tell Severino to continue throwing his changeup in September — that seems unlikely because winning is the priority and they'll want him to use his best pitches to get outs — he's not going to throw his changeup out of the bullpen. The development of the pitch may stagnate during his time as a reliever, which impacts his ability to be a starter down the road.
Pro: He'll build confidence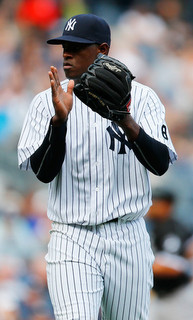 Gosh, Severino was so bad as a starter with the Yankees earlier this season. So, so bad. He has a 7.19 ERA (4.73 FIP) in 51.1 big league innings this year, and that includes his stellar relief work. When you get smacked around that much, how could it not hurt your confidence? Severino is only human. Fail at something that spectacularly and you can't help but doubt yourself, even a little. It's human nature.
Pitching out of the bullpen and having success is a good way for Severino to rebuild his confidence. It's pretty clear that won't happen as a starter. Not this year, at least. He's had zero success in that role in 2016. Severino has pitched well as a reliever and he has the tools to continue pitching well in that role now that he's locating his slider down and away from righties more consistently. You can't measure confidence, but it is absolutely important. The confidence he builds as a reliever can carry over when he returns to the rotation. We see it happen around the league all the time.
Con: He's not going to build up innings
Between the triceps injury in May and his stint in the bullpen, Severino has only thrown 133.2 innings this season. He threw 161.2 total innings last year, and unless he's the most heavily used reliever in baseball history in September, Severino is not going to match last season innings total, nevermind build on it and continue stretching out his arm. That's kind of a problem if the plan is indeed to put him in the rotation next year.
There's always the option to send Severino to winter ball, but one thing at a time. Gotta get through September before sending him home to the Dominican Republic for winter ball becomes a serious discussion. Right now the apparent plan to use Severino out of the bullpen in September means he won't increase his workload this season. He still won't be ready to be a 200-ish inning starter next season. Letting Severino start in September, either in Triple-A or MLB, better allows him to accumulate innings and build up arm strength.
* * *
I both am and am not surprised the Yankees are calling up Severino as soon as rosters expand. I'm surprised because I thought they were really prioritizing his changeup development and would leave him in Triple-A through the postseason, so he could start and really build up innings. At the same time, I'm not surprised because they are still hanging around the wild card race and absolutely need another reliever, and Severino is their best option.
I don't love seeing Severino jerked back and forth between starter and reliever, Triple-A and MLB. The Yankees don't exactly have a stellar track record when it comes to developing high-end pitching prospects. Severino can definitely help them in relief though, and while I'm sure they believe his long-term future lies in the rotation, the best place for him right now is in the bullpen. That role has some real benefits. Enough to outweigh the negatives? The Yankees sure seem to believe so.