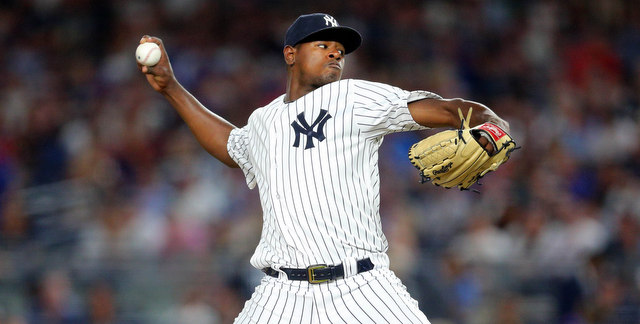 Last night, for the first time this season, we got to see the dominant version of Luis Severino. I'm talking about the guy who tore through the league last season, not the guy who got hammered in seven starts earlier this season. Severino came out of the bullpen and held the Mets to one run on one hit and one walk in 4.1 innings, striking out five.
The seventh inning was standout moment for Severino. The Yankees were nursing a three-run lead and the Mets managed to load the bases with no outs on a walk, a bunt single, and an error. It was a dumb rally, but Severino was letting dumb rallies like that get out of hand earlier this season. Last night he was able to bear down and escape the jam while keeping the damage to a minimum (one run).
"Today was the best I've seen him," said Joe Girardi to Chad Jennings after last night's game. "We were really pleased with what we saw, and (pitching coach Larry Rothschild) actually worked with him before the game on it a little bit. He did an outstanding job. His slider – as we've obviously talked about – has been better, but I thought his fastball command was better, and he even threw a few changeups. Obviously I think that can get better too. But tonight, what I've seen, was the best I've seen him."
Last night's appearance was Severino's third since coming off the DL, all of which have been in relief. He's allowed one run on one hit and three walks in 8.1 total innings while striking out ten. That's really good, but it's 8.1 innings, so we can't get too excited. Still, when Severino dominates like that last night and Chad Green can't complete four innings, it's easy to understand why folks want Luis back in the rotation.
As far as I'm concerned, Severino's role doesn't really matter right now. As long as he pitches multiple innings and gets to experience some success after his dreadful start to the season, I couldn't care less whether he was starting or relieving. It's not like the Yankees are in the thick of a playoff race, you know? There are a few things I consider more important than Severino's role.
1. He's keeping his slider down. The single biggest problem with Severino earlier this season was his command of his offspeed pitches, or lack there of. Especially with his slider. He threw way too many cement mixers that spun up in the zone and caught too much of the plate. The Yankees optioned Severino to Triple-A a few weeks ago specifically to work on this, and, well, look at his slider locations last night, via Brooks Baseball:
Almost all the red dots are down in the zone, exactly where you want the slider. If it's too far down in the zone and the hitter takes it for a ball, that's okay! That's better than leaving it up and watching it go for extra bases. There are good misses and there are bad misses. Missing in the dirt is better than missing in the zone. Severino's slider location has been better in general since being called up a week or two ago. Last night it was outstanding. Best it's been all season.
2. He's still using his changeup. This is an important one to me, and you know what? It's not happening. Severino threw one changeup out of 60 pitches last night. One. He's thrown two changeups total out of 112 total pitches in his three relief appearances since coming back up. Severino hasn't thrown the changeup in relief because he hasn't needed it. That's true of most relievers.
Earlier this season Severino averaged about 14.6% changeups as a starter — it was 14.6% last year as well — and I'd like to see him get back to that rate now. That changeup is an important pitch. Severino needs a third pitch to have success long-term as a starter and right now he's dominating as a fastball/slider guy out of the bullpen. You don't want the development of his changeup to stall out. That would be bad. Luis is still developing as a young pitcher and he needs to throw that changeup to build a reliable third pitch.
3. He's turning the lineup over multiple times. This is difficult to do in relief but Severino was able to do it last night. He faced 16 batters yesterday, so seven Mets got to see him twice. That's pretty important. It's relatively easy to air it out and empty the bag of tricks when you know you're only going to face a hitter once. Going through a lineup two or three times is a different animal, and if Severino's going to hack it as a starter, he has to learn to do that. (That also plays a role in the development of his changeup.)
4. He's building confidence. These days we can track slider location and changeup usage rates and all that stuff. There's no real way to measure confidence though, and it's pretty important. Severino got hit around very hard earlier this season. A 7.46 ERA with a .327/.373/.547 opponent's batting line is terrible, and that's what Severino did for seven starts to open 2016. That's brutal.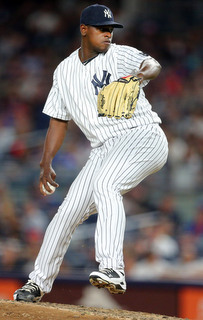 Luis is only human and I have a hard time thinking his confidence didn't suffer when he was taking a pounding every fifth day back in April and May. How could it not? Last night Severino looked very confident and it was evident during that seventh inning jam. He attacked hitters with the bases loaded — Jay Bruce, James Loney, and Michael Conforto saw nine total pitches with the bases loaded, and eight were strikes — and challenged them with fastballs. It was no nonsense pitching.
"He looked like he had his confidence back. He looked like he had his swag back," said Austin Romine after the game. Severino did indeed look more confidence last night than he did earlier this season and that's great. He needs to build back some confidence and I'm guessing the stint in Triple-A helped. Being a Major League Baseball player is hard enough as it is. Imagine trying to do it when your confidence is shot.
I thought it was smart by the Yankees to bring Severino back as a reliever just because it's a little easier to have success in that role even though he'd never really done it before. Things went so poorly earlier this season that Severino just needed to experience some level of success in MLB in any role just to remind himself that yes, I can do this. We can see the confidence growing with each outing.
* * *
It's very easy to make too much out of one game and I'm guessing there will be plenty of calls to put Severino in the rotation after last night. I get it. I do. But like I said before, I honestly don't care whether Severino starts or relieves in the short-term. (Yes, he should definitely start long-term.) As long as his slider location improves, he continues to use his changeup, and he gets a chance to turn a lineup over once or twice, then the Yankees are putting Severino in position to further his development, and that's the most important thing.