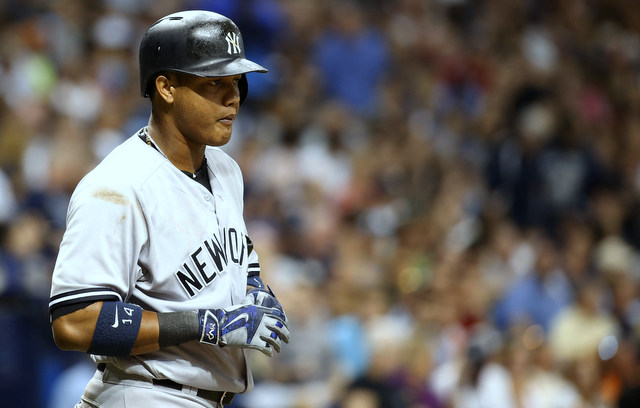 It was only two seasons, but it felt a lot longer. Second base was a problem area after Robinson Cano left as a free agent following the 2013 season. He was the best second baseman in baseball at the time, which by definition made him impossible to replace, but the drop-off was enormous. Going from Cano to Brian Roberts and then Stephen Drew was a massive downgrade.
Last offseason the Yankees acquired a potential long-term solution at second base. They swung a two-for-one trade with the Cubs for Starlin Castro at the Winter Meetings, which gave the Yankees a young righty bat to help balance the lineup both short and long-term. Castro has been around a while, he's played parts of seven MLB seasons already, but he turned only 26 during Spring Training. His first year in pinstripes embodied the Starlin Castro experience.
The Trade
The Yankees have made it pretty clear they do not see Rob Refsnyder as an everyday second baseman in the big leagues. He played everyday late last season only because Drew got hurt. When the club had chances to replace Drew last summer — he did absolutely nothing at the plate for long stretches of time — they opted to stick with him over Refsnyder. That was telling. The Yankees needed a long-term second baseman. It wasn't Refsnyder.
The Castro trade was the result of a free agent signing. Brian Cashman acknowledged the deal was contingent on the Cubs first signing Ben Zobrist. Had Chicago not landed Zobrist, they would have had to keep Castro. Eventually the Cubbies swooped in, signed Zobrist out from under the Mets — "It's disappointing, I'll be honest," said Mets assistant GM John Ricco after the club lost out on Zobrist — and turned their attention to the Castro trade.
Based on the time stamps at MLB Trade Rumors, the Castro trade was completed 15 minutes after the Zobrist signing. The Yankees and Cubs already had the deal in place. The only question was whether the Cubs would land Zobrist. New York sent Adam Warren and Brendan Ryan to Chicago for Castro in the two-for-one swap. Ryan was thrown in as a salary dump — the Yankees freed up $1M by trading him — but Warren had proven to be a valuable super utility pitcher. Still, the opportunity to get a young up-the-middle player was too good to pass up.
"He really looked like a different player over at second," said Cashman after the trade. "I like that he's athletic, I like his age. Between the youth, the flexibility, the right-handed bat, he's got a history of hitting left-handers. Clearly that's an area that we needed to better improve our balance in the lineup. It kind of checks off a lot of the boxes here."
The Aborted Third Base Plan
After the trade, Cashman indicated the Yankees would use Castro all over the infield, including third base. Starlin had spent his entire career at shortstop until he slid over to second in August 2015, in deference to the defensively superior Addison Russell. Castro came to the Yankees with 258 career innings at second, plus another couple dozen in the postseason. His experience there was relatively limited.
The third base experiment never got off the ground. Castro didn't see a single inning of Grapefruit League action at the hot corner. The Yankees had him take ground balls at third during infield drills and whatnot, then decided to abandon the plan because he needed more work at second than they realized. And that's understandable. The guy was still new to the position. Sure, it's still the middle infield, but moving over to the other side of the bag was a big change.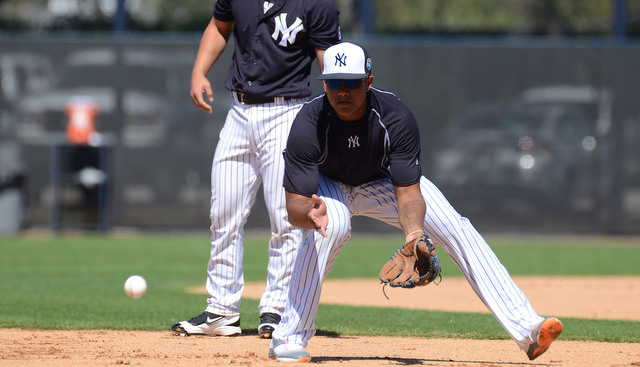 "It's a big difference. It's not the same thing when you're in the minor leagues. The position, you switch the position, we've got plenty of time to practice that position (in the minors)," said Castro in Spring Training about moving to second. "Now they're saying in the middle of the season, you've got to get out there quickly and learn it right away, just (be) ready to play. The first two or three games, I don't feel really comfortable. I feel the ball was hitting backwards. I just take early work every day and start every day feeling better. I think the most difficult thing is doing the double play. After doing a couple, I feel great."
Castro played mostly second base during the Grapefruit League season to get more comfortable at the position. He also played a few token games at short just to stay sharp there, but that was it. No third base. Not once. It was a good idea, increasing Starlin's versatility and making him an option at third, but it never happened. He was still working to make the first position change and the Yankees didn't want to overwhelm him with another so soon.
The Good Start, A Good Finish
Man, did Castro make a great first impression or what? Starlin came out of the gate and went 7-for-12 (.583) with two doubles, two home runs, and eight runs driven in during the first series of the season. That includes a four-hit, five-runs driven in game in the second game of the season.
The Yankees won the trade! Castro was a star energized by the bright lights of New York! Then he fell into a 9-for-50 (.180) slump and the honeymoon was over. Womp womp. So it goes.
The following graph does a pretty good job showing the path of Castro's season. He started out insanely hot, cooled off big time during the summer months, then finished strong at the end of the season.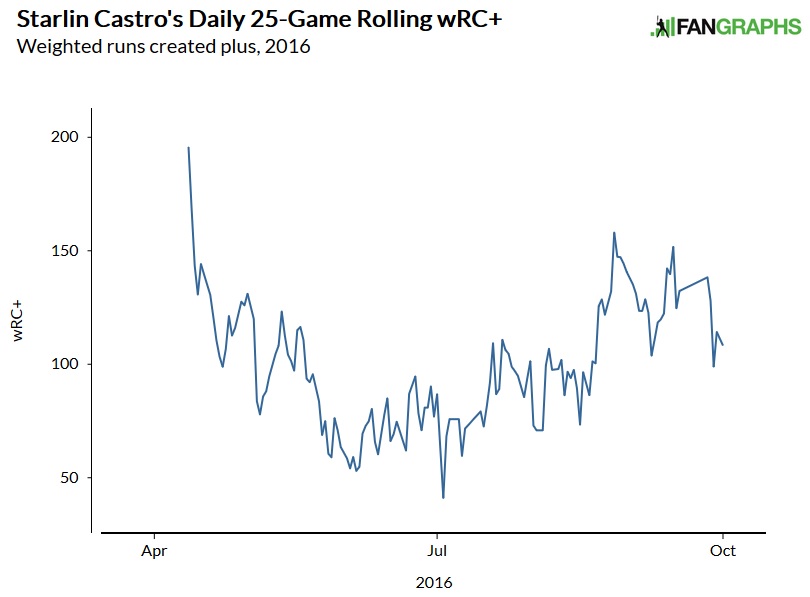 To further drive home the point, here is Castro's wRC+ by month: 123, 56, 81, 78, 137, 90. Huh, so I guess September wasn't as good as I remember. Anyway, Starlin bottomed out at .255/.292/.389 (80 wRC+) on August 4th. August 4th! That was 429 plate appearances into his season. His lowest OPS of the season came in Game 108. Ouch.
Castro went 2-for-3 with a home run and two walks the next day, and finished the season with a .306/.320/.538 (126 wRC+) batting line and ten home runs in his final 181 plate appearances. He did miss a little more than a week with a hamstring injury at the very end of September, otherwise he was healthy all season. Starlin appeared in 146 of the team's 148 games before the hamstring injury, and 151 of 162 games overall. The guy has played at least 151 games in five of his six full seasons as a big leaguer. He's durable. Give him that.
During the summer months, when he was going through his three-month offensive lull, Castro hit two of the biggest home runs of the season for the Yankees. First, on May 29th, he swatted a go-ahead two-run home run against Jake Odorizzi at Tropicana Field.
That was New York's only hit of the game. Odorizzi walked Brett Gardner with one out in the seventh and Castro made him pay with the dinger. Nathan Eovaldi and the three-headed bullpen monster made those two runs stand up. It was the only the second time in franchise history that the Yankees won a game despite being one-hit. The other came way back in 1914. Yeah.
Castro's other huge hit came about a month later. It was a walk-off home run against Jason Motte and the Rockies. It also happened to be one of the longest homers hit by a Yankee in 2016. The ball settled into the second deck in left field, 443 feet from home plate. The Yankees were struggling bit time at the time and Castro's walk-off felt huge.
All told, Castro hit .270/.300/.433 (94 wRC+) with a career high 21 home runs — his previous career high was 14 back in 2014 — in 610 plate appearances this season. His strikeout rate (19.3%) was also a career high, though it was still lower than the league average (21.1%). Castro didn't walk at all (3.9%), which is the norm. Overall, his season batting line looked an awful lot like his career .280/.318/.408 (96 wRC+) batting line. Close enough, anyway.
The Subtle Improvements
It's easy to bash Castro — I know I'm guilty of it — because he is so very undisciplined at the plate and makes himself look like an easy out at times. He guy has nearly 4,400 big league plate appearances under his belt and he still goes long stretches of time looking like an overmatched rookie. And geez, the baserunning. Don't get me started on the baserunning.
The all-encompassing baserunning metrics at FanGraphs and Baseball Prospectus measured Castro at 1.6 and 2.1 runs
below
average on the bases, respectively. It's not a blip either. FanGraphs has Castro at -16.6 runs on the bases for his career. Baseball Prospectus has him at -4.8. This is who he is.
Anyway, enough with the negatives. Castro showed some legitimate improvement in his game this season, which is good to see because the guy did spent the entire year at age 26. He's entering what should be the prime of his career. Here are the two ways Starlin improved the most this season.
1. He hit for more power. I already told you about the career high 21 home runs, but it goes a little deeper than that. Castro had 29 doubles this season, right in line with the 31 doubles he averaged from 2011-15, so he added the dingers without sacrificing two-baggers. This wasn't one of those "the home runs turned into doubles" situations. The homers were added to the doubles. They didn't replace them.
Of course, power was up around the league this season, so it's fair to wonder how much of Castro's power output was a result of the league environment, and how much was natural progression. Also, the ballpark helped too. Wrigley Field is pretty hitter friendly when the wind is blowing out, but not as friendly as Yankee Stadium is pretty much all the time.
I'm going to do what I did with Didi Gregorius and calculate ISO+. Same idea as OPS+ and wRC+. We'll compare Castro's isolated power to the league average isolated power with a park factor thrown in. An ISO+ of 100 is average. The higher the number, the better. Got it? Good. Here are the last three years.
2014: 74 ISO+
2015: -21 ISO+ (!)
2016: 81 ISO+
Castro had a really, really bad year in the power department last season. That's one of the reasons the Cubs decided he was expendable. They — and many other folks, for that matter — thought he was going backward. Or, at the very least, they weren't seeing any progress from a guy who'd been in the big leagues for parts of six seasons.
Relative to a league average right-handed hitter in Yankee Stadium, Castro's power was below average this year. But it represented progress for him. It was a massive improvement from last season and also an improvement from 2014, a career best season in which he hit .292/.339/.438 (117 wRC+). There's some legitimate progress here. Also, check out his spray chart, via Baseball Savant: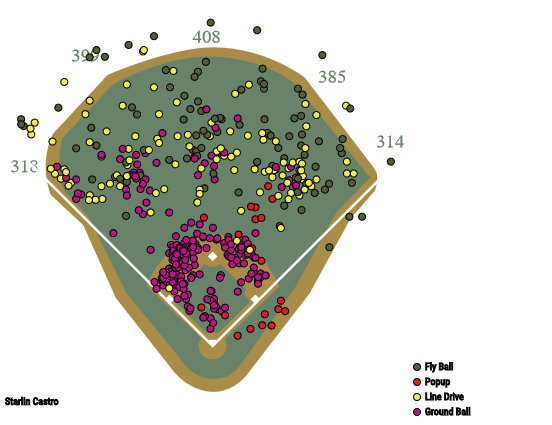 Starlin can hit the ball to all fields, and he does so with enough authority to pop a few opposite field home runs. He hit five home runs to the right side of center field in 2016. Do you know how many he hit with the Cubs? Four. Total. In five and a half seasons. Yes, Yankee Stadium's short porch helps explain that — four of his five opposite field homers came in the Bronx — but that's sort of the point. Starlin took advantage of the short porch. That's what the Yankees hoped he would do.
2. He had more success when ahead in the count. The term "plate discipline" has become synonymous with "draws walks," but that's overly simplistic. Yes, walks are good, but ultimately the point of working the count is getting a good pitch to hit. Castro is never going to be Joey Votto when it comes to plate discipline, but this year, for the first time in his career, he did some real damage when ahead in the count. Here are his numbers with the count in his favor:
2013: .295/.396/.446 (80 OPS+)
2014: .318/.446/.473 (96 OPS+)
2015: .291/.377/.424 (67 OPS+)
2016: .351/.438/.649 (116 OPS+)
Important context: the MLB average was a .302/.473/.525 batting line when the hitter was ahead in the count this year. Last year it was .296/.461/.498. That's why Starlin's .291/.377/.424 batting line when ahead in the count last season was only a 67 OPS+.
Prior to this season, Castro didn't a do very good job when the pitcher fell behind in the count. He didn't make them pay as much as a league average hitter would. This year, he had much more success when the count fell in his favor. He was better than league average when ahead in the count. By quite a bit too.
Starlin is not very disciplined, but throwing strikes is hard, so he's going to see his fair share of favorable counts throughout the season. This year, he finally started to capitalize. That's a positive development. Now we just have to see if he can built on this next year, or if it was a one-year fluke.
Defense at Second
Castro moved to second base late last year, so he was still relatively new to the position this year. His inexperience showed at times — I thought he was noticeably slow turning the double play, which cost the Yankees several bang-bang plays — but I feel that was to be expected. The guy had been a shortstop his entire life, and now he shifted to the other side of the base. Starlin did make some spectacular players this year …
… and he also made most of the routine plays too. When a guy is new to the position, I feel that's a reasonable goal for the first year. Make the routine plays. We'll figure out the more difficult stuff later.
The various defensive stats were kind of all over the place for Castro at second base: -8 DRS, -6.6 UZR, +6 Total Zone, +0.9 FRAA. Such is life when dealing with one-year samples of defensive stats. The eye test told me Castro was adequate at second. Not spectacular, not a total liability. My hope is he'll pick up the pace turning double plays with experience. Otherwise he did what he was supposed to do in the field. Caught what he was supposed too, and made enough great plays to negate the misplays.
Outlook for 2017
Had he not signed a long-term extension with the Cubs a few years ago, Castro would have qualified for free agency this offseason. Instead, the Yankees owe him $30M from 2017-19 and have a $16M club option ($1M buyout) for 2020. Given the year he just had, would Castro get more than three years and $31M guaranteed as a 26-year-old free agent this winter? Yes. Yes he would. Pretty easily too, I think. He'd probably get double that money, if not more.
Castro is certainly not without his flaws. He's so very undisciplined at the plate that I don't think he'll ever reach his full offensive potential, which I think is pretty big. Castro has power and he drives the ball to all field. That's exciting. But we see way too much of this …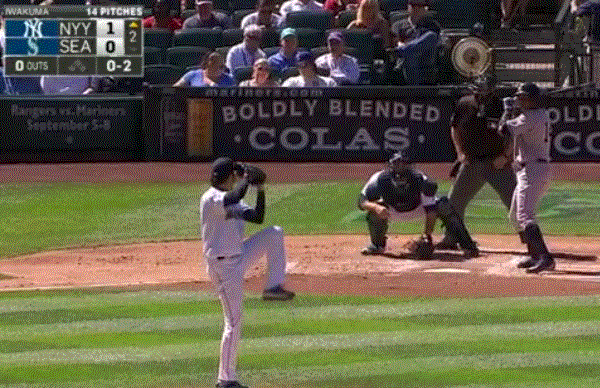 … for me to think Starlin will ever tap into his full offensive ability. He sabotages himself at the plate by being such a hacker. Guys like Castro and Alfonso Soriano, another guy with a big appetite for sliders off the plate, show us just how often Major League pitchers make mistakes. If everyone could execute a down-and-away slider every time, these types of players would never get a hit. But mistakes are made, and they capitalize.
Given his age, there is still room for Castro to grow as a player and I think that's exciting. At the same time, I feel like Castro is what he is. He's been in the show for six and a half years now and will still chase pitches way off the plate — his 37.5% swing rate on pitches out of the zone was 17th highest among the 146 players to qualifying for the batting title — which can get pretty frustrating. You want to see the adjustment be made, but it hasn't yet, and it's starting to look like it never will.
The Yankees have some impressive young bats either in the big leagues right now (Gary Sanchez and Aaron Judge) or on the way next year (Greg Bird and Clint Frazier), and my hope is they will push Castro into more of a complementary role. Starlin as an offensive center piece, which is what he was this year, isn't so good. I'd rather see him hitting 6-7-8 rather than 2-3-4, you know?
As for next season, I get the feeling the Yankees will again see if Castro can hack it over at third base. He doesn't have to play there every single day, but at least maybe be an option. It doesn't hurt to try it in Spring Training. The Yankees have a lot of young shortstops on the way, most defensively superior to Castro, so the Yankees will want to keep those guys on the middle infield. Overall, Castro was good enough this year, and I think he'll continue to be good enough going forward.