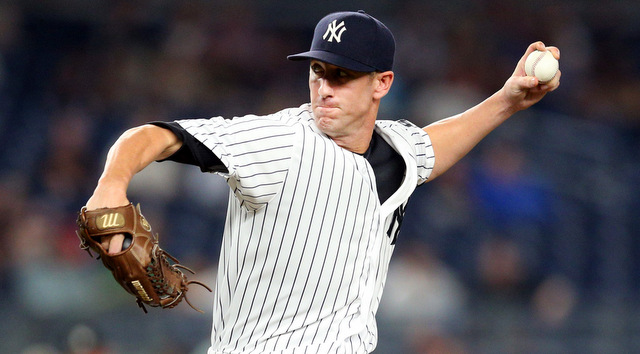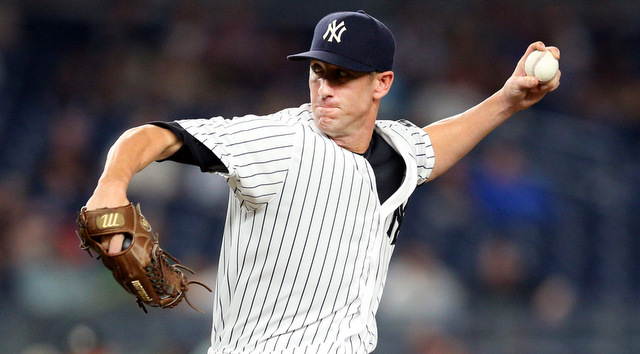 For much of the offseason, most Yankees-related rumors involved their search for a new designated hitter and their pursuit of Aroldis Chapman. Since the Matt Holliday and Chapman signings, most of the talk has focused on the team's search for middle relief, particularly left-handers. They Yankees have been connected to Justin Wilson, Boone Logan, Mike Dunn, and Brett Cecil, among others.
Chapman gives the Yankees one of the top lefty relievers in baseball. Arguably the best and no worse than the third best behind Andrew Miller and Zach Britton, though he's not someone Joe Girardi will bring in to face, say, Chris Davis in the sixth inning. Chapman's the closer and the ninth inning is his domain. The innings before that are up to lesser relievers. Here is New York's lefty reliever depth chart behind Chapman:
Tommy Layne
Chasen Shreve
Richard Bleier
Dietrich Enns
Joe Mantiply (re-signed to minor league deal)
Jason Gurka (signed to minor league deal)
Think Bleier belongs above Shreve? I won't argue with you. Bleier did see some higher leverage work down the stretch in September while Shreve hasn't been very good since July 2015. Either way, Layne is at the top and everyone else is behind him in whatever order. Jacob Lindgren (non-tender), James Pazos (trade), and Tyler Webb (Rule 5 Draft) are all gone.
Looking at that depth chart, it's easy to understand why the Yankees would seek a better left-hander for the bullpen, and there are several available. Is it worth investing money and a roster spot in another southpaw though? Given the state of the roster, I don't think another lefty is a necessity at all, for a few reasons.
1. Layne might actually be pretty good. Guys like Layne are very hit or miss. He's 32-year-old journeyman who didn't make his MLB debut until age 27, and he's been in four organizations (Diamondbacks, Padres, Red Sox, Yankees) in the last five seasons. He's been traded for cash, non-tendered, and released. Layne is the definition of freely available talent. You don't give up anything of value to get players like him.
The thing is, Layne is above replacement level, at least when it comes to facing left-handed batters. We all saw him last year, he's a quintessential funky lefty with an 80-something mile-an-hour fastball and a sweepy breaking ball, yet he makes his work. His numbers against lefties the last three seasons:
| | BF | AVG/OBP/SLG | wOBA | K% | BB% | GB% | HR/9 |
| --- | --- | --- | --- | --- | --- | --- | --- |
| 2014 | 48 | .159/.229/.182 | .196 | 22.9% | 8.3% | 51.5% | 0.00 |
| 2015 | 102 | .144/.248/.170 | .203 | 26.5% | 10.8% | 60.0% | 0.00 |
| 2016 | 101 | .214/.310/.261 | .265 | 20.8% | 9.9% | 51.6% | 0.36 |
| Total | 251 | .175/.269/.209 | .227 | 23.5% | 10.0% | 54.8% | 0.14 |
Not a huge sample size, but that's not Layne's fault. That's just the life of a left-on-left matchup guy. Overall though, he's been pretty darn effective against same-side hitters. The walks are kinda annoying (you had one job!) but Layne has gotten enough strikeouts and grounders to compensate. If a free agent had those numbers, he'd have our attention.
The Yankees have flushed a lot of money down the toilet on proven veteran lefties like Pedro Feliciano and Damaso Marte and Matt Thornton over the years, and those guys serve as reminders that there is no such thing as a proven reliever. Even the most established veterans can go poof in an instant. Layne has been pretty damn effective in his limited MLB time against lefties and he costs basically nothing. Why sign a free agent who might not even be an upgrade?
2. The Yankees have righties who can get out lefties. For most of this past season, the Yankees didn't have a true matchup lefty in the bullpen. Shreve was on the roster a bunch and so was Bleier, but, for the most part, they were lower leverage relievers. Whenever there was a lefty at the plate in a big spot in the late innings, Miller was on the mound. Or Dellin Betances.
Betances, like fellow bullpen mates Tyler Clippard and Adam Warren, has actually been better against lefties than righties the last few years. Crazy, I know. A righty who can get out lefties. What a time to be alive. Here are their platoon splits over the last three seasons:
| | vs. RHB | vs. LHB |
| --- | --- | --- |
| Betances | .160/.261/.264 (.242 wOBA) | .173/.244/.243 (.221 wOBA) |
| Clippard | .195/.287/.333 (.276 wOBA) | .202/.277/.336 (.270 wOBA) |
| Warren | .250/.320/.394 (.314 wOBA) | .197/.275/.310 (.255 wOBA) |
Betances overpowers everyone, Clippard has that dead fish changeup, and Warren still uses four pitches as a reliever. It's not difficult to understand why all three of them have had success against lefties the last few years. Now, will they continue to have that level of success going forward? That's the big question. I'm not all that confident in Clippard maintaining that level of production, but Dellin and Warren? Not too worried.
Point is, the Yankees shouldn't be desperate for a left-on-left matchup reliever because they have several righties who can get lefties out too. I know Girardi loves his matchups, so much so that he overdoes it at times, but sometimes bringing in the lefty pitcher to face a lefty hitter just isn't necessary. Betances, Clippard, and Warren can get the job done themselves.
3. How many great lefty hitters are in the AL East anyway? David Ortiz is retired. James F. Loney is gone. Carlos Delgado and Carlos Pena have been out of the game for years now. The days of the AL East housing the most fearsome left-handed hitters in baseball are pretty much over. Here are the projected left-handed hitting regulars among the four division rivals:
Blue Jays: Ezequiel Carrera
Orioles: Chris Davis, Hyun-Soo Kim
Rays: Corey Dickerson, Kevin Kiermaier, Brad Miller
Red Sox: Andrew Benintendi, Jackie Bradley Jr., Mitch Moreland
Davis is the one dude who is legitimately terrifying because he can hit the ball a mile when he connects. Benintendi is going to be really good one day, I think, perhaps as soon as 2017, but otherwise we're looking at players who are nuisances more than major threats. Maybe I'm selling Bradley short, but even if you include him in a group with Davis and Benintendi, there still aren't many lefty hitters in the AL East you dread seeing at the plate in a big spot.
Yes, the Yankees do play games outside the division. Lots of them, in fact. But 75 of their 162 games next season will be against the Blue Jays, Orioles, Rays, and Red Sox. Nearly half the schedule. And aside from Davis and Benintendi (and Bradley), there aren't many AL East left-handed hitters who make a shutdown left-on-left reliever a necessity.
4. Is there even room in the bullpen for a LOOGY? This, to me, is the biggest point in this post. Can the Yankees afford to dedicate a roster spot to a true matchup reliever? A guy who comes in, faces one or two batters, then bolts. Someone who finishes the season with 34 innings in 78 appearances. That kinda thing. I'm not so sure.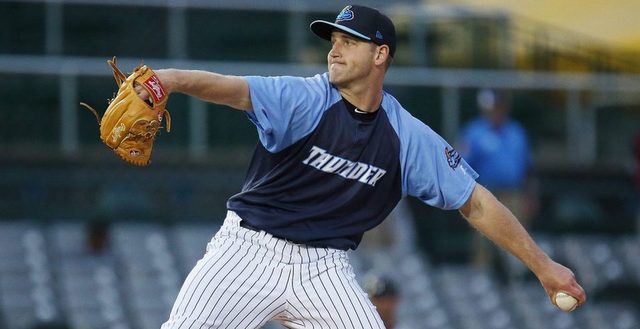 Everything in baseball is trending towards using pitchers less and less. Part of that is trying to keep them healthy, and part of that is maximizing effectiveness. Teams have begun pulling their fourth and fifth starters after the second time through the lineup to avoiding giving hitters a third look at them. CC Sabathia's effectiveness waned noticeably when his pitch count climbed over 80-85 in 2016.
Thing is, teams still need guys to throw all those innings, and dedicating a bullpen spot to a one-batter matchup reliever means those innings fall on other relievers. The Yankees had 121 games in which the starter did not throw more than 100 pitches this year. That blows my mind. That was the eighth most in baseball and second most in the AL. Only the Angels got fewer 101+ pitch starts from their rotation. That puts a lot of responsibility on the bullpen.
As it stands right now, the Yankees have one bonafide ace in Masahiro Tanaka, who the team treats with kid gloves. Sabathia really should be limited to 85 pitches or so these days, and Michael Pineda had a hard time completing five innings by the end of 2016. Then you have a bunch of kids lined up for the fourth and fifth spots. Luis Severino, Luis Cessa, Bryan Mitchell, Chad Green … we're going to see all of them next year.
Chances are the Yankees are going to ask their bullpen to soak up a lot of inning next season, to the point where carrying two long relievers might not be such a bad idea. Having a left-on-left matchup guy might not be practical. The seven bullpen spots may need to go to pitchers who can throw full innings, not five (pitches) and fly.