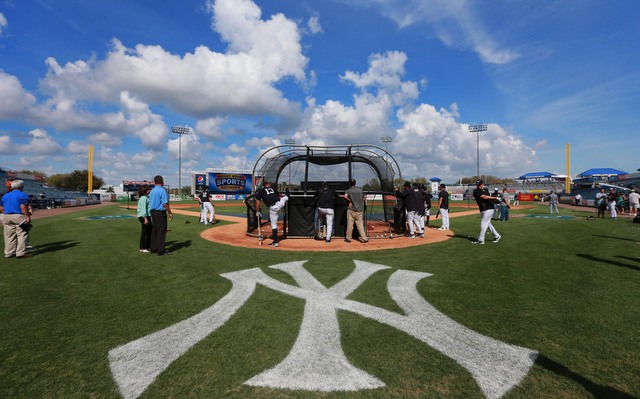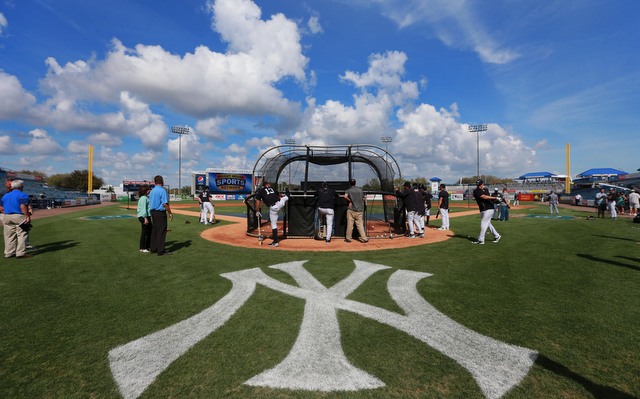 Two weeks from today the Yankees will open Spring Training when pitchers and catchers report to Tampa. And earlier today, the Yankees officially announced this year's list of non-roster invitees. The 23 non-roster players include several of the team's best prospects. Here's the list:
Pitchers (11)
RHP Chance Adams
LHP Daniel Camarena
RHP J.P. Feyereisen
LHP Jason Gurka
RHP James Kaprielian
RHP Brady Lail
LHP Joe Mantiply
RHP Jordan Montgomery
RHP Nick Rumbelow
LHP Evan Rutckyj
LHP Justus Sheffield
Catchers (4)
Wilkin Castillo
Kellin Deglan
Francisco Diaz
Jorge Saez
Infielders (6)
Ji-Man Choi
Pete Kozma
Donovan Solano
Ruben Tejada
Gleyber Torres
Tyler Wade
Outfielders (2)
Dustin Fowler
Clint Frazier
As a reminder, all players on the 40-man roster will be in big league camp automatically. That includes prospects like Miguel Andujar, Dietrich Enns, Domingo German, Ronald Herrera, Kyle Higashioka, Jorge Mateo, and Yefrey Ramirez. Those guys have yet to make their MLB debuts, but they'll be in Spring Training since they're on the 40-man roster.
As for the list of non-roster players, first things first: the Yankees have apparently re-signed Kozma. He spent all of last season with Triple-A Scranton, where he hit .209/.268/.265 (52 wRC+) in 488 plate appearances before becoming a minor league free agent. The Yankees obviously then re-signed him as a depth player at some point. Welcome back, Pete.
Secondly, good gravy is that a lot of top prospects. Torres, the crown jewel of last year's Aroldis Chapman trade, is one of the very best prospects in all of baseball, and we'll get to see him in a Yankees uniform for the first time this spring. Frazier, Kaprielian, and Sheffield are consensus top 100 prospects as well. They're all going to be in camp.
Adams and Montgomery are not on the 40-man roster and chances are we won't see either of them on a top 100 prospects list this spring, but they're two of New York's best pitching prospects, and both will begin 2017 at Triple-A. Bringing them to big league camp as non-roster players is a no-brainer.
The one top prospect who will not be in camp is Blake Rutherford, last year's first round pick. That's not surprising though. The kid is only 19 and he's yet to play a full season of pro ball. Prior to Kaprielian last year, the Yankees hadn't brought a first round pick to big league camp for his first Spring Training in at least a decade. Not even Ian Kennedy and Joba Chamberlain got invites their first year.
It's worth pointing out this list is not necessarily final. The Yankees can still add players as non-roster invitees and they very well may do so. (Mark Montgomery was a late add last year, for example.) This is a World Baseball Classic year, and the Yankees will have some playing time to fill while Dellin Betances and Didi Gregorius are away from the team.
Two weeks ago I put together a non-roster preview and came up with 24 possible names. Twenty of the 24 received non-roster invites this year, so hooray for that. Go me.