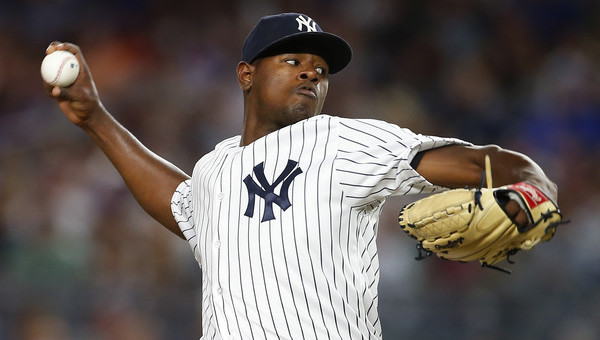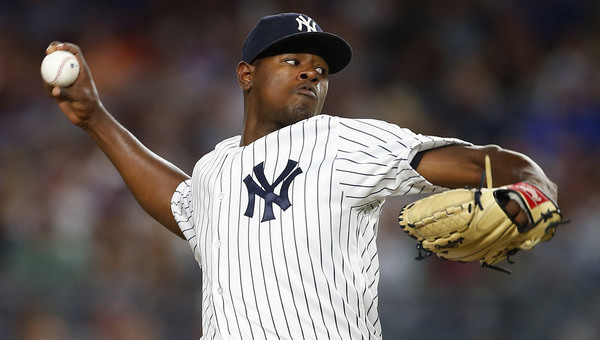 Barring any late offseason moves, here are the names we know for sure we'll see in the Yankee rotation in 2017:
Masahiro Tanaka
Michael Pineda
C.C. Sabathia
That's it. Having only three sure thing starters doesn't seem like a way to go about competing for the division title. (Yeah, it is supposed to be a rebuilding year but they still go out on the field to win, y'know?) Brian Cashman is very much aware. The smart money says he has inquired around the league for starting pitching and looked at FA options as well.
However, he has been careful. In a January 20 press conference, Cashman remarked he did not pull the trigger on opportunities that would have been "costly to the franchise." My guess is a lot of teams have been asking for names like Gleyber Torres, Justus Sheffield, James Kaprielian, Clint Frazier, etc. As much as they would like to accumulate as many wins as possible, this is not really a period to "go for it all." The Red Sox, however, are in position to do so. They just had a very dominant regular season and pushed to become an even better team by trading for Chris Sale.
Here are the names that I think will get starting opportunities for the Yankees this season: Luis Severino, Chad Green, Luis Cessa, Bryan Mitchell, Chance Adams, Jordan Montgomery, and Dietrich Enns. Let's lay out the pecking order of those seven names.
1. Luis Severino
It's an easy choice. Despite being youngest of the four pitchers with ML experience, Severino has logged the most ML innings in the list. He also was the highest-regarded pitcher as a prospect, ranking no. 35 in Baseball America's top 100 list in 2015.
After tearing through minors and having a good ML stint in 2015, Severino struggled throughout 2016, marking a 5.83 ERA in 71.0 IP. He was very ineffective as a starter, allowing a .976 OPS against in 11 starts. That would've ranked fifth among all hitters, by the way (behind Joey Votto and ahead of Freddie Freeman). The Yanks put him in the bullpen for the most of the second half and he dominated, allowing only .367 OPS against (.105/.209/.158 slash line).
Many wondered whether Severino is destined to be a bullpen arm. Not only did the 2016 results indicate such but also several experts aren't big fans of his build and delivery. However, Sevy is still very young. He will get his shot to prove himself as a rotation arm. It's notable that Severino has spent some time with Pedro Martinez this offseason to correct that flaws that haunted him last year (per Brendan Kuty of NJ.com).
"My fastball was all the way over here," Severino told NJ Advance Media, showing wider-than-normal release point.

"But my changeup was over here," he said, his arm dropping even lower. "My slider was over here and then sometimes over here."

A new focus where he lets go of the ball and an effort to transform his body have Severino believing he'll fulfill the potential the Yankees saw during his fast rise in 2015, the 22-year-old said Saturday.
Given that Severino's biggest problems have to do with fastball command, tweaking his release point with one of the best ever shouldn't hurt. Pedro also was a wizard with the changeup and other secondary pitches back in his day, so one would hope that Severino was able to soak up as much wisdom as possible. I'm no pitching coach but it seems like Sevy has been aware of his own flaws and looked to find solutions. He's got a real good arm and he's going through struggles that young pitchers in ML normally experience. It's a roll of the dice on what he will become, so for now, we just have to #TrustTheProcess.
If Sevy still ends up becoming a good bullpen arm long-term, that is still a pretty successful outcome (given on how hard it is to succeed in MLB). However, I'd like to see the Yankees try him out as a starter while youth is very much on his side.
2. Luis Cessa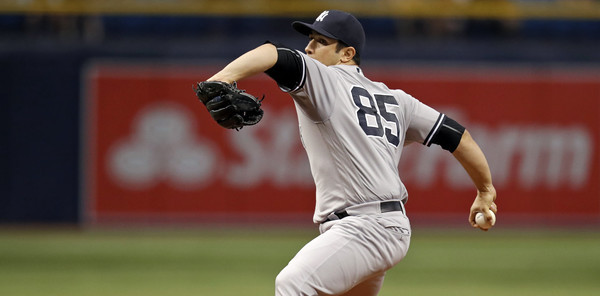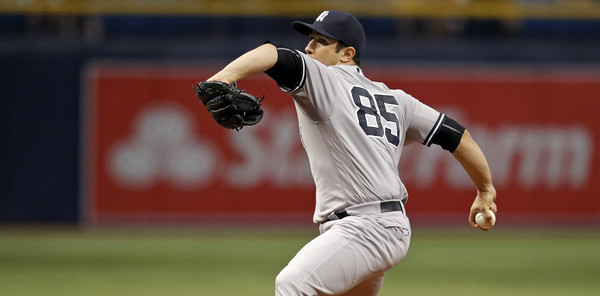 This would have been trickier to decide had Chad Green not suffered an arm injury to close out 2016. After a few cup of coffee earlier in the season, Cessa was called up to MLB for good in August, making nine starts with mixed results.
As a starter, Cessa had a 4.01 ERA in 51.2 IP. He showed pretty nice control by only walking eight, but he allowed 11 home runs during that span. He's not a ground ball guy and he's pitching at YS3. He's bound to be tagged for some HR in 2017 as well, unless he changes his approach dramatically. For now, he's got nice velocity on a fastball that, well, he should probably stop throwing to the upper part of the zone.
Here is are his fastball zone percentages last year. This is how often he threw a fastball in these spots: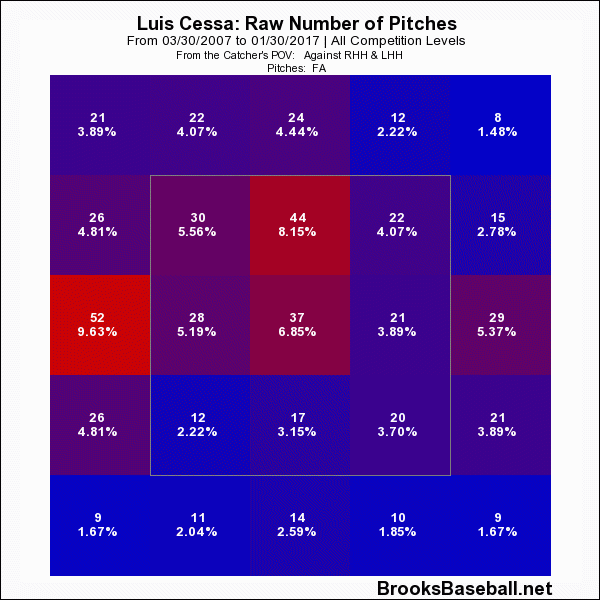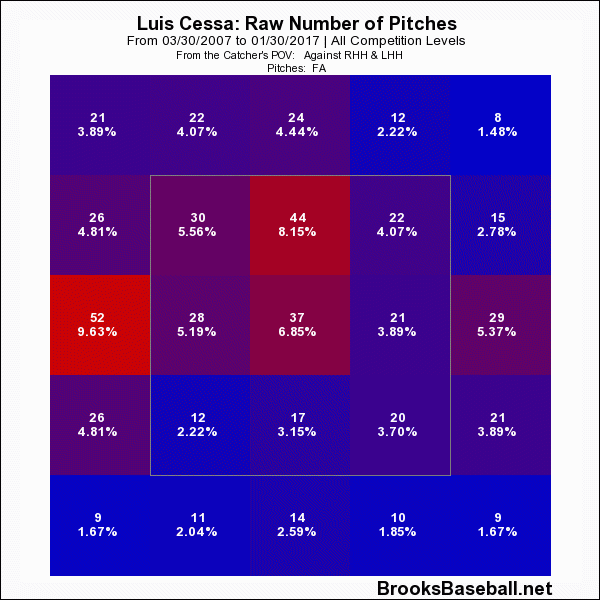 And here is how the hitters slugged against the pitch in those locations: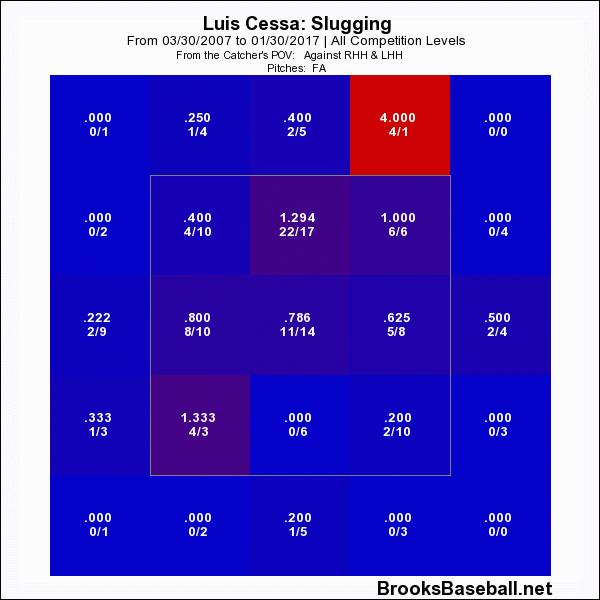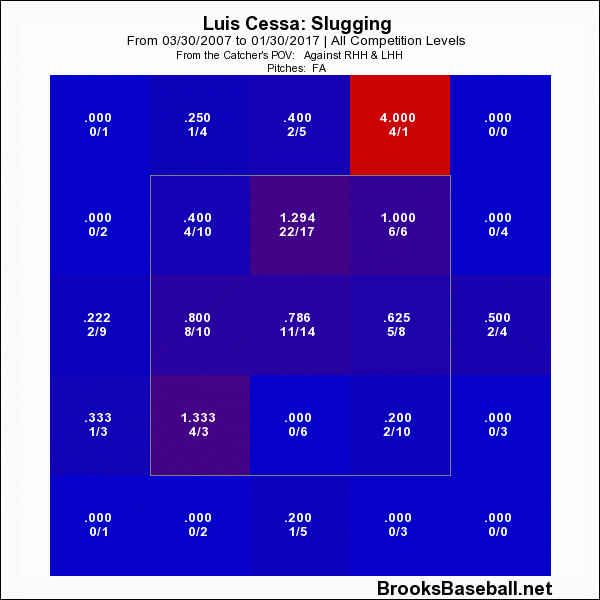 As you can see, Cessa located (or mis-located) his fastball to the upper part of the zone quite frequently. That's also where hitters put up a 1.294 SLG%. Not ideal. That's the classic "good control but bad command" problem. He can keep it in the zone but not be precise about it.
A good thing about Cessa is that he's a young guy. Not Sevy-level young but young enough to learn a few tricks and improve his game. He's not really a guy with a clear "out pitch," but his slider has a potential, generating a 64% ground ball rate. If he wants to stick to rotation long-term, this season will be very telling. Cessa is probably not as valued as Severino, so he'll have to show consistency and improvement to lock up a spot. But because he was able to finish the season healthy and gave a relatively solid showing, I believe he is just slightly ahead of Green in this list.
3. Chad Green
When it comes to excitement level, Green up there among the top candidates. Along with Cessa, he arrived to the Yankees system as a decent-looking high-minor arm. In 2016, he pitched lights out in Triple-A, marking at 1.52 ERA in 16 starts. He also struck out hitters at a 9.51 K/9 rate while limiting walks (2.00 BB/9) and home runs allowed (0.29 HR/9). Performances like that get noticed and he made his ML debut back in May. It wouldn't be until July till he got to stay in the bigs consistently though.
Green put up a 4.73 ERA in 45.2 IP with eight starts and four relief appearances. His season ended in early September when he was diagnosed with a strained flexor tendon and sprained UCL in his throwing arm. Injuries like that tend to be a precursor to (gulp) Tommy John Surgery. Uh-oh. The last update on Green said that he is hoping to avoid going under the knife and be back healthy.
My guess is that Yankees will take precautions with Green and limit his innings total for 2017. They will give him shots at the rotation though. He has shown in 2016 that he can be electrifying. He can really strike out hitters (10.25 K/9) and has shown some exciting performances, such as this 6 IP, 0 R, 11 K gem against the powerful Blue Jays. However, just like Cessa, gopher balls have been Green's kryptonite. He allowed a 2.36 HR/9 in those 45.2 IP, which is terrible. An encouraging thing is that he never allowed a HR/9 rate higher than 1.00 in a full season of minors. The bad thing is, well, he's in MLB now. He's gotta find a way to figure it out up there.
Some pitchers never solve YS3 and go on to flourish with other organizations (A.J. Burnett and Phil Hughes come to mind). There is also Masahiro Tanaka, who adapted his style to induce weaker contact and grounders. Green has enough upside that Yankees will wait and see how he can progress as a MLB pitcher.
4. Bryan Mitchell
If Cessa and Green saw their stock tick upwards, it was the opposite for Mitchell. After getting a brief trial in 2015, Mitchell locked up a spot on the 2016 Opening Day roster … and then he sprained his toe while covering first base during a ST game, resulting in a Grade 3 turf toe that cost him four months. Welp.
Mitchell did get to pitch in MLB in 2016. He made his return in September and made five starts — two each against the Blue Jays and Red Sox and one against the Dodgers. That's a tough welcome back to the big league roster. Mitchell held on his own, allowing 9 ER in 25.0 IP for a 3.24 ERA while striking out 11 and walking 12. The peripherals aren't great but his stuff was back. Take a look at this nasty hard curve that got David Ortiz whiffing.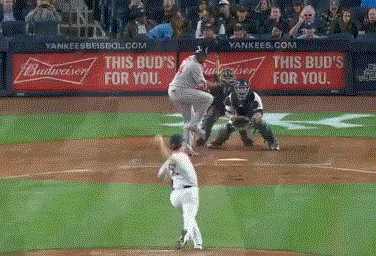 At this moment, Mitchell's rotation candidacy is dicy because he didn't pitch as much last year as the guys I put ahead of him on this list. I do think, however, that it is possible for him to notch a rotation spot if he blows the coach staff away in Spring Training. He looked pretty good last spring and he could've entrenched himself in MLB had he not gotten injured.
I think Mitchell has a chance for a rotation spot but I'm not sure how well he'll have to do to win one over Severino, Cessa, or Green. I think the likely scenario is the Yankees give him a long relief job and a chance to impress if there is an injury or one of the starters underachieve. Mitchell was drafted by the Yankees during Mark Teixeira's first year with the team, just to give you an idea how long he's been with the organization.
5. Jordan Montgomery/Dietrich Enns
Mike profiled Montgomery just a few days ago. He wasn't the most exciting draft pick but he worked himself into being more intriguing lately. Getting near MLB is a big accomplishment itself. Developing more velocity and putting great numbers up in his first look at Triple-A (0.97 ERA in six starts and 37.0 IP) are icing on the cake. Montgomery is not a top tier prospect but there are reasons to be excited.
Enns, on the other hand, has taken every opportunity he could and built himself into a legitimate call-up candidate. A 19th rounder out of Central Michigan University in 2012, he didn't arrive with eye-popping stuff, and most pitchers with his resume end up becoming organizational fodder. However, his rise through the system has been nearly flawless. The only major blemish was the Tommy John surgery he had back in 2014, but he was even stronger after, posting a 0.61 ERA in 58.2 IP at two levels (Rookie & High-A) in 2015 and a 1.73 ERA in 135.0 IP at two more levels (Double-A & Triple-A) in 2016. Yowza. However, because he's not young (turning 26 in May) and he's considered as junkballer, he's got long odds to overcome to settle a rotation spot in MLB long-term.
Montgomery has a higher ceiling but Enns has a better minor league track record. Both of them spent some time in Scranton last season and excelled there. They probably will have to do it again to get a look in the MLB this year. As much as the fans and I would like to see the rotation remain stable throughout the season, I'd be pretty interested to see either of them make a start for the Yankees. While neither is likely to make the roster out of the camp this year, if they keep dominating in Triple-A, you better believe that the front office will want to try'em out.
6. Chance Adams
Not a lot of people expected Adams to elevate through the system so quickly, but here we are. The 5th rounder out of Dallas Baptist University in the 2015 draft did nothing but impress. He's one of my favorite stories in the Yankee farm system. Dude went from a college reliever to a starting pitching prospect and put up great numbers while pitching with mid-90's heat. Many teams would've signed up for this outcome with their first round pick.
Ceiling-wise, Adams might be the highest in the list after Severino. His fastball, his minor league track record and his sudden ascension really make him an intriguing story all-around. I'm guessing Adams opens 2017 in Scranton. Unless he has a setback, he will probably make a ML debut sometime during the 2017 season. The question is, when? Unless he puts an unprecedented level of performance, he is likely behind Montgomery/Enns in the pecking order. He doesn't turn 23 until August, so youth is definitely in Adams' side, which leads me to believe that Yanks can take a little time with him.