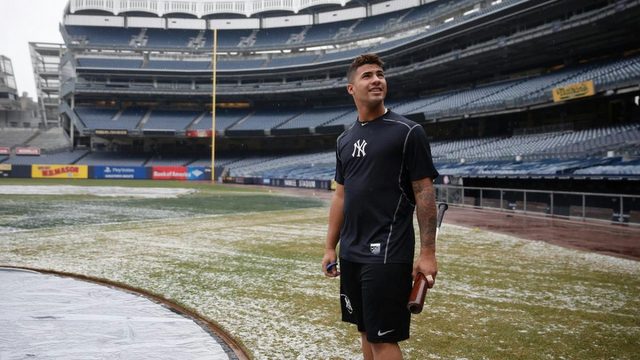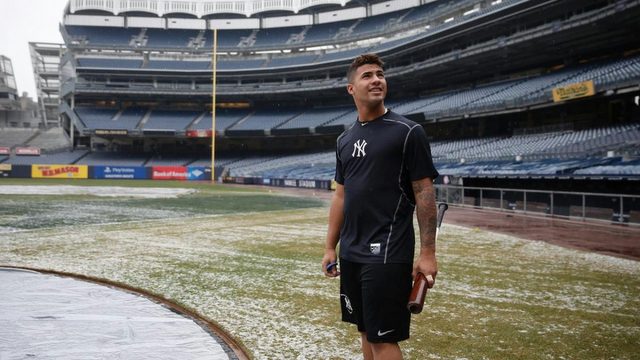 Coming into the 2017 season, the Yankees had arguably the best farm system in baseball, thanks largely to last summer's trade deadline deals. The development of players already in the system contributed to that as well. It would be wrong to credit the farm system turnaround to the trades only. Player development helped too.
That highly ranked farm system helped the Yankees get to within one game of the World Series this year. The system pumped productive players into the big league roster and also gave the Yankees plenty of trade chips. And, amazingly enough, the Yankees still have a very good farm system. Jim Callis rated the system as the fourth best in baseball back in August, after the trade deadline and all the graduations. Pretty incredible. Let's review the year that was down on the farm.
The Graduates
Might as well start with the players who are no longer prospects. MLB's rookie limits are 130 at-bats or 50 innings pitched, and according to that, the Yankees graduated a very impressive group of prospects to the big leagues: OF Clint Frazier (season review), RHP Chad Green (season review), OF Aaron Judge (season review), and LHP Jordan Montgomery (season review). Also, IF Tyler Wade (season review) is no longer rookie eligible due to service time, not at-bats.
Judge set a new rookie record with 52 home runs, earning him the AL Rookie of the Year award (unanimously) and the runner-up spot for the AL MVP. Green was a top ten reliever in baseball this season despite not getting called up until early-May. Montgomery led all rookie starters in WAR. Frazier and Wade did not have that sort of impact this season, though Frazier did hit a walk-off homer, and that's pretty cool. By WAR, no team in baseball received more production from their farm system in 2017. It wasn't even close.
The Top Prospect
There was no change atop the organizational prospect list this year. The top prospect going into Spring Training is still the top prospect today. That is both good news and bad news. It's good news because that prospect, SS Gleyber Torres, is really freaking good. He was a consensus top five prospect coming into the season and MLB.com currently ranks him as the second best prospect in baseball, behind Japanese league veteran Shohei Ohtani.
It is also bad news because had things gone according to plan this season, Torres would not be a prospect right now. He would've made his MLB debut at some point and likely accrued enough playing time to land with the graduated prospects. Instead, Torres' season ended on June 16th, when he managed to tear the ulnar collateral ligament in his non-throwing elbow during a slide into home plate. What a fluky injury.
"(Torres) was starting to conquer the International League and then he got hurt," said Brian Cashman to
Brendan Kuty
last week. "The way his trajectory was going, I think you would have seen him in the big leagues last year some point in the end. You may very well have seen him as the DH or third base. It may have prevented us from trading for Todd Frazier. Who knows. We never did find out because he didn't get more time."
Torres started the year by tearing the cover off the ball in Spring Training — he hit .448/.469/.931 with nine extra-base hits (six doubles, one triple, two homers) and four singles in 32 Grapefruit League plate appearances — so much so that some wanted him on the Opening Day roster in place of the injured Didi Gregorius. I don't mean fans either. Members of Joe Girardi's coaching staff wanted to take Gleyber north out of camp.
"Our Major League staff wanted him 'now.' They wanted him to break camp and then play him at shortstop," said Cashman to Ron Blum last week. "We just felt it was important for him to crawl before you walk, and walk before you run, and I didn't want him drinking out of a fire hose in April. So I took my time, and I think it was the right move for him and for us."
Torres went to Double-A Trenton and hit .273/.367/.496 (138 wRC+) in 32 games while being more than four years younger than the average Eastern League player. Then, after being promoted to Triple-A Scranton, he hit .309/.406/.457 (145 wRC+) in 23 games before the injuries. He was nearly seven years younger than the average International League player. Torres finished the season with a .287/.383/.480 (141 wRC+) batting line, seven homers, 12.8% walks, and 20.0% strikeouts in 55 minor league games.
As far as we know, Gleyber's rehab is going well — he posts occasional workout videos on social media — well enough that Cashman confirmed Torres asked to play winter ball. The Yankees said no, however. They want him to come to Spring Training at full strength, not rush him back. We'll see how what happens the rest of the offseason, though as things stand, there are openings at second and third base, and Torres could get a chance to win one of those jobs next spring. This time the coaching staff may get their wish and he'll be included on the Opening Day roster.
The Other Top Prospects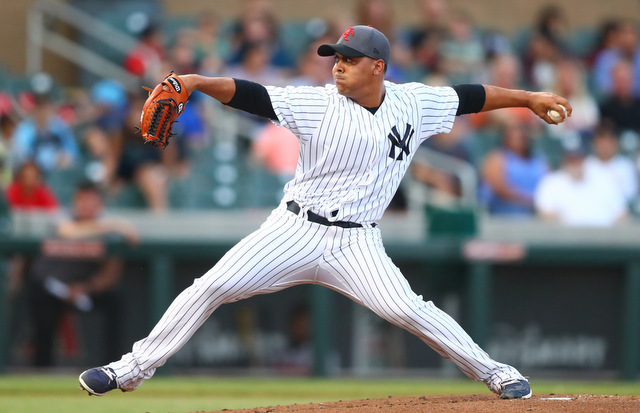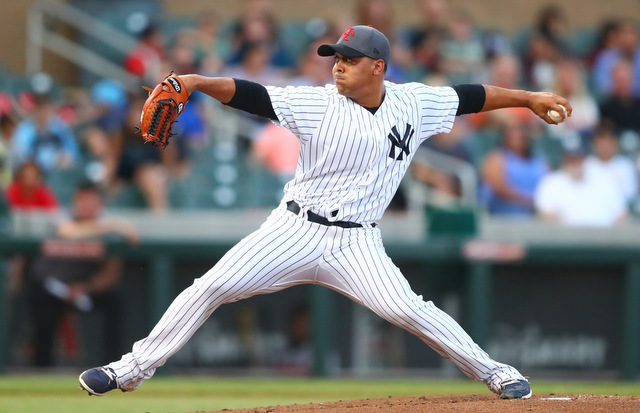 I think there are two pretty defined tiers at the top of the farm system at the moment. There's Gleyber and then there are the other guys who are top 100 caliber prospects. Will they all appear in top 100 lists next spring? Probably not, but I am sure they will all receive consideration, at the very least. Personal favorite 3B Miguel Andujar (season review) is among them. Even after graduating Judge and Frazier, the Yankees could still boast five or six top 100 prospects next year. That's pretty cool.
LHP Justus Sheffield, who came over from the Indians with Frazier in the Andrew Miller trade, started the season as a 20-year-old in Double-A and threw 93.1 innings with a 3.18 ERA (4.58 FIP) and 20.3% strikeouts and 8.2% walks before an oblique injury shut him down. Sheffield returned in time to pitch in the Arizona Fall League (3.10 ERA in 20.1 innings) and was so impressive one scout told Josh Norris he had "No.1 starter-type stuff." A lefty with good velocity and two potential out-pitch secondary pitches is a mighty fine prospect, and it is not out of the question that Sheffield will make his MLB debut at some point in 2018.
The Yankees' other top pitching prospect, RHP Chance Adams, was impressive in his second full season as a starting pitcher, pitching to a 2.45 ERA (3.70 FIP) with 22.3% strikeouts and 9.6% walks in 150.1 innings at mostly Triple-A. The Yankees had plenty of opportunities to call Adams up this season, though they passed each time, which tells us they believe he still has some things to improve. And that's okay. He just turned 24 and has been a starter for only two years. I thought Adams would debut in 2017 and it didn't happen. If he doesn't debut in 2018 though, something will have gone wrong.
RHP Albert Abreu came over in the Brian McCann trade last winter — the Yankees didn't stop trading veterans for prospects at the 2016 deadline — and he was awfully impressive around elbow and lat injuries, throwing 53.1 innings with a 3.37 ERA (3.12 FIP) with 27.6% strikeouts and 8.1% walks at two Single-A levels. The injuries are a red flag, obviously, though the good news is Abreu was healthy enough to throw 27.2 innings with a 2.60 ERA in the Arizona Fall League. Abreu has a legitimate four-pitch mix and might have the best stuff in the system. Even with the injuries, he upped his stock this year by improving his control.
The Trade Chips
Aside from producing the AL Rookie of the Year and AL MVP runner-up, as well as several other contributing youngsters, the farm system also helped the Yankees by providing trade chips. We knew this was coming too. There is only so much roster space to go around, so the Yankees either had to trade some prospects, to risk losing them for nothing in the roster crunch. Heck, they made trades and still lost four players in the Rule 5 Draft.
The Yankees dipped into the prospect depth to make three trades this summer. Most notably, they shipped RHP James Kaprielian, SS/OF Jorge Mateo, and OF Dustin Fowler (season review) to the Athletics for Sonny Gray and $1.5M in international bonus money. Coming into the season Kaprielian (No. 5), Mateo (No. 7), and Fowler (No. 12) all ranked among my top 12 prospects in the system. That's a lot of talent! There's also more to the story.
Both Kaprielian and Fowler were damaged goods. Fowler blew out his knee crashing into the side wall at Guaranteed Rate Field in his first inning as a big leaguer, and Kaprielian underwent Tommy John surgery in April. He never took the mound this season. And that's after a flexor injury limited Kaprielian to 45 innings in 2016. Since being the 16th overall pick in the 2015 draft, the soon-to-be 24-year-old Kaprielian has thrown 56.1 pro innings. He's lost a lot of development time.
Mateo, meanwhile, was looking to bounce back from a wholly disappointing 2016 season, in which he hit .254/.306/.379 (99 wRC+) in 113 High-A games and was suspended two weeks for violating team rules. He hit .240/.288/.400 (98 wRC+) in 69 High-A games to begin this season, was promoted to Double-A anyway, and hit .300/.381/.525 (147 wRC+) in 30 games at the level. The Yankees also had Mateo begin working out in center field.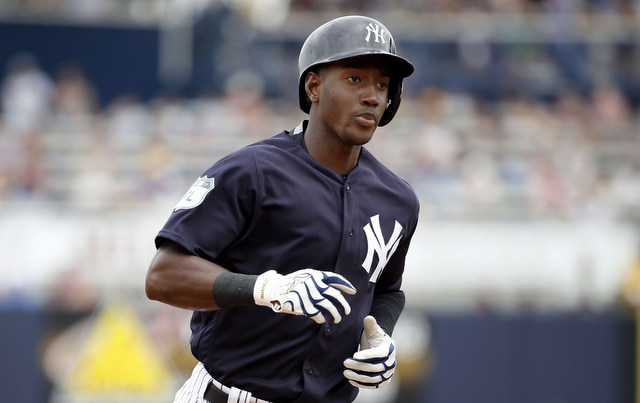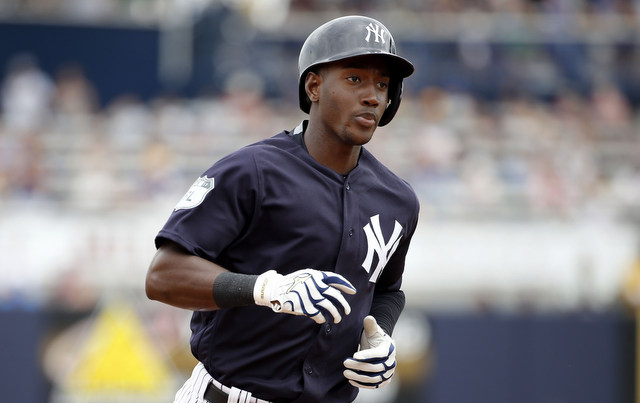 Aside from those 30 Double-A games before the trade, Mateo's performance has not been good the last two years, yet the A's loved his talent so much that they took him as the only healthy player in the Gray trade. In the end, the Yankees traded three of the dozen best prospects in their system for a potential impact starter in Gray, and all three of those prospects had seen their stock slip since Opening Day. Fowler and Kaprielian were seriously hurt and Mateo hadn't performed aside from a month-long stint in Double-A immediately prior to the trade.
A few weeks prior to the Gray trade, the Yankees traded three prospects, including 2016 first round pick OF Blake Rutherford, to acquire David Robertson, Tommy Kahnle, and Todd Frazier from the White Sox. Rutherford's first full pro season was not going as hoped — he was hitting .281/.342/.391 (113 wRC+) with two homers in 71 Low-A games at the time of the trade — and my guess is that if he was living up to the hype, he would not have been traded. Rutherford hit .213/.289/.254 (63 wRC+) in 30 Low-A games after the trade, so yeah.
LHP Ian Clarkin, a 2013 first round pick, was also included in the trade. He's been hampered by injuries over the years and, at the time of the trade, he had a 2.62 ERA (3.58 FIP) with 18.7% strikeouts and 8.0% walks in 75.2 innings at High-A. Clarkin made only three starts with the White Sox after the trade due to an oblique injury. The third prospect in the trade, OF Tito Polo, hit .307/.369/.455 (139 wRC+) with five homers and 27 steals in 74 games split between High-A and Double-A before going to Chicago. The ChiSox did not add Polo to the 40-man roster after the season and he was not selected in the Rule 5 Draft. Clarkin was added to the 40-man.
Also at the deadline, the Yankees turned two depth arms into Jaime Garcia, who provided rotation depth down the stretch. LHP Dietrich Enns, a stats before stuff guy, had a 2.29 ERA (2.70 FIP) in 39.1 Triple-A innings before the trade while missing time with a shoulder issue. RHP Zack Littell had a 1.87 ERA (2.88 FIP) in 115.1 High-A and Double-A innings before the trade, though the presence of many higher upside arms made his spot in the organization uncertain. Would the Yankees have 40-man roster space for him after the season? Rather than answer that question, the Yankees used Littell in a trade to help the MLB roster.
The Breakout Prospects
There may not have been a bigger breakout prospect in all the minors this season than OF Estevan Florial. The just turned 20-year-old spent most of the season with Low-A Charleston, hitting .298/.372/.479 (145 wRC+) with 13 homers and 23 steals in 110 total games. That earned Florial a spot in the Futures Game. His walk rate (10.1%) was very good. His strikeout rate (31.1%)? Not so much. Making more contact is the top priority going forward because everything else Florial does on the field is explosive. Power, speed, defense, you name it.
An argument can be made Florial is the second best prospect in the system behind Torres right now. I don't have him that high in the system just yet — not gonna lie, the contact issues worry me, though he's still so young and has plenty of time to improve — but it is clear Florial has emerged as a top 100 caliber prospect and one of the most tooled up outfielders in the minors. He has some things to work on. No doubt. Everyone does. But Florial's emergence this year helped make Rutherford and Fowler expendable.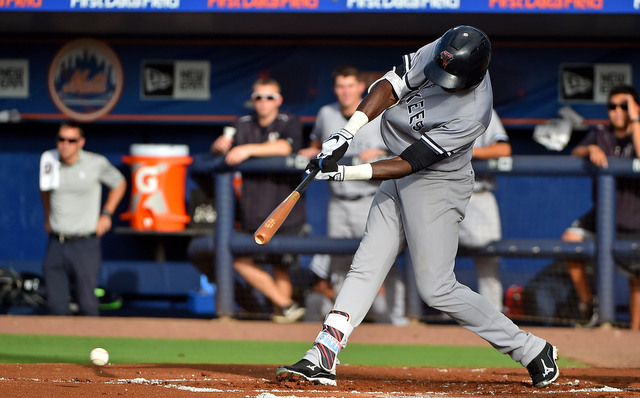 IF Thairo Estrada, a personal favorite, went from interesting low level guy to 40-man roster player this year by hitting .301/.353/.392 (107 wRC+) with a tiny little 10.3% strikeout rate in 122 games as a 21-year-old in Double-A. The Yankees added Thairo to the 40-man to protect him from the Rule 5 Draft last month and while he's not another Gleyber or Andujar, Estrada can be the rich man's Ronald Torreyes thanks to his contact skills and sure-handed defense all around the infield.
It might be a stretch to consider 2B Nick Solak a true breakout player, but the fact of the matter is that in his first full minor league season, the soon-to-be 23-year-old authored a .297/.384/.452 (143 wRC+) batting line with 12 homers, 14 steals, 11.7% walks, and 18.6% strikeouts in 130 games and reached Double-A. That is pretty darn good. Solak has some Rob Refsnyder in him — he's a hitter first and a second baseman second — though he has more pop than Refsnyder and has a much better chance of staying at second base. I can't help but feel like he's trade bait.
Two years ago the Yankees gave 20th round pick OF Isiah Gilliam a well over slot $550,000 bonus because they like his power from both sides of the plate, and this season he put together a .275/.356/.468 (137 wRC+) batting line with 15 homers, 10.8% walks, and 21.7% strikeouts in 125 games, all with Low-A Charleston. He also showed he could handle the outfield full-time after spending most of the junior college career at first base. Gilliam turned 21 late in the season and his power is legit. That $550,000 looks like money well spent so far.
On the pitching side, there was no bigger breakout player this season than RHP Jorge Guzman, who played so well he was the top prospect in the Giancarlo Stanton trade. The 21-year-old came over with Abreu in the McCann trade and emerged as a top ten prospect in the system by throwing 66.2 innings with a 2.30 ERA (2.47 FIP) and great strikeout (33.5%) and walk (6.8%) rates for Short Season Staten Island. Guzman is an extreme hard-thrower — he reportedly sat 98-99 mph as a starter all summer — who made strides with his secondary stuff this year. As promising a prospect as he is — I think Guzman will pop up on top 100 lists come midseason — parting with a low level arm like Guzman for Stanton is a no-brainer.
RHP Taylor Widener made the college reliever to pro starter transition a la Adams, and he responded with 119.1 innings of 3.39 ERA (3.05 FIP) ball for High-A Tampa. His strikeout rate (26.4%) was good. His walk rate (10.2%) was not. Widener does not have Adams' stuff — he lacks a legitimate put-away breaking ball or offspeed pitch — though remaining a starter long-term is not completely out of the questions now. If nothing else, Widener has raised his stock and could be a trade chip.
The Emerging Young Arms
A year ago the Yankees had a position player heavy farm system. Now they're loaded with pitching, most of it in the low minors. RHP Domingo Acevedo is one of the exceptions. He pitched at three levels in 2017, including Double-A and Triple-A, and he finished with a 3.25 ERA (3.25 FIP) and 26.0% strikeouts and 6.2% walks in 133 total innings. Right now the 23-year-old Acevedo succeeds mostly by filling the strike zone with a mid-to-upper-90s fastball, but he'll have to improve his breaking ball to remain a starter long-term.
In the lower minors, RHP Luis Medina quickly established himself as one of the highest upside pitchers in the system despite throwing 38.2 rookie ball innings with a 5.35 ERA (3.98 FIP) and 22.7% strikeouts and 14.0% walks. The 18-year-old signed for $300,000 in July 2015 and has easy 97-100 mph heat with two potential knockout secondary pitches in his curveball and changeup. Medina has a long way to go from where he is to big league starter, but gosh, the kid can really bring it. He's a long-term project with frontline starter upside.
RHP Jonathan Loaisiga, a 23-year-old Giants castoff with 103.2 career innings in parts of five seasons, earned a spot on the 40-man roster by throwing 32.2 innings with a 1.38 ERA (2.17 FIP) and 27.2% strikeouts and 2.5% walks in his return from Tommy John surgery. He's a tiny little guy (5-foot-11 and 165 lbs.) with a big arm, routinely sitting 93-97 mph with his fastball and backing it up with a power curveball and quality changeup. Not every prospect is a high draft pick or big money international signing. Sometimes a scrap heap signing like Loaisiga turns into a legit prospect worth a 40-man spot.
RHP Freicer Perez is a more classic Yankees pitching prospect than Loaisiga — Perez stands 6-foot-8 and 190 lbs. — and he's gradually added velocity as a pro as he's added muscle and refined his mechanics. The 21-year-old spent the season with Low-A Charleston and had a 2.84 ERA (3.59 FIP) with 22.7% strikeouts and 8.7% walks in 123.2 innings. Perez has some clunkiness in his delivery …
… which makes it difficult for him to stay on top of his curveball, though he is gaining consistency with the pitch. A mid-90s fastball and a surprisingly good changeup round out his repertoire. The Yankees signed Perez for a mere $10,000 back in December 2014 and he's come a long way with his mechanics and his control.
It can be easy to stereotype Latin America pitching prospects as raw hard-throwers, but that does not describe 18-year-old RHP Roansy Contreras, a four-pitch pitcher with low-90s gas and a plan. His performance this season wasn't great — he threw 53.2 rookie ball innings with a 4.02 ERA (4.18 FIP) with 14.0% strikeouts and 7.0% walks — though it's rookie ball, so who cares. Contreras has the projectability to add velocity and the pitching acumen to further refine his secondary pitches. He's quite the sleeper.
The Garcias — RHP Deivi Garcia and RHP Rony Garcia — are similar in that they're teenage prospects with good velocity and a quality curveball. Deivi, 18, had a 3.30 ERA (3.44 FIP) with 36.6% strikeouts and 8.2% walks in 60 rookie ball innings this year. His curveball is said to have an elite spin rate. Rony, 19, had a 2.50 ERA (3.74 FIP) with 18.2% strikeouts and 5.5% walks in 75.2 rookie ball innings, and he operated with a low-to-mid-90s cutter and a snappy upper-70s curveball. Both Garcias are 2018-19 breakout candidates.
The Rebound Prospects
When the Yankees made their trade deadline deals last year, they targeted several once highly touted buy low candidates they'd try to rebuild. Among them was RHP Dillon Tate, the fourth overall pick in the 2015 draft and part of the Carlos Beltran trade. Tate missed time with a shoulder problem this year, but when he returned, he had a 2.81 ERA (3.95 FIP) with 18.4% strikeouts and 7.0% walks in 83.1 innings split between High-A and Low-A. More importantly, his stuff bounced all the way back after a down 2016 season. From Keith Law (subs. req'd):
On Tuesday night, he started Game 1 of the Eastern League championship series for Trenton, and was sitting at 94-97 mph from the windup with more fastball life than he'd shown last year in the Arizona Fall League as a reliever, along with a much-improved changeup that I think has surpassed his slider to become his best off-speed pitch … Tate still has starter potential, even good starter potential, but there are a couple of specific facets to his game that have to improve for him to get there.
OF Billy McKinney was part of the Aroldis Chapman trade and he rebounded from a tough 2016 season to hit .277/.338/.483 (124 wRC+) in 124 games at Double-A and Triple-A. His 16 home runs were easily a new career high. That was enough to land McKinney on the 40-man roster and enough for the Yankees to have him try first base in the Arizona Fall League as they look for a way to get him into the lineup.
Although he was not acquired at the 2016 trade deadline, OF Jake Cave qualifies as a rebound prospect because his stock is at an all-time high following several up and down seasons. The 25-year-old posted a .305/.351/.542 (145 wRC+) line with a career high 20 home runs — his previous career high was eight homers — in 103 games at Double-A and Triple-A. He credited the success to a new emphasis on elevating the ball. To wit:
2015: 55.3 GB% and 17.9 K%
2016: 44.0 GB% and 22.5 K%
2017: 42.0 GB% and 26.3 K%
Fewer ground balls and more strikeouts are classic signs a player is selling out for power, and hey, there's nothing wrong with that. Cave's career had kinda stalled out and he made adjustments that landed him a spot on the 40-man roster. He and McKinney are both left-handed hitting outfielders who experienced Triple-A success this season. The fact Cave can play center field — and play it well — gives him the edge over McKinney as a prospect in my opinion.
RHP Nick Rumbelow, who spent some big league time with the Yankees in 2015, returned from Tommy John surgery at midseason and was dynamite, throwing 40.1 innings with a 1.12 ERA (1.89 FIP) and 29.4% strikeouts and 7.2% walks between Double-A and Triple-A. Rumbelow was so good the Yankees added him to the 40-man roster after the season, and the Mariners then traded two prospects (LHP JP Sears and RHP Juan Then) to the Yankees to get him. Sears has left-on-left matchup potential and Then is a lower level prospect with starter upside.
The New Faces
The Yankees subtracted way more prospects via trade this season than they acquired. In addition to Sears and Then, the Yankees added 1B Ryan McBroom in a minor trade with the Blue Jays. Refsnyder went the other way. McBroom is a right-handed hitting and left-handed throwing first baseman who hit .257/.327/.379 (96 wRC+) with four homers in 38 Double-A games after the trade. He hit .247/.323/.395 (98 wRC+) with 16 homers overall in 2017. The soon-to-be 26-year-old is a fringe prospect who might hold down first base in Scranton in 2018.
RHP Matt Frawley, a 17th round pick in last year's draft, came over from the Pirates for Johnny Barbato. The 22-year-old had a statistically excellent season — he threw 71.2 innings between Low-A and High-A, and finished with a 1.63 ERA (2.24 FIP) and 26.7% strikeouts and 4.2% walks — and is a low-to-mid-90s fastball/curveball reliever. Frawley figures to open 2018 at Double-A and could be a big league option come 2019.
A few weeks ago the Yankees sent Garrett Cooper and Caleb Smith to the Marlins for international bonus money and RHP Mike King, Miami's 12th round pick in last summer's draft. The 22-year-old threw 149 innings this year, all at Low-A, with a 3.14 ERA (3.97 FIP) with 17.8% strikeouts and 3.5% walks. King is a low-90s fastball/slider guy with very good command. I suspect the Yankees will move him into the bullpen at some point to see what happens when he airs it out for an inning or two.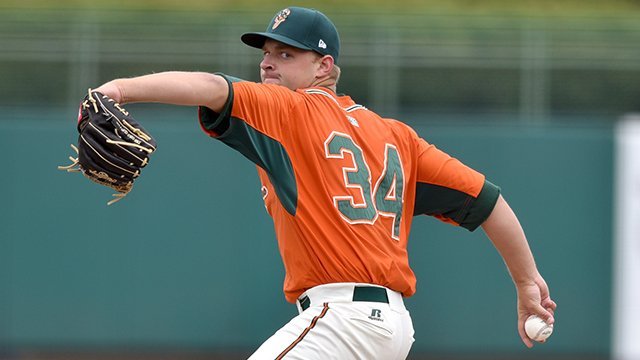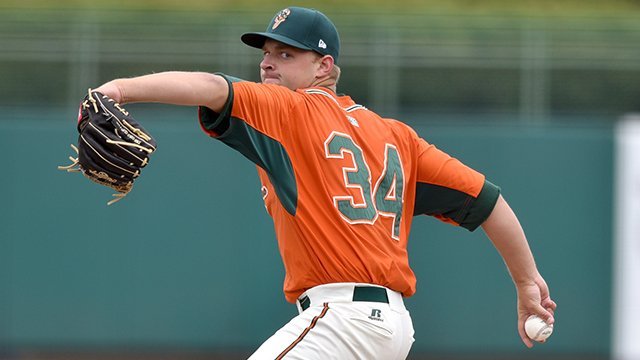 The Yankees also acquired RHP Yoiber Marquina from the Indians as the player to be named later in last offseason's Nick Goody trade, though the 21-year-old did not pitch in 2017 as he rehabbed from Tommy John surgery. Marquina is a legitimate prospect though, sitting in the low-90s with a usable curveball and changeup. He had a 3.16 ERA (2.90 FIP) with 32.3% strikeouts and 10.5% walks in 31.1 Low-A innings last year, before his elbow gave out.
Of course, the Yankees also added talent through the 2017 draft as well. They signed 23 of their 40 picks, including the top 22. First round pick RHP Clarke Schmidt did not pitch after the draft as he rehabbed from Tommy John surgery. RHP Matt Sauer, the club's second rounder, had a 5.40 ERA (3.68 FIP) with 21.1% strikeouts and 14.0% walks in 11.2 rookie ball innings after signing. Third rounder RHP Trevor Stephan was a monster in his pro debut, posting a 1.31 ERA (1.74 FIP) with 34.1% strikeouts and 4.7% walks in 34.1 pro innings, mostly with Short Season Staten Island.
The Yankees may have found a diamond in the rough in 12th rounder OF Steven Sensley, who hit .292/.370/.584 (157 wRC+) with 13 home runs at three levels after the draft, climbing as high as Low-A Charleston. We've seen plenty of guys have big pro debuts and do nothing after, so we'll see what Sensley does next year, but the scouting report is intriguing. Sensley has power, a plan at the plate, and good athleticism. Here are our Day One, Day Two, and Day Three draft recaps.
The Best of the Rest
Not counting the guys who graduated or were traded away, I've covered 32 prospects in this post already. I count about 15 others I haven't covered who would land in a "normal" top 30 prospects list. The Yankees have a lot of depth in their system. Not everyone is going to be a star, but they have a lot of players who project to be useful big leaguers. Those guys can be plugged into the roster when help is needed or traded. Here are the other notable players who spent at least part of 2017 in the farm system (age in parentheses).
IF Abi Avelino (22): Avelino has become an organizational utility infielder — he hit .254/.304/.356 (82 wRC+) in 98 games at three levels and all different positions — and could really use a fresh start somewhere else.
IF Oswaldo Cabrera (18): Cabrera's skills don't show up in the stats: .252/.306/.321 (85 wRC+) with four homers in 112 games at the lower levels. He has good bat-to-ball skills, good defensive chops, and is a very hard worker.
C Gustavo Campero (20): The 5-foot-6 backstop hit .304/.444/.545 (179 wRC+) with three homers, 13 steals, and more walks (27) than strikeouts (23) in 36 rookie ball games. Can he hit more advanced pitching? Can he catch? Those are the questions going forward.
RHP Cody Carroll (25): Very hard-throwing reliever posted a 2.54 ERA (3.04 FIP) with 32.1% strikeouts and 10.8% walks in 67.1 innings at High-A and Double-A. Carroll needs to be more consistent with his slider and control, but he figures to be a big league option in 2018.
SS Diego Castillo (20): Contact maestro hit .263/.310/.315 (83 wRC+) with 10.0% strikeouts in 118 Low-A games. He's a way better prospect than the stat line indicates. Castillo has great contact skills, he can really play shortstop, and he's very instinctual.
LHP Nestor Cortes (23): Cortes had another dominant statistical season, throwing 104.2 innings with a 2.06 ERA (2.86 FIP) and 24.8% strikeouts at three levels. He was taken by the Orioles in the Rule 5 Draft, so we might get to see how his soft-tossing approach works against big leaguers in 2018.
RHP Juan De Paula (20): De Paula, who was part of the Ben Gamel trade, quietly posted a 2.90 ERA (3.08 FIP) in 62 innings with Short Season Staten Island. He's a pitchability guy with a deep arsenal.
RHP J.P. Feyereisen (24): In 63.1 upper level innings, Feyereisen managed a 3.27 ERA (3.85 FIP) with 23.3% strikeouts and 10.9% walks. Despite touching triple digits with his fastball, an inconsistent slider kept Feyereisen from being picked in the Rule 5 Draft.
RHP Drew Finley (21): Injuries continue to hamper the former third round pick. Finley threw 33.1 low level innings with a 6.48 ERA (4.51 FIP), and his stuff has backed up a bit since he was drafted in 2015.
3B Dermis Garcia (19): No one in the farm system has more power than Dermis, who hit .249/.357/.542 (144 wRC+) with 17 homers and 14.3% walks in only 63 low level games. He has to get the strikeouts (30.5%) under control though, especially with a move to first base looking more and more likely.
SS Wilkerman Garcia (19): Second straight disappointing season for Wilkerman, who once upon a time was a top ten prospect in the system. He hit .222/.256/.296 (64 wRC+) in 67 games with Short Season Staten Island.
SS Kyle Holder (23): The defensive wiz hit .271/.317/.350 (95 wRC+) at High-A this year and seems to be getting a little better with the bat with each passing year. I'm buying.
RHP Brian Keller (23): Last year's 39th round pick ripped up the low minors (3.13 ERA and 2.54 FIP in 144 innings), which is what you'd expect a four-year college guy to do. Keller has four pitches, none of which is great.
RHP Nolan Martinez (19): A shoulder issue limited Martinez to 13.2 rookie ball innings in 2017, during which he allowed one run and struck out 14. He's a prime 2018 breakout candidate thanks to his low-90s heater and high spin curveball.
RHP Nick Nelson (22): The numbers aren't great (4.56 ERA and 3.83 FIP at Low-A), but Nelson misses bats with his fastball and curveball, and his changeup is promising as well. Better prospect than the numbers would lead you to believe.
OF Pablo Olivares (19): Olivares is one of those good at everything, great at nothing prospects. He hit .241/.347/.322 (94 wRC+) in 59 games, which included a rough 36-game stint at Charleston (33 wRC+).
OF Alex Palma (22): The outfield assist machine (seven in 49 games!) had his best year with the stick, hitting .280/.322/.435 (120 wRC+) with four homers in 54 Single-A games. Palma did not get picked in the Rule 5 Draft, but with another strong year, he may force a 40-man roster decision next offseason.
SS Hoy Jun Park (21): The .251/.348/.359 (110 wRC+) batting line with seven homers and 25 steals in 110 games doesn't stand out, but Park can play the hell out of shortstop and he has more raw power than he's shown in games.
LHP James Reeves (24): The Yankees like Reeves enough that they brought him to Spring Training as a non-roster player this year. An elbow injury sidelined him for much of the season though. He had a 1.96 ERA (2.18 FIP) with 26.6% strikeouts in 46 innings when healthy, and he profiles as a classic left-on-left matchup guy.
LHP Josh Rogers (23): Three-pitch lefty had a 3.24 ERA (3.38 FIP) with 21.7% strikeouts and 4.3% walks in 91.2 innings, mostly at High-A, before surgery to remove bone spurs from his elbow ended his season. Rogers has gotten lost in the system's pitching depth, but he's a good prospect.
C Donny Sands (21): The conversion to catching isn't going well so far, but there's no reason to pull the plug yet. Sands did hit .276/.328/.374 (105 wRC+) with four homers in 93 Single-A games.
LHP Stephen Tarpley (24): The move to the bullpen worked wonders for Tarpley, who threw 41 innings with a 0.88 ERA (2.85 FIP) with 26.9% strikeouts. He's a left-on-left reliever candidate thanks to low-to-mid-90s heat and a good slider.
C Saul Torres (18): Torres didn't hit much this year — he put up .174/.230/.309 (45 wRC+) line in 46 rookie ball games — but he's the best defensive catcher in the system, and the consensus is there's more offense coming.
OF Trey Amburgey, RHP Will Carter, OF Rashad Crawford, RHP Austin DeCarr, 1B Mike Ford, RHP Anyelo Gomez, RHP Nick Green, OF Jeff Hendrix, RHP Brady Lail, RHP Jose Mesa Jr., OF Leonardo Molina, RHP Jio Orozco, RHP Erik Swanson, and 1B Brandon Wagner all had varying levels of success in the minors this year and should be recognized as prospects, albeit fringe ones way down the organizational depth chart. Ford (Mariners), Gomez (Braves), and Mesa (Orioles) were all selected in the Rule 5 Draft.
* * *
The Yankees' farm system inevitably took a hit in 2017. They had arguably the best system in baseball coming into the season and there was nowhere to go but down. The farm system took a hit for good reasons though. The Yankees graduated several players to the big leagues, almost all of whom had an impact right away. They also traded several quality prospects for MLB players, most of whom are under control for another few seasons. Seeing your system ranking drop because of graduations and trades is much more preferable to dropping due to poor performance and attrition.
Chances are the farm system will take another hit next season, when Torres likely reaches the big leagues and others like Andujar and Adams possibly exhaust their rookie eligibility. Overall though, the Yankees have become a player development machine the last few years, and that is the single biggest reason they are back to being a contender with such a bright long-term future.