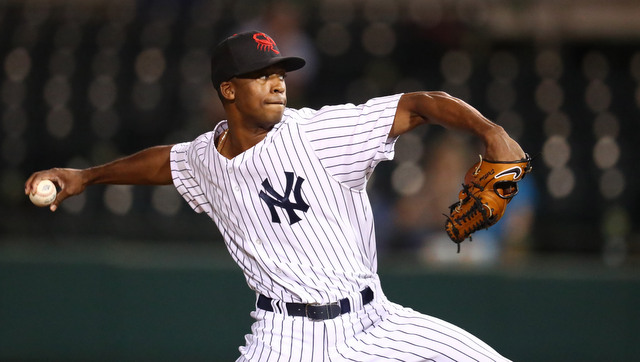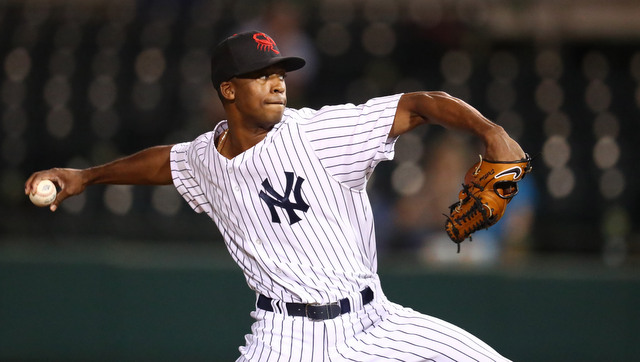 Last week the crew at MLB.com rolled out their annual team top 30 prospects lists. They also unveiled their farm system rankings, and again the Yankees came in at No. 2, behind the Braves. All four major scouting publications (MLB.com. Keith Law, Baseball America, Baseball Prospectus) had the Braves and Yankees ranked first and second in their farm system rankings, respectively.
Anyway, I'm not going to list MLB.com's entire top 30 Yankees prospect list here. Go click the link. As always, the whole thing is free. Scouting reports, videos, the whole nine. Here are the guys the Yankees had on MLB.com's top 100 prospects list instead:
3. SS Gleyber Torres
24. OF Clint Frazier
37. OF Blake Rutherford
45. OF Aaron Judge
47. SS Jorge Mateo
58. RHP James Kaprielian
79. LHP Justus Sheffield
Those seven are the top seven prospects in the top 30 list, in that order, because duh. I always think it's kinda funny when the prospects are in a different order on the individual team list than the overall top 100 list. Anyway, here is my top 30 prospects list, and here are some thoughts on MLB.com's top 30 list.
1. The Yankees will have the No. 1 system very soon. On day two of the regular season, basically. SS Dansby Swanson, Atlanta's top prospect, is literally one at-bat short of exhausting his rookie status. So as soon as he plays on Opening Day, he'll lose his prospect status, and the farm system rankings will be adjusted accordingly. I assume graduating Swanson, one of the two or three best prospects in the world, will be enough to knock the Braves under the Yankees on the farm system rankings. I mean, who cares, the rankings don't mean anything in the grand scheme of things, but it's always cool to the see the Yankees at the top. That'll happen very soon.
2. The Yankees let Tate be himself. Two years ago RHP Dillon Tate was the fourth overall pick in the 2015 draft. He then struggled so much in the first half of the 2016 season that the Rangers were willing to trade him (and two others!) for rental Carlos Beltran at the deadline. As it turns out, Texas tried to tweak Tate's mechanics last year. "(Tate) had trouble incorporating some delivery changes the Rangers wanted him to make, with his fastball dropping into the upper 80s and his slider flattening out. After the trade, the Yankees told him to use whatever mechanics made him feel comfortable," said the write-up. I'm not sure whether this is still the case under relatively new farm system head Gary Denbo, but once upon a time the Yankees had a policy where they'd give their top prospects a year in pro ball before making any major changes to their delivery, swing, whatever. They never would have changed Tate's mechanics so soon after making him the fourth overall pick. The Rangers did and his stock dropped, and now the Yankees may benefit.
3. Refsnyder 2.0 is in the farm system. I had one 2016 draft pick in my top 30 list: first rounder OF Blake Rutherford. MLB.com has four in their top 30, including 2B Nick Solak. Last year's second rounder hit .321/.412/.421 (155 wRC+) with nearly as many walks (10.8%) as strikeouts (14.0%) in 64 games with Short Season Staten Island following a productive three-year career at Louisville. MLB.com's scouting report makes Solak sound like a Rob Refsnyder clone:
Solak has a long track record of hitting and getting on base. His right-handed swing is geared for stroking line drives from gap to gap, an approach that results in consistent contact but doesn't provide much power … After DHing as a freshman and playing mostly the outfield corners as a sophomore, Solak shifted to second base last spring. He has the quickness and reliable hands for the position, though he doesn't have the smoothest actions and some scouts believe he's destined for center field.
Refsnyder played the outfield in college and moved to second base in pro ball. Solak made the transition to second during his junior year in college. Otherwise the two are pretty damn similar, and that's not a bad thing, even with Refsnyder on the trade block. As a bat control guy with three years of experience at a major college program, Solak should rake in Single-A ball. He's a good prospect, but I get the feeling he's going to put up huge numbers this year and get overrated because of it, which is basically what happened with Refsnyder.
4. Widener is moving into the rotation. One of the four 2016 draftees to make the top 30 is RHP Taylor Widener, which surprised me. He was the club's 12th round pick out of South Carolina, and his pro debut numbers were silly: 0.42 ERA (1.41 FIP) with 43.9% strikeouts and 4.7% walks in 42.2 innings. Widener was mostly a reliever in college, and the MLB.com's scouting report says the Yankees are going to stick him in the rotation full-time. "Widener picked up velocity in his introduction to pro ball, as his fastball soared from 90-93 mph to 93-97. His mid-80s slider can be a wipeout pitch at times but lacks consistency. To prepare him for starting, the Yankees had him focus on refining his work-in-progress changeup during instructional league," they wrote. (Widener is yet another pitching prospect who gained velocity in New York's system.) The Yankees have a history of trying college relievers in the rotation, most notably Chance Adams, and it seems Widener is next. Turning Widener, a 12th round pick, into a legitimate starting pitcher prospect would be a hell of a thing.
5. McKinney didn't make the top 30. OF Billy McKinney, who has impressed this spring, did not make MLB.com's top 30 list. That's a pretty good reminder how much his prospect stock dropped last year. McKinney's .545/.643/1.371 batting line looks great, and gosh his swing sure is pretty, but eleven at-bats in Spring Training does erase his underwhelming .256/.349/.363 (107 wRC+) line in 130 Double-A games last year. Hopefully McKinney will regain some prospect stock this year. That would be cool. I ranked him as the No. 22 prospect in the system, but I don't think it's completely crazy to leave him out of the top 30. He needs to rebuild his value and this spring is a strong start, if nothing else.
6. The talent extends beyond the top 30. MLB.com prospect guru Jim Callis has maintained the Yankees have baseball's deepest farm system since the trade deadline last year, and on Twitter he said he "easily could have written up 45 prospects" for the top 30. He also said 3B Dermis Garcia was in the 31-35 range and IF Thairo Estrada was among the final cuts too. "Type of guy to steal in trade," said Callis about Estrada. Thairo is a personal fave — he smacked homers in back-to-back games earlier this spring when he was up from minor league camp — but it's hard to see where he fits going forward because the Yankees are so loaded at shortstop. Estrada will be Rule 5 Draft eligible after the season, so decision time is coming. Trade? Add him to the 40-man roster? Roll the dice in the Rule 5 Draft? The Yankees are going to have to do something with Thairo (and several others) this year.