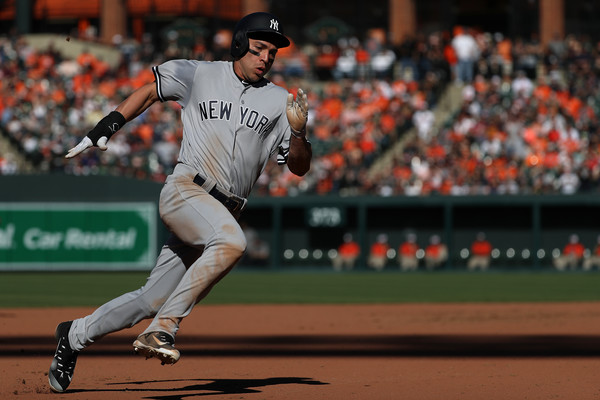 Eight games into the season, you're bound to see a few eye-popping stats. Aaron Judge's 1.072 OPS comes to mind. Adam Warren's six perfect innings or Chase Headley's .393 average also fit that description.
A little less eye-popping but nonetheless surprising has been the solid start for Jacoby Ellsbury. The Yankees' starting center fielder has been beset with criticism over the last few seasons while he hasn't lived up to the contract. Even stripping away the contract, Ellsbury hasn't been quite up to expectations with league average (or worse) seasons as he approaches his mid-30s.
So his .321/.345/.500 (144 wRC+) batting line definitely stands out when it comes to the Yankees' early producers. This, after all, comes after a .263/.330/.374 season and with many projection systems expecting more of the same. Quite simply, a guy entering his age 33 season isn't supposed to have a resurgence like this.
Then there's the obvious question: Is this a resurgence or simply a small sample? That's the quandary I want to tackle.
There are some basic reasons to expect that it's a small sample size lying to our faces. First, he has a 0.0% walk rate and a .333 BABIP. The walk rate isn't going to stay that way, but it shows he may just be putting the ball in play more. It also underlines how early we are in the season. The BABIP, compared to .296 in 2014, .301 in 2015 and .295 and 2016, is a little high and may regress soon. His average is buoyed by a few infield hits and he has an infield hit percentage more than double his career rate. He has also seen a rise in his soft contact percentage.
But there has also been some improvement in there, whether or not it's sustainable. In this small sample, his hard contact rate and line drive percentage both increased. At least one of those infield hits was a line drive off the pitcher and likely would have gotten through the infield without a deflection. Here's a look at his spray chart. Most of his hard hit balls have been pulled, but there are a few liners elsewhere.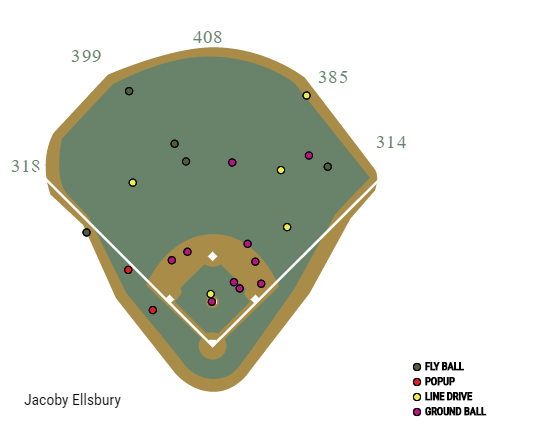 Pitchers have pitched Ellsbury on the outside part of the plate more often than last year and the few times he's gotten balls low and inside, he's produced solid exit velocity. His exit velocity as a whole is essentially the same after 24 batted balls as it was after 415 such results in 2016.
But it's extremely important to note that he hasn't had a single catcher's interference yet this season. This could actually be the most critical sign. Ellsbury worked with hitting coach Alan Cockrell to get more out in front with his swing after last season, moving his contact point forward as to avoid flirting with his own MLB record for CIs.
And therefore, we may have a tangible reason for this jump in performance.
The bulk of Ellsbury's damage has come against Alex Cobb, the Rays righty who was much more effective against lefties when he wielded his changeup consistently pre-Tommy John surgery. Below are gifs of Ellsbury swings against Cobb, one last September that ended in a pop up to left field and one from opening day at Yankee Stadium this year which produced an RBI double.
| | |
| --- | --- |
| 2016 | 2017 |
These ABs take place against the same pitcher at the same stadium with approximately the same location on the final pitch. Ellsbury is in the same spot in the box with a similar set-up and stride in his lower half. The only thing that may be different, other than the result, is the swing path. It looks pretty similar, but I'm also not certain that Cockrell and Ellsbury's adjustment is going to be that demonstrative. It may be quite subtle yet still still able to help Ellsbury pull the ball with a line drive rather than rather than being late to the ball and popping out.
And yes, I realize he popped out with the bases loaded yesterday. That was not a good at-bat, but it also came against a lefty and we haven't yet seen whether Ellsbury has overcome his platoon struggles.
Still, his early performance lends credence to the idea that he may have found something with his swing. It'll take a lot more data to see for sure, but if there is anything real in Ellsbury's improvement, it could be a significant boost for the Yankees with his contract running through 2020, not to mention it would be a major feather in the cap of Cockrell. At the very least, his strong production displays that he can still be a productive player at times, even if 2011 near-MVP Ellsbury is long gone.