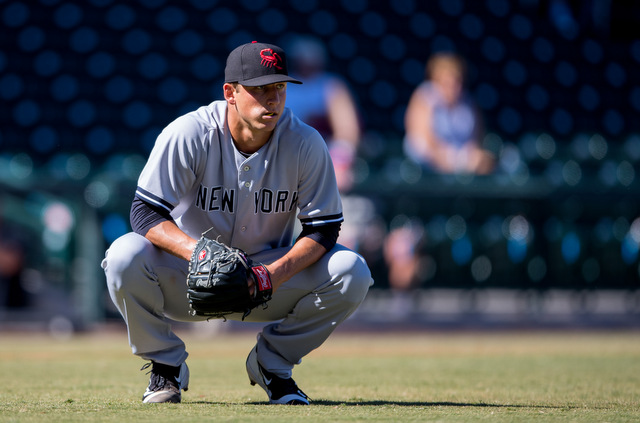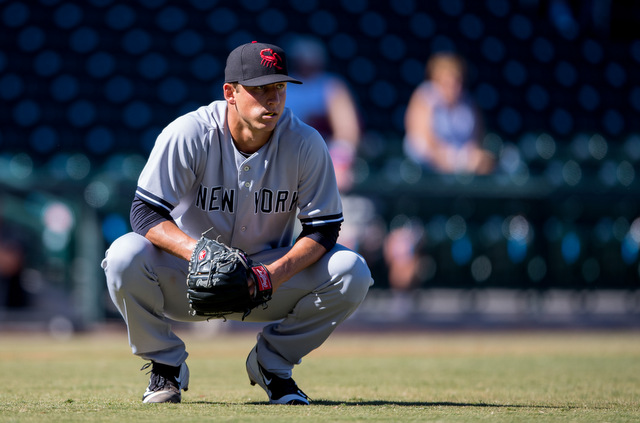 The 2017 season will be another lost year for the Yankees' top pitching prospect. Right-hander James Kaprielian will indeed undergo Tommy John surgery, the Yankees announced this morning. Dr. Neal ElAttrache will perform the surgery next Tuesday. Brian Cashman strongly indicated surgery was coming while speaking to reporters yesterday.
"We met last night," said Scott Boras, Kaprielian's agent, to Mike Mazzeo. "And it was something where, after the discussion with the doctors and compiling the proper information and having a history with pitchers, you don't want to send a pitcher out to the mound where he's going to have something in the back of his mind that's troubling him from start to start. The surgery allows us to alleviate those concerns."
Kaprielian, who turned 23 last month, missed nearly the entire 2016 regular season with a flexor tendon strain, and Cashman said the same injury resurfaced this spring. Last year's rehab essentially failed. Here's a quick recap of Kaprielian's timeline:
April 25th, 2016: Placed on the minor league disabled list with elbow pain after three starts with High-A Tampa.
June 28th, 2016: Diagnosed with a flexor tendon strain after the elbow continued to be a problem and did not show improvement. ElAttrache examined Kaprielian at the time.
October and November, 2016: Makes seven starts in the Arizona Fall League. PitchFX says his fastball averaged 95.7 mph and the scouting reports were glowing.
March, 16th 2017: Throws two innings in his only Grapefruit League appearance. The Yankees took it slow with Kaprielian in camp and limited him to simulated games early on.
March 26th, 2017: Throws 4+ innings in a minor league spring game, according to Josh Norris. As far as we know, that's the last time he pitched before this latest injury.
April 6th, 2017: Elbow begins acting up again.
These days Tommy John surgery comes with a 14-16 month rehab, sometimes even 18 months. The days of a 12-month rehab are all but over. A few years ago a rash of pitchers needed a second Tommy John surgery and the industry seems to have concluded the 12-month rehab was too aggressive. Kaprielian figures to be out until midseason 2018 at the very least.
Between the flexor injury last year and the Tommy John surgery now, Kaprielian is essentially going to miss two full seasons, likely more depending on the length of his rehab. Throwing 45 total innings, all in High-A and the AzFL, from Opening Day 2016 through midseason 2018 is, obviously, really bad. That's an awful lot of development time Kaprielian won't be able to make up. Sucks, but what can you do?
Despite last year's injury, Kaprielian was very highly regarded coming into the season. I was surprised at how high he ranked on the various top 100 lists this spring, and I'm pretty sure I wrote that a few times. Look at his placement on the various top 100 lists:
| | 2016 Rank | 2017 Rank |
| --- | --- | --- |
| Baseball America top 100 | Not ranked | 87th |
| Baseball Prospectus top 101 | Not ranked | 58th |
| Keith Law top 100 | 87th | 28th |
| MLB.com top 100 | Not ranked | 55th |
Kaprielian missed most of last year with a major elbow problem and he still climbed on every single list. That's how impressive he looked during his admittedly brief AzFL stint last year. He was healthy and throwing well. The same was true in Spring Training. Then something gave. Pitchers, man.
The Yankees selected Kaprielian with their first round pick (16th overall) in the 2015 draft and paid him an above-slot $2.65M bonus. Coincidentally, or perhaps not, Kaprielian's velocity ticked up his draft year at UCLA, and again in pro ball both after the draft and early in 2016. Velocity spikes seem to have a way of leading to elbow woes.
I suppose the good news is Kaprielian is a top of the line makeup and work ethic guy who will attack his rehab. Tommy John surgery has a high success rate, but it's not perfect. If it fails with Kaprielian, I don't think it'll be due to a lack of effort on his part. Kaprielian has been through worse in his life. Hopefully everything goes well and he comes back a better (and healthier) pitcher next season.