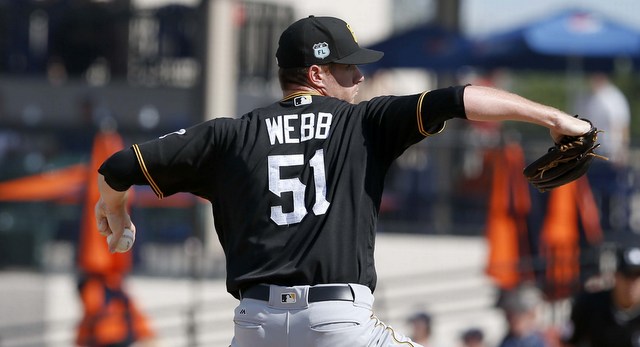 Another Rule 5 Draft pick player is back. The Pirates have returned left-hander Tyler Webb to the Yankees, both teams announced today. That means he cleared waivers. Webb is back with the Yankees as a non-40-man roster player, and the team has assigned him to Triple-A Scranton.
Webb, 26, was New York's tenth round pick back in 2013. He's pitched to a 3.61 ERA (2.91 FIP) with 26.3% strikeouts and 7.2% walks in 127 Triple-A innings the last two years. Although he's spent most of his career as a reliever, the Yankees tried Webb as a starter last season, and he made a few spot starts and extended relief outings. I wonder whether they'll have him try that again this year.
I thought Webb had a pretty good chance to stick as a Rule 5 Draft player because he's left-handed, has a little something on his fastball, and has had success in Triple-A. Alas. He allowed four runs in 13 innings this spring while striking out eleven and walking one. The Pirates went with former Yankee Wade LeBlanc for their final bullpen spot over Webb. He would have had to remain on their 25-man big league roster all season.
Three of the four players the Yankees lost in the Major League phase of the Rule 5 Draft have now been returned: Webb, Tyler Jones (Diamondbacks), and Caleb Smith (Cubs). The only one left is catcher Luis Torrens, who is in camp with the Padres and is reportedly the front-runner for their backup catcher's job. He's 20 years old and making the jump from Low-A to MLB, plus the history of Rule 5 Draft pick catchers is terrible, so I think he's coming back at some point, sooner rather than later.