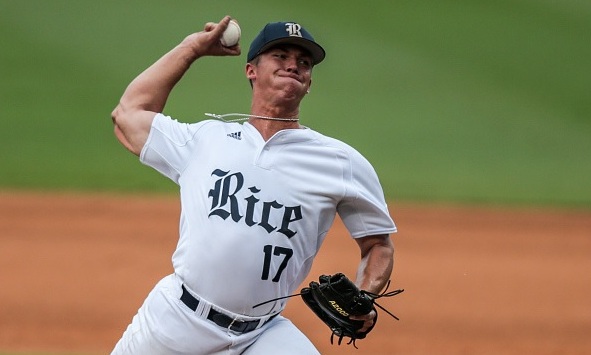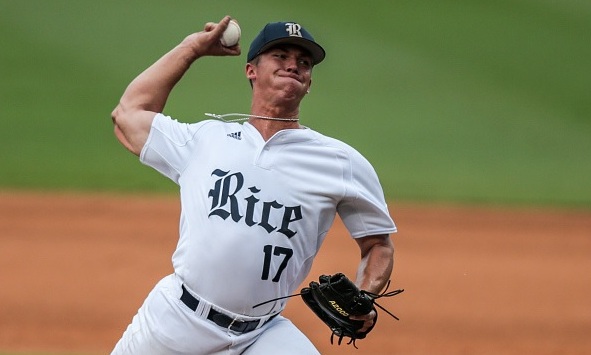 June 20th: Jim Callis says Otto signed for $320,900, not $323,400. Callis says the standard contract for draftees includes $2,500 in bonuses so easily reachable that teams were counting it as part of the player's bonus. Now they've stopped. The player still gets the $2,500 bonus, but it doesn't count against the bonus pool. Huh.
June 17th: According to Mark Berman, the Yankees have agreed to a deal with their fifth round pick in this year's draft, Rice RHP Glenn Otto. Slot money for the 152nd overall pick is $323,400, and that's what Otto will receive. It's a straight slot signing, per Berman. You can keep tabs on the draft pool situation with our Draft Pool Tracker.
"It feels good to be a professional baseball player, feels even better to be a Yankee," said Otto to Berman. "It's always been a goal of mine ever since I starting playing baseball when I was five-years-old. People would ask me what I wanted to be and I always said professional baseball player. That's always been the case through Little League, high school, and college. I wouldn't be here without my dad. He's helped me through everything baseball's brought me."
Otto, 21, spent most of his three years at Rice in the bullpen and the last two as the team's closer. This spring he had a 3.77 ERA with 81 strikeouts and 29 walks in only 59.2 innings after sitting out fall ball with arm fatigue/soreness. MLB.com ranked him as the 96nd best prospect in the draft class while Baseball America ranked him 181st. Pretty big split! Here's a snippet of MLB.com's scouting report:
When he comes out of the bullpen, Otto generally works with a 92-95 mph fastball that tops out at 97. His spike curveball can be devastating with power and 12-to-6 break. He also has a changeup but rarely uses it … Otto has a strong frame and his arm works well, so many scouts believe he could make it as a starter in pro ball. To succeed in that role, he'll have to throw more strikes.
Berman says the Yankees intend to develop Otto as a starting pitcher going forward, which isn't terribly surprising. He did make two starts for Rice this spring, so I suppose it's not completely foreign to him. In addition to throwing more strikes, Otto will have to use his changeup more often to make it work in the rotation, and also refine that knuckle-curve. Not too many starters throw that pitch. It can be tough to command. Here's some video:
The Yankees are not shy about attempting to convert relievers into starters in the minors. Chance Adams is the big success story, though others like Jonathan Holder and Taylor Widener have tried it as well. "We got together as a group and decided that we're going to take our best arms and put them in the starting rotation,"
said farm system head Gary Denbo over the winter
. Now they're going to do the same with Otto.
The signing deadline is Friday, July 7th this season, so three weeks from yesterday. The Yankees have already handed out one over slot bonus, to third rounder Trevor Stephan. They're expected to save some bonus pool money with first rounder Clarke Schmidt, as well as the college seniors they drafted in rounds 8-10, which will then be given to other players, including second rounder Matt Sauer.