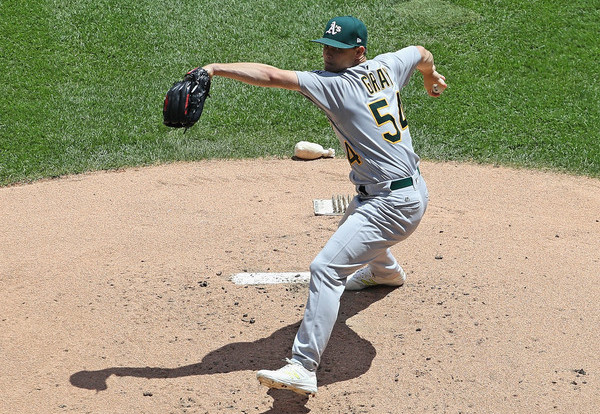 Given where they sit in the standings, it seems likely the Yankees will add a starting pitcher before Monday's non-waiver trade deadline. The Yankees are one game back in the AL East and 1.5 games up on a wild card spot, so they're a good weekend away from the division lead and a bad weekend away from not having a postseason spot. There's a clear need for another starter and the Yankees have already made one big trade. No sense stopping there.
The starter the Yankees have been most connected to these last few weeks is Athletics right-hander Sonny Gray. In fact, earlier this week Mark Feinsand reported the Yanks and A's were "making progress toward a deal" that would not only bring Gray to New York, but first baseman Yonder Alonso as well. That was reported Tuesday, and we've yet to hear anything since, so who knows. The 27-year-old Gray is available though. Let's see whether he actually makes sense for the up-and-coming Yankees.
Current Performance
Tuesday night's start was likely Gray's last with the A's — he is lined up to start Sunday, though I would be surprised if Oakland lets him make that start — and during that start he allowed four runs (zero earned) in six innings against the Blue Jays. He struck out nine. Gray threw a potential 1-6-3 double play ball into center field, so his own error led to the four unearned runs. Womp womp. Anyway, here are his numbers the last three years:
| | IP | ERA | FIP | K% | BB% | GB% | HR/9 | RHB wOBA | LHB wOBA |
| --- | --- | --- | --- | --- | --- | --- | --- | --- | --- |
| 2015 | 208 | 2.73 | 3.45 | 20.3% | 7.1% | 52.7% | 0.74 | .265 | .260 |
| 2016 | 117 | 5.69 | 4.67 | 18.2% | 8.1% | 53.9% | 1.38 | .372 | .325 |
| 2017 | 97 | 3.43 | 3.24 | 23.5% | 7.5% | 56.7% | 0.74 | .292 | .267 |
Gray finished third in the AL Cy Young voting behind Dallas Keuchel and David Price in 2015, was hurt and ineffective in 2016, and is back to being pretty great in 2017. He's been especially good over his last six starts, throwing 39.1 innings with a 1.37 ERA (2.66 FIP).
Two things about Gray. One, he gets a lot of ground balls. Always has. Even last year, when he was terrible overall, Gray's ground ball rate was well above the league average. And two, Gray's platoon split is generally pretty small. He actually has a reverse split this year. Point is, he can get lefties out. Lots of ground balls and the ability to neutralize lefties are the skills you want in a right-handed pitcher in Yankee Stadium.
Another thing worth noting: Gray has a reputation for being a big game pitcher. He went toe-to-toe with peak Justin Verlander in Game Two of the 2013 ALDS (box score) — that was the 11th start of his big league career — and also threw a complete game shutout in Game 162 in 2014 (box score), which clinched a postseason spot for the A's. That was a win or go home game. Even dating back to college, Gray has had a reputation for coming up huge in big games.
Current Stuff
For all intents and purposes, Gray is a four-pitch pitcher with usable fifth and sixth pitches. He'll sit low-90s and top out at 96-97 mph with his four-seam fastball and sinker, and his two main secondary pitches are a mid-80s slider and low-80s curveball. Gray also throws a low-90s cutter and mid-80s changeup. Those are the fifth and sixth pitches. He'll throw a few per start, but that's really it.
The curveball is Gray's moneymaker. That's the pitch that got him drafted 18th overall in 2011 and the pitch that allows him to keep lefties in check. He can throw the curve for called strikes and bury it in the dirt for swings and misses. Here's some video:
Gray throws his two fastballs, the four-seamer and sinker, roughly 62% of the time combined. The curveball and slider are pretty even at 15% each, and then the cutter and changeup (mostly changeup) fill out the rest. That has held pretty constant over the years. Nothing about Gray, neither his pitch selection nor his velocity, has changed following his injuries last year. His stuff has bounced back well.
If you watched all 88 pitches in that video (that was his start on May 24th of this year), you probably noticed Gray lived at the bottom of the zone. He pounds the lower half with his fastballs, and buries the curveball and slider down there too. Gray is listed at 5-foot-10. He's not a big guy at all. It's can be tough for short pitchers to get good downward plane, which is why so many of them are fly ball prone (coughChanceAdamscough). Gray's never had that problem. Here is his 2017 fastball location heat map, via Baseball Savant: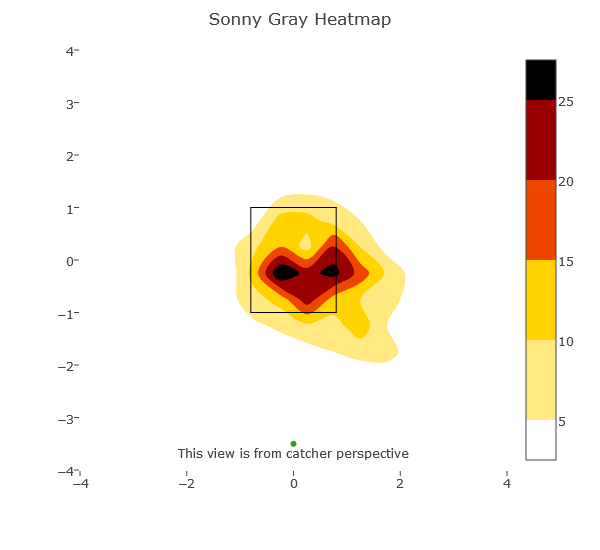 Bottom half of the strike zone, right where you want it. On any given day Gray goes out to the mound with two fastballs he locates at the knees, an out-pitch curveball, and a quality slider. And a changeup and cutter for show. This is not some garden variety back-end starter. Gray has already had one Cy Young caliber season and the stuff is there for him to put together more dominant seasons, especially since he is still only 27.
Injury History
Now, the bad news. Gray suffered the first notable injuries of his career last season. He missed two weeks with a right trap strain and then two months with a right forearm strain. Then, this spring, he suffered a right lat strain that caused him to miss April. The trap and lat injuries are kinda scary because a) those muscles are close together, and b) those muscles are close to the shoulder. Forearm strains are often a precursor to elbow problems too.
For what it's worth, Gray returned from the lat strain in May and has been fine since. No lat problems, no trap problems, no forearm problems, and no elbow problems. That doesn't make his injury history any less scary, of course. Arm injuries are arm injuries. Maybe the forearm strain will be like Andrew Miller's forearm strain — Miller missed a month with a forearm strain in 2015 — and be a true one-time thing. That's the hope. Either way, this is three pretty significant injuries to the arm/arm area within the last 14 months or so.
Contract Status
This season is the first of Gray's three years of arbitration eligibility. He'll remain under team control as an arbitration-eligible player in both 2018 and 2019 before qualifying for free agency during the 2019-20 offseason. He's not a rental. Trade for him at the deadline and you get him for two and a half seasons, meaning three potential postseason runs.
Gray will make $3.575M this season, which is surprisingly low first time arbitration salary for a guy with a top three Cy Young finish under his belt. Doug Fister made $4M his first trip through arbitration. Fister's arbitration salaries went from $4M to $7.2M to $11.4M, so if you're looking to get an idea of what Gray could make the next two years, that seems like a decent guideline. Also, Gray has two minor league options remaining, not that it really matters.
What Would It Take?
This is where it gets difficult. Pitchers like Gray don't get traded often, and even when they do get traded, it usually doesn't happen at midseason. Deals like this tend to wait for the offseason. The Jose Quintana trade was the most notable non-rental pitcher trade since … I guess David Price in 2014, when he went from the Rays to the Tigers?
Because of that, there is no good trade benchmark for Gray, an above-average starter with two and a half years of control. It's not a matter of me not finding a good benchmark. The benchmark doesn't exist. Quintana and Cole Hamels were traded three and a half years prior to free agency. Price was traded one and a half years prior to free agency. Rentals? There have been a ton of them. Two and a half years? Nothing. Sigh.
Here is everything we know about the Gray sweepstakes right now:
The A's are prioritizing a young center fielder in trade talks and like Estevan Florial. The Yankees are not against including him a trade package. [Jon Morosi, Mark Feinsand]
Oakland is pushing teams for their final bids, and it is believed the Yankees have made the strongest offer. Gleyber Torres, Clint Frazier, Chance Adams, and Justus Sheffield are reportedly off-limits. [Joel Sherman, Feinsand]
The A's have had high-ranking executives, including director of player development Billy Owens, scouting Double-A Trenton and Low-A Charleston. [Morosi, Josh Norris]
In my completely amateur know nothing opinion, the Athletics would not be wrong to ask for a top prospect like Torres or Frazier in a Gray trade. The Yankees insist those guys, as well as their other top close to MLB prospects, are untouchable. Fortunately the Yankees have enough farm system depth that they should be able to swing a trade without those guys.
The big name being bandied about the last few days is Jorge Mateo, who has torn the cover off the ball this last month with Double-A Trenton after being pretty crummy the previous year and a half with High-A Tampa. Building a package around Mateo and Florial doesn't seem unreasonable to me. In fact, it strikes me as a downright bargain if those guys are the two center pieces. We're talking about a 27-year-old pitcher under control through 2019 who has already proven he can pitch at a Cy Young level. Those dudes aren't cheap.
The injuries undoubtedly knock the price down. A healthy Gray would command tippy top prospects. There's also this: the A's have made some pretty crummy trades lately. The Josh Donaldson trade is the best example, though the two Jeff Samardzija trades weren't great either. That the A's are reportedly seeking a young center fielder tells you they're prioritizing specific positions rather than simply accumulating the best talent possible. That's what led to the Donaldson trade being so ridiculous. Long story short: Gray won't come cheap, but the injuries do drag his price down, plus Oakland's trade track record is questionable.
Does He Make Sense?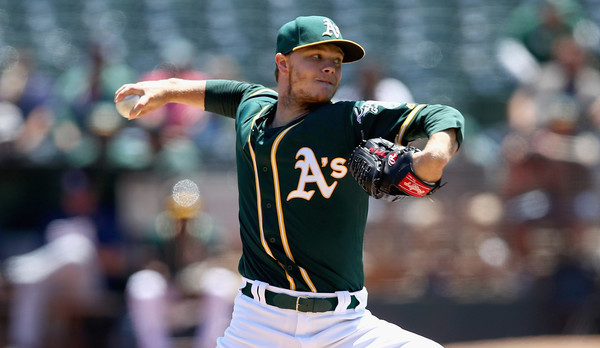 Yes. There is not a doubt in my mind. Gray is young (27), controllable (through 2019), very good overall (career 3.42 ERA and 3.56 FIP), ground ball heavy (career 54.4%), and able to shut down lefties (career .283 wOBA). And he has a history of performing well in big games. What more could you want? The only negative here is the injuries. That's it. The stuff and underlying skills are really, really good.
I have no doubts about Gray the pitcher being able to succeed in New York and the AL East. He's very good and the guy is tough as nails. My only concern is the injuries. That's all. The lat, trap, and especially the forearm injuries worry me and I assume they worry the teams interested in acquiring him. The Yankees reportedly made a strong offer for Quintana but aren't going all-out for Gray, presumably because Quintana's track record of durability is so great.
The way I see it, Gray is riskier than most — you could easily argue Mateo and Florial are riskier than most top 100 prospects — but he also offers more upside than most. The Yankees need pitching beyond this season and Gray is right smack in the prime of his career, so you're getting peak years about of this guy. It's almost like he's a buy low candidate, right? Everyone loves buy low candidates. If the Yankees can build a trade package around Mateo and Florial rather than someone like Torres and Florial, I think Gray's worth the risk. He could end up looking like a bargain.