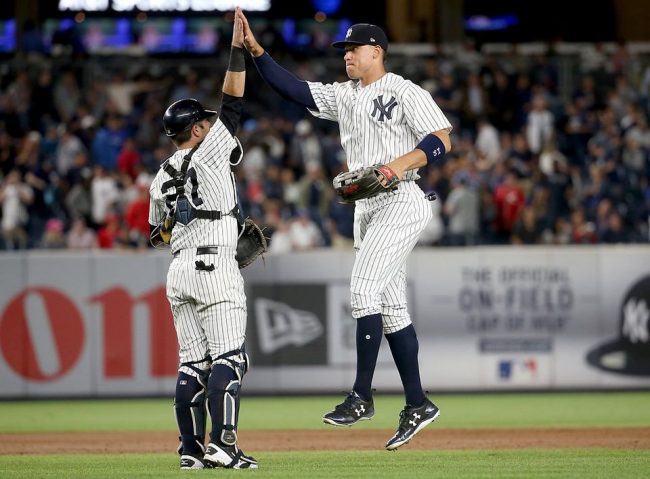 Threes are wild
The Yankees had a successful homecoming on Tuesday as they kicked off a critical nine-game stretch in the Bronx with a win over the Reds.
Todd Frazier, wearing the traditional pinstripes for the first time, had perhaps the most unforgettable and unusual Yankee Stadium debut ever. In his first at-bat, he lined into a triple play — which would be quite memorable on its own — but turned into a statistical bonzai when Matt Holliday scored a run as Didi Gregorius got caught in a rundown for the third out.
Let's run through some Triple Play #FunFacts:
Frazier was the 27th Yankee to hit into a triple play and the first since Russell Martin on September 27, 2011 against the Rays.
Before Tuesday, the last time the Yankees managed to win a game despite hitting into a triple play was May 29, 2000, when A's infielder Randy Velarde turned the trick by himself, the only unassisted triple play ever recorded against the Yankees.
The play was scored 6-3-5-6 in the official boxscore, just the second triple play in MLB history with that sequence. The other was on June 6, 1970 by the Pirates against the Dodgers.
This was only the eighth time in the Live Ball era (since 1920) that a team scored on a triple play, and the first since the Mariners did it against the Twins on May 27, 2006; the Yankees had never scored on a triple play before Tuesday.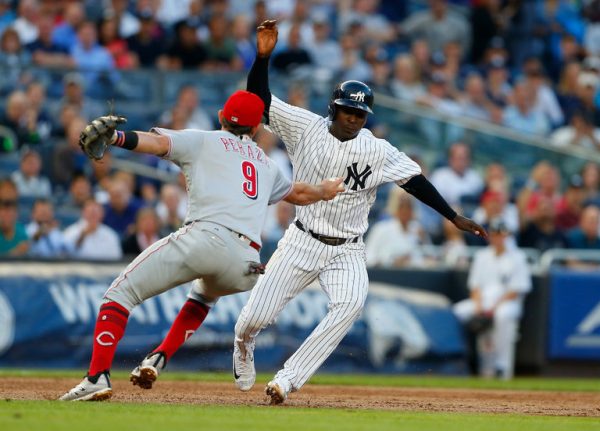 Didi redeemed himself after his triple play TOOTBLAN by driving in two runs, including his 15th home run of the season, five shy of the career-high he set last year. In the long and storied history of the franchise, Gregorius and Derek Jeter are the only shortstops with multiple 15-homer seasons.
Jordan Montgomery bounced back from his career-worst performance against the Twins last week to throw one of his best games as a major-leaguer. He took a no-hitter into the sixth inning and finished with this stellar pitching line: 6⅔ innings, one run, two hits, six strikeouts, one walk.
It was the second time Monty has pitched that deep into a game while giving up no more than two hits, as the 24-year-old became the youngest Yankee since Dave Righetti in 1981 with two such starts in a season.
Aroldis Chapman threw a scoreless ninth for his 12th save but he was hardly dominant, failing to record a strikeout for the sixth time this season. Four of those outings have come since the All-Star break, making this the first time in his career he's had a two-week stretch with at least four zero-strikeout games.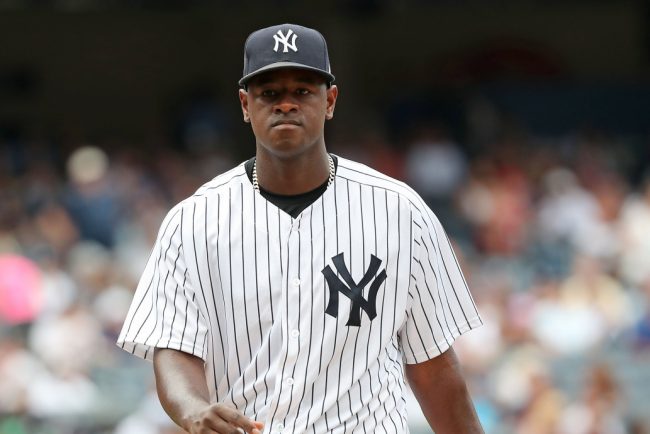 Summer of Severino
In a throwback performance to the scoreboard-dominant days of April and May, the Yankees used their tried-and-true formula of brilliant starting pitching and pinstriped power to complete the mini-sweep of the Reds.
Luis Severino tossed another brilliant gem, going seven strong innings while allowing only two runs (both unearned) with nine strikeouts, and added to his ace-like resume:
It was the fourth time this season he's pitched at least seven innings, gave up zero earned runs and struck out at least six batters; the only other pitchers in baseball that have done that four times this season are Max Scherzer, Chris Sale and James Paxton.
And it was the eighth time he's lasted at least seven innings and allowed zero or one earned runs — Scherzer (8 starts) and Clayton Kershaw (11 starts) are the only guys in MLB that can match Severino in that stat.
He's now had three starts in a row of at least seven innings and no more than one earned run, becoming just the third AL pitcher with a streak like that this season. The others: Corey Kluber and Dallas Keuchel.
Severino was in peak-dominant form, generating 20 swings-and-misses, the second-most in any start in his career. He climbed the ladder with his fastball to get four of the whiffs, but mostly buried his changeup (5) and slider (11) below the knees to make the Reds look like little-leaguers at the plate.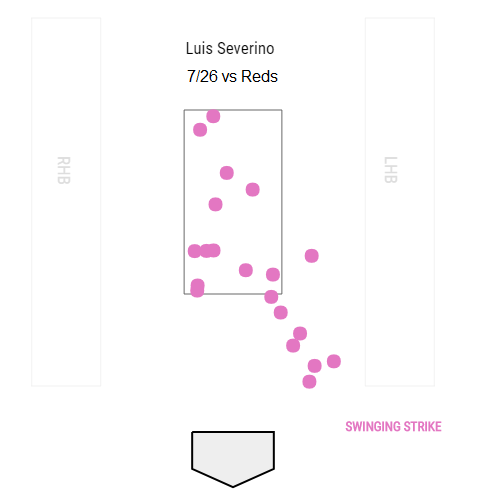 Six of his nine strikeouts came with his filthy hard slider, giving him 85 on the season with that pitch, the fourth-most in baseball behind Chris Archer, Chris Sale and Max Scherzer.
Clint Frazier continued to shine on the big-league stage, as he delivered two key run-scoring hits with men on first and second in the third and fifth innings. He's now 6-for-14 and has 10 RBIs with runners in scoring position, nearly matching the output of Jacoby Ellsbury (7-for-40, 12 RBI) in those situations for the entire season.
Didi Gregorius' scorching-hot bat provided more fireworks on Wednesday. He went deep in the seventh inning, extending his homer streak to a career-best three games, and also etched his name alongside some Yankee legends. Didi is just the fifth shortstop in franchise history to hit a home run in back-to-back-to-back games: Derek Jeter (twice in 2012), Tom Tresh (1962), Gil McDougald (1957) and Tony Lazzeri (1927) are the others.