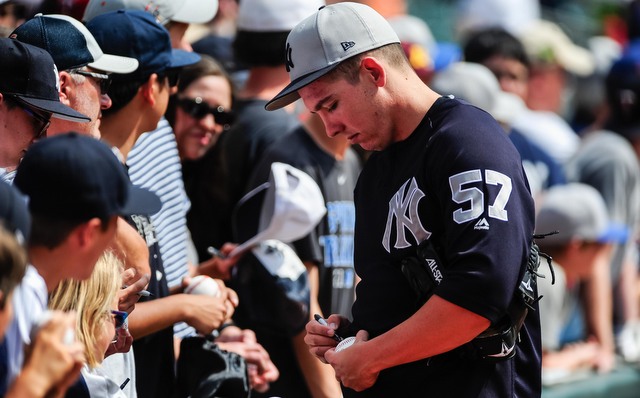 The Yankees, thanks largely to young players like Aaron Judge and Luis Severino, have a chance to return to the postseason this year and a chance to win their first AL East title since 2012. Judge and Severino have been the headliners, though others like Gary Sanchez and Jordan Montgomery have been key contributors as well. The young kids are driving this bus.
Among those young players is 26-year-old right-hander Chad Green, who I suppose isn't really that young by baseball standards, but is in his first full MLB season. He's locked himself into a bullpen spot, and if not for the David Robertson and Tommy Kahnle trade, he'd be seeing much more high-leverage work. It's a big time luxury to be able to use Green in the middle innings rather than saving him for the seventh or eighth.
So far this season Green has a 1.74 ERA (2.28 FIP) with 39.0% strikeouts and 7.0% walks in 46.2 innings, almost all out of the bullpen. (He did make one two-inning spot start.) He's been as good as Dellin Betances was in 2014. Green relies heavily on his fastball like so many other relievers, though his fastball is not like most others. It's unlike any other fastball, really. Check out the fastball swing-and-miss leaderboard. This is whiffs-per-swing, not whiffs-per-total fastballs thrown (min. 100 fastballs):
Chad Green: 40.3%
Justin Wilson: 38.7%
Craig Kimbrel: 38.4%
Dellin Betances: 37.3%
Tyler Clippard: 35.8% (?!?)
Holy Yankees/ex-Yankees. Think they value the ability to generate swings and misses with the fastball? Of course they do. We've know that for a while now. The Yankees love their power arms. Anyway, the MLB average is 19.7% whiffs-per-swing on the fastball this year, and Green is the only pitcher in baseball to double that rate. The gap between him and Wilson, the guy he was traded for and the No. 2 pitcher on the list, is pretty significant.
The whiffs-per-swing rate is incredible and what makes it so interesting to me is the velocity. Green has very good velocity, though his fastball not an overpowering triple-digit heater like Betances' or Kimbrel's or Aroldis Chapman's. His fastball is averaging 95.7 mph this year and he's topped out at 98.2 mph. Dellin's average fastball is 98.4 mph this year. Kimbrel's is 98.7 mph. Chapman's is 100.1 mph. And yet, none get as many whiffs-per-swing as Green.
There is more to a fastball than velocity, of course. Location matters, as does spin rate. You want either a high spin rate or a low spin rate on a fastball. High spin equals swings and misses and low spin equals ground balls. When you're in the middle, you get neither. Green's fastball, as the whiffs-per-swing rate suggests, has one of the league's highest spin rates. The 22nd highest among the 423 pitchers to throw 100+ fastballs this year.
Green's fastball spin rate: 2,483 rpm
MLB average fastball spin rate: 2,258 rpm
One thing about Green we can't quantify is the deception in his delivery, and I have no doubt that plays a role in his overall effectiveness and fastball dominance. He's a big guy at 6-foot-3 and he lifts his leg up real high, and his arm action is pretty long in the back. There's a lot going on before Green explodes forward and the hitter actually sees the ball. Good velocity plus good spin rate plus good deception equals a great fastball.
Also, the same way there's more to a fastball than velocity, there's more to a good fastball than swings and misses. If hitters are missing with 40% of their swings but squaring it up with the other 60%, how good is the fastball really? Not very. (That's Clippard's fastball, apparently.) According to expected wOBA (xwOBA), which is based on exit velocity and launch angle and things like that, hitters don't do much damage even when they make contact with Green's fastball. The fastball xwOBA leaderboard:
Anthony Swarzak: .198 xwOBA
Chad Green: .219 xwOBA
Sean Doolittle: .219 xwOBA
Seung-Hwan Oh: .227 xwOBA
Tommy Kahnle: .228 xwOBA
Man, what in the world has gotten into Anthony Swarzak this year? Whatever got into Kahnle, I guess. Anyway, a .219 wOBA is "pitcher hitting" territory. The worst hitter with enough plate appearances to qualify for the batting title, Alcides Escobar, has a .235 wOBA this year. Green's fastball turns everyone into a worse version of Escobar, and boy does Escobar stink.
One thing I should note is that Green's fastball didn't suddenly get good this year. Most guys see their fastball tick up once they shift to relief, though that's not necessarily what happened here. Green's fastball showed similar traits last season, when he worked primarily as a starter:
2016 average velocity: 95.4 mph (95.7 mph in 2017)
2016 max velocity: 99.2 mph (98.2 mph in 2017)
2016 whiffs-per-swing: 30.6% (40.3% in 2017)
2016 spin rate: 2,471 rpm (2,483 in 2017)
Velocity and spin rate are similar — max velocity is down, weirdly enough — while the whiffs-per-swing rate was much lower last year, as a starter. It was still comfortably above-average, but not as good as this year. Also, last season's Green's fastball had a .346 xwOBA, which was almost exactly league average (.347 xwOBA). Not bad, not great, just … average.
I think the big improvements in whiffs-per-swing rate and xwOBA this year are entirely the result of the move into relief. The velocities and spin rates may be similar, but hitters aren't seeing Green multiple times this year. He's not turning a lineup over. He's coming in for an inning or two at a time, airing it out, then leaving the game before the lineup turns over. There's no second (and third) time through the order penalty.
Green throws his fastball roughly 70% of the time this season and I think he could even stand to throw it more, especially as a full-time reliever. He can't thrown only fastballs, eventually hitters will catch on, but could he get away with, say, 80% fastballs? Maybe 85%? Green's slider isn't anything special. He dominates with his fastball. Either way, Green has found a home in the bullpen, where his elite fastball has made him into an overwhelming power reliever and a member of Joe Girardi's Circle of Trust™.