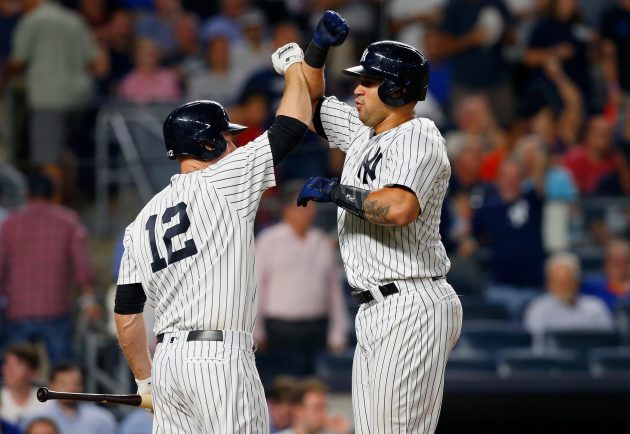 The Aarons and Gary Show
True to form, the Yankees bounced back from their latest Worst Loss of The Season with a late-inning rally to beat the Mets, 4-2, in the Subway Series opener.
If we know anything about this 2017 Yankees team, we know it's a resilient one. It was their 17th comeback win when trailing by multiple runs this season; through Monday, only three teams (Twins, Astros, Angels) had more such wins than the Yankees.
Also true to form, the comeback was fueled by a burst of power. Aaron Judge tied the game in the sixth inning on an opposite-field solo shot; Aaron Hicks' blast to lead off the eighth was the game-winner; and Gary Sanchez added an insurance-run dinger later in the eighth inning.
For Sanchez, it was his 20th home run of the season, the second straight year he's reached that milestone. Only four other catchers in major-league history produced multiple 20-homer campaigns before their age-25 season (while playing at least 75% of their games behind the dish): Johnny Bench, Gary Carter, Brian McCann and Wilin Rosario.
Hicks' homer was his 12th of the year – a new single-season career-best – and made him the answer to another #FunFact piece of Subway Series trivia. He joined Russell Martin (June 10, 2012) as the only Bronx Bombers to hit a go-ahead homer after the seventh inning against the Mets at Yankee Stadium.
Judge sparked the rally with his 36th homer of 2017 and the 40th of his career. (In a weird statisical quirk, Sanchez and Hicks' home runs were also their 40th career bombs.) As we've noted before, Judge's combination of patience and power – he had 96 walks to go along with his 40 homers – is unprecedented for a rookie:
Judge is the first player in baseball history to compile at least 40 homers and 75 walks within his first 140 big-league games.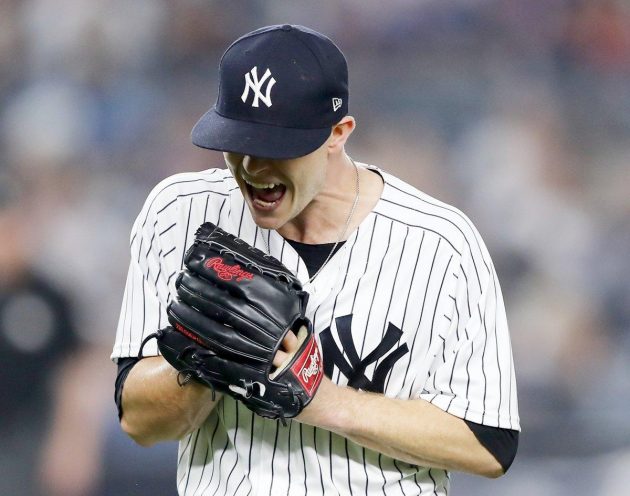 Too close for comfort
The Yankees squeezed out another victory on Tuesday night, but this time the drama was self-induced. They survived another near-implosion in the ninth inning by Aroldis Chapman, winning 5-4 after Amed Rosario took Chapman deep in the final frame.
Chapman was his typical dominant self for the first month of the season (11 games, 0.87 ERA, 41% K), but since he blew the save on May 7 in the 18-inning marathon against the Cubs, he's been mostly mediocre (25 games, 5.40 ERA, 29% K). This is arguably his least-dominant 25-game stretch since he first broke into the majors in 2011, in terms of strikeout rate: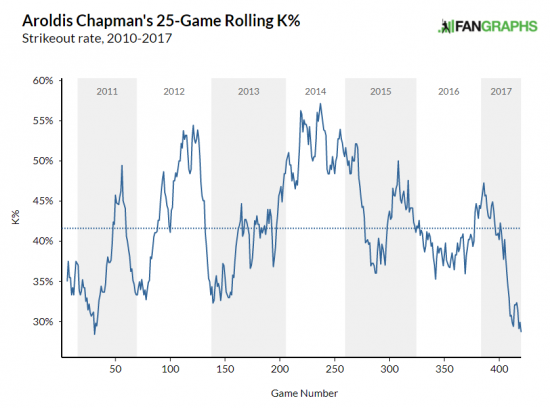 Still, the Yankees built up enough of an advantage in the first eight innings for the win on Tuesday with another stellar outing by Sonny Gray and another shot of home-run power.
Gray was mostly fantastic, holding the Mets scoreless on four hits through six innings, before his only blemish, a homer by Dominic Smith in the seventh. His slider was filthy and nearly untouchable, netting him eight whiffs and five strikeouts. His ability to bury the pitch below the knees and gloveside was hugely important, as he got all eight of his swings-and-misses in that location: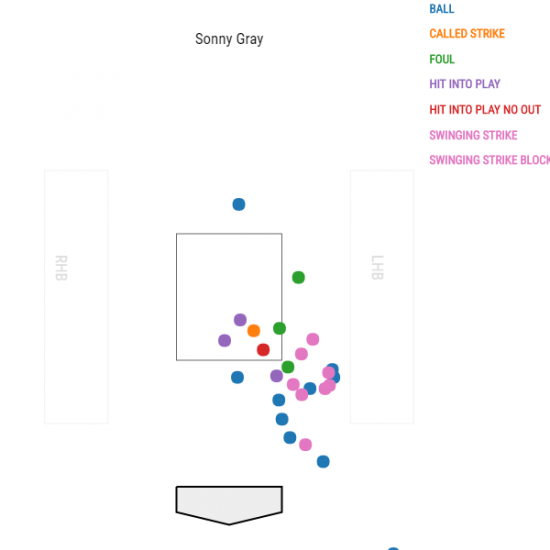 He extended his streak of at least six innings pitched and no more than two earned runs allowed to nine starts, the second-longest in the majors this season. Over the past decade, the only American League right-handers to have a streak as long as Gray's were Felix Hernandez (16 in 2014) and Justin Verlander (9 in 2011).
Gary Sanchez drove in the first run of the game with an RBI single in the second, giving him the nice round number of 100 career RBIs. He is one of eight players in Yankee history to reach the century mark in RBIs this early into his career (141st game). It's a group that includes four Hall of Famers – Joe DiMaggio, Tony Lazzeri, Joe Gordon, Yogi Berra – and three other franchise notables – George Selkirk, Bob Meusel, Charlie Keller.
Sanchez then gave the Yankees a seemingly comfortable 4-0 lead in the fifth inning with a towering moonshot into the left-center field bleachers, his 21st homer of the season and the 10th that went at least 425 feet. Among players with 15 or more dingers this season, Sanchez has the highest percentage of 425-foot-plus homers.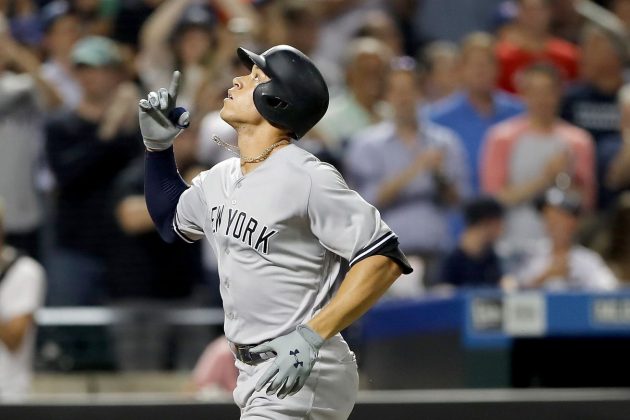 Clutch Didi, Monster Judge
The Subway Series shifted to Queens on Wednesday but the result was the same, another power-fueled win (plus a small dose of timely hitting) for the Yankees. It was their 14th win against the NL this season, the most Interleague victories they've ever had in a single year.
The crosstown rivals traded punches for much of the game until the Yankees finally broke through in the seventh inning with a rare clutch hit, when Didi Gregorius lined a two-out, bases-loaded double to score two runs for a 5-3 lead. That was the Yankees only hit in 10 at-bats with a runner in scoring position.
You could say that setup was tailor-made for Clutch Didi. Since joining the Yankees in 2015, he's hitting .385 with the bases full, the best average among players with at least 35 at-bats in that situation over the last three seasons; and he's 7-for-17 (.412) with the bases-loaded and two outs, the fourth-best average by any player in that span (min. 15 at-bats).
Yet Didi's heroics were buried in the highlight reel thanks to Aaron Judge being Aaron Judge, both the good and the bad version.
Judge set another major-league record on Wednesday, striking out for the 33 straight game, the longest single-season streak ever by a non-pitcher. In 1934, when Lou Gehrig led the majors with 49 homers, he struck out a total of 31 times (in 690 plate appearances). It's a different game today, folks.
With the ugly, though, comes the awesome. Judge also broke the Internet when he crushed a massive home run into the third deck at Citi Field.
Judge just hit one to Monument Park … from Queens. pic.twitter.com/WldmZksKbv

— New York Yankees (@Yankees) August 17, 2017
Holy moly. 457 feet, 117 mph exit velo for Mr. Judge

— Katie Sharp (@ktsharp) August 17, 2017
It was his eighth homer with an exit velocity of at least 115 mph – is that good? The rest of major-league baseball had combined for 13 through Wednesday, and no other player had more than three.
Plus, there's this sweet list of the Top 5 Hardest-Hit Home Runs this season:
| | Name | Speed | Date |
| --- | --- | --- | --- |
| 1. | Aaron Judge | 121.1 | June 10 |
| 2. | Aaron Judge | 119.4 | April 28 |
| 3. | Aaron Judge | 118.6 | June 11 |
| 4. | Aaron Judge | 118.4 | July 4 |
| 5. | Aaron Judge | 117.0 | August 16 |
Sevy bounces back, Sanchez powers up
The Yankees survived yet another ninth-inning scare on Thursday night, and held on for the 7-5 win to complete their second-ever Subway Series sweep; in 2003, they won all six games against their intracity rival.
They nearly blew a 7-1 lead with three outs to go when Curtis Granderson hammered a grand slam into the rightfield seats. It was the fourth bases-loaded homer given up by Yankees pitchers this season, one more than they surrendered from 2014-16 combined. Granderson also joined Mike Piazza (June 2, 2000) and Carlos Delgado (June 27, 2008) as the only Mets to hit a grand slam against the Yankees.
Gary Sanchez drove in five of the Yankees seven runs, becoming the first Yankee with five RBIs in a game against the Mets since Alex Rodriguez on July 2, 2006. That seems fitting given that El Gary and A-Rod have become lunch buddies recently.
Severino rebounded from the worst start of his career and was back to his dominant self, giving up one unearned run over 6 1/3 innings while striking out nine. He upped his season whiff total to 175, the third-most strikeouts by a Yankee in his age-23 season or younger, and trailing only Lefty Gomez (176 in 1932) and Al Downing (217 in 1964).
It was also Severino's 10th start of more than six innings pitched and one run or fewer allowed in 2017. Only two other MLB pitchers have done that this season: Clayton Kershaw and Chris Sale.