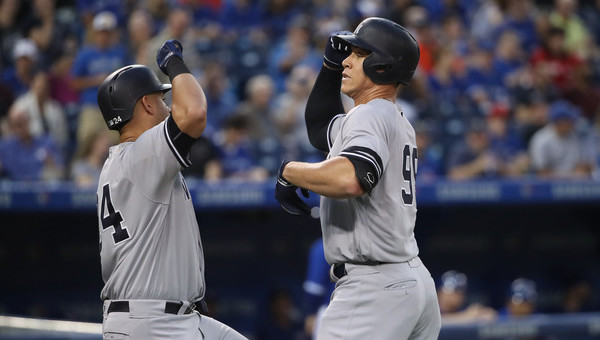 Even though the Yankees lost last night's series opener to the Blue Jays, the magic number dropped to one because both the Angels and Rangers lost. Thanks for that, Astros and Athletics. The clinching scenario is very simple now. With their next win, the Yankees clinch a postseason spot. They'd also clinch with one loss each from the Angels and Rangers, but that's lame. Winning to clinch your spot is so much cooler.
Last night's loss combined with the Red Sox's win essentially puts the AL East title out of reach — FanGraphs put New York's division odds at a mere 3.0% — which means it's wildcard or bust. Win Saturday, clinch a postseason spot, then party like hell. Then go out and win three more to clinch homefield advantage in that Wild Card Game. Here is the Blue Jays' lineup and here is the Yankees' lineup:
LF Brett Gardner
RF Aaron Judge
C Gary Sanchez
SS Didi Gregorius
DH Chase Headley
CF Jacoby Ellsbury
2B Starlin Castro
1B Greg Bird
3B Todd Frazier
RHP Sonny Gray
Another nice and sunny day in Toronto, so the Rogers Centre roof figures to be open. Today's game will begin a little after 4pm ET and you'll be able to watch on YES locally and MLB Network nationally. Enjoy the game.
Injury Update: Luis Severino was hit by a line drive in the back of his left shoulder during batting practice. He was down on the ground for a bit before he resumed playing catch. The Yankees say he'll ice is down and is otherwise fine. Good gravy … Adam Warren (back) threw another bullpen session today and is slated to throw a simulated game Tuesday. He'll be activated after that if all goes well … Aaron Hicks (oblique) played in an Instructional League game today, according to Antonio Mendes. The Yankees hope to get him back sometime next week so he can play in a few big league games before the postseason.