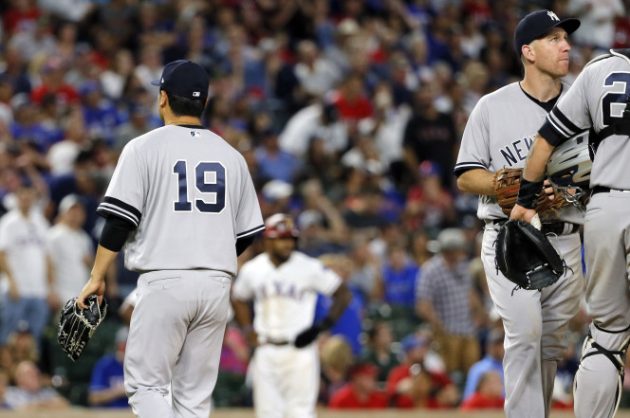 Terrible Tanaka
If you were to bottle up the Yankees 2017 season and play it out over the course of a nine-inning game, you probably would end up with what happened on Friday night. The 11-5 loss perfectly captured this rollercoaster campaign.
A quick recap: the Yankees offense burst of the gate with five runs on eight hits in the first four innings, jumping out to a 5-1 lead, but then were totally blanked the rest of the game, with zero hits and zero runs in the final five frames. The pitching staff suffered its own collapse, too, allowing the Rangers to score 10 unanswered runs and cruise to the blowout win.
While this loss might not be as heart-breaking as others, it still ranks as one of the most embarrassing and contributes to this depressing stat: The Yankees now have five losses in games they had a lead of at least four runs, their most since 2006 (when they had six of them). It's also one more such loss than they tallied in the 2015 and 2016 seasons combined.
After more than two months of the Good Tanaka churning out solid outings – he entered the game with a 2.77 ERA over his previous 12 starts – the Terrible Tanaka took the mound in Arlington and was pummeled. He coughed up seven runs on eight hits before getting pulled in the fifth inning. Yet in typical Jekyll-and-Hyde mode, Tanaka also flashed dominance as seven of the 12 outs he recorded were strikeouts.
The first big blow was a towering blast by Nomar Mazara in the second inning, the 30th longball Tanaka has given up the year. He is the ninth pitcher in franchise history to reach that mark, but none of the others averaged at least a strikeout per inning like Tanaka is doing this season. [/shrug]
The frequency of these disaster Tanaka starts underscores how much of an outlier the 2017 season is for the four-year veteran:
Fourth start with at least seven runs allowed, which matches the same number he had over 75 starts from 2014-16.
Seventh start that he failed to complete five innings; that's four(!) more than he had in his first three seasons combined
As we pile on the mess that Tanaka produced Friday, its only fitting we give him our Obscure Yankeemetric: He is the first Yankee ever to allow at least seven earned runs, eight-plus hits and throw two wild pitches in a game while facing no more than 20 batters.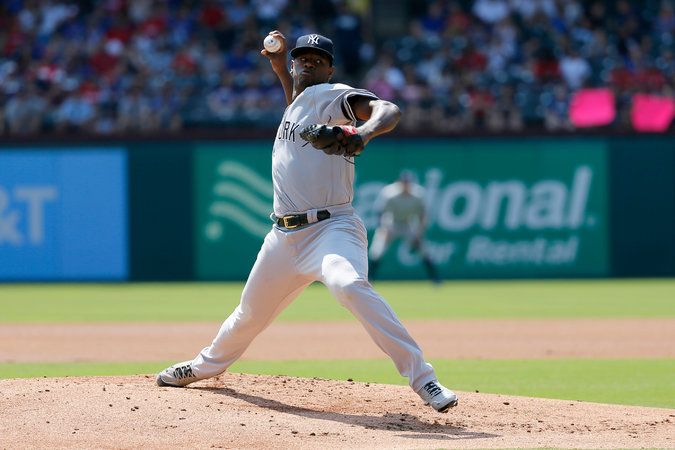 Super Sevy
As they've done all summer, the Yankees bounced back from one of their most horrible losses with one of their most inspiring wins of the season. Fueled by a late offensive surge and backed by a dominant pitching performance from their young ace, the Yankees won 3-1 with the lone Rangers run coming on their only hit of the gamein the fifth inning. It was their fourth game this season allowing no more than two hits, their most such games in a season since 1998.
The offense was M.I.A for the first seven innings as the Yankees seemed headed for another boring loss, until they finally put together a rally in the eighth and ninth innings. Tyler Austin played the unlikely hero role as his bases-loaded RBI single in the top of the ninth broke a 1-1 tie.
Despite limited playing time, has proved he can deliver in the clutch. Austin has a 1.599 OPS in "Late and Close Situations" (at-bats in the seventh inning or later with batting team tied, ahead by one, or the tying run at least on deck) since getting called up to the bigs last year, the highest among all players over the last two seasons (min. 15 PA).
While the bats were in a deep slumber for much of the game, Luis Severino kept the game close with perhaps his most outstanding performance of the season. He allowed one hit and struck out 10 over seven masterful innings, adding to his Cy Young resume and legacy as one of the best young pitchers ever to wear the pinstripes. Lets go bullet-point style to recap his awesomeness:
Second Yankee to give up one or fewer hits in an outing of at least seven innings against the Rangers, joining Catfish Hunter, who threw a one-hit shutout on May 31, 1975 in Texas.
15th start with no more than one run allowed, the most of any pitcher in the majors this season.
The 23-year-old is the youngest pitcher in franchise history to have 15 one-or-zero-run starts in a season, and the first Yankee of any age to do it since Mike Mussina in 2001.
Sevy is the second-youngest Yankee to give up no more than one hit while striking out at least 10 batters in a game; the youngest was a 22-year-old Al Downing, who threw a 10-strikeout, 1-hit shutout against the White Sox on July 2, 1963.
Severino has pitched brilliantly in the second half of the season (2.07 ERA since the break), and befitting of his incredible toughness and grit, has done his best work on the road over the past two months: 5-0 with a 0.89 ERA and 48 strikeouts in six starts away from the Bronx since July 15. He has pitched more than six innings and allowed one earned run or fewer in each of those outings, the longest such streak of road games in a single season by any Yankee pitcher. Ever.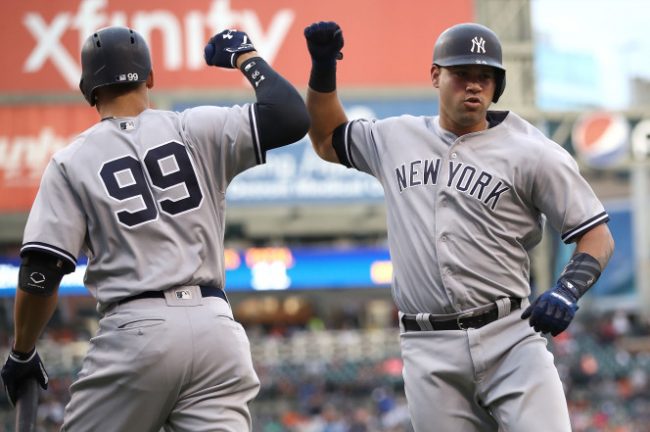 Two many homers
When the Yankees bats are healthy, happy and clicking on all cylinders (facing a below-average pitching staff helps too) you get an offensive explosion like Sunday's 16-7 rout of the Rangers.
They bashed their way to victory, with two of the the Baby Bombers — Gary Sanchez and Aaron Judge — each going deep twice while etching their names in the record books multiple times. The last time that two Yankees as young as Sanchez and Judge had matching two-homer performances in the same game was September 23, 1973 against the Indians (Ron Blomberg and Otto Velez!).
Sanchez sparked the offensive fireworks with a first-inning laser shot to left field, and went deep again in the eighth, a 461-foot mammoth shot, for his 29th and 30th homers this year. His 30 homers match the single-season franchise record for a player whose primary position was catcher, set by Jorge Posada (2003) and Yogi Berra (1956, 1952). Sanchez is the youngest Yankee to reach the 30-homer milestone in a season since a 24-year-old Don Mattingly in 1985.
Those two bombs were also his 49th and 50th career homers (in his 161st big-league game), as he joined Mark McGwire and Rudy York as the lone players in MLB history to reach 50 dingers before their 162nd major-league game. And it was his seventh career multi-dinger game, a feat that only McGwire reached this early into his MLB career.
Together with Aaron Judge, they became the second set of Yankees age 25 or younger to hit 30-plus homers in the same season — Joe DiMaggio and Joe Gordon also did it in 1940.
Judge had a record-breaking afternoon, too, drawing his 107th walk of the season in the second inning, which set the modern era (since 1900) rookie mark. Two frames later he hit a solo dinger to center, his 40th home run of the season.
With that blast Judge joined a group of franchise legends to hit 40 homers in their age-25 season or younger: Mickey Mantle (1956), Joe DiMaggio (1937), Lou Gehrig (1927) and Babe Ruth (1920). Judge added his 41st home run in the sixth inning, a gigantic 463-foot blast that made him and Sanchez the only pair of teammates to each crush a 460-foot-plus home run in the same game this season.
And finally there's this little historical nugget that sums up Judge's unprecedented combo of patience and power: He is the first Yankee right-handed batter ever to hit 40 homers and walk 100 times in a season.