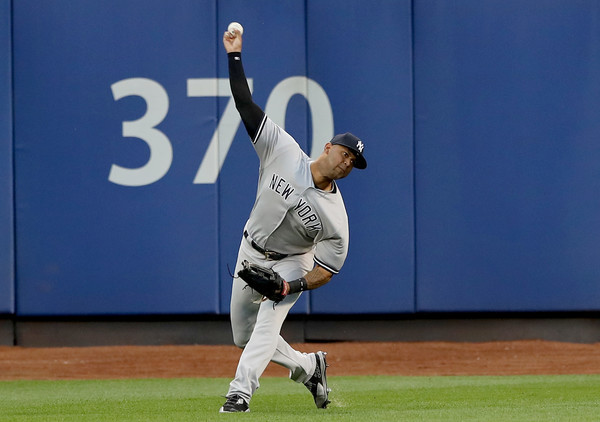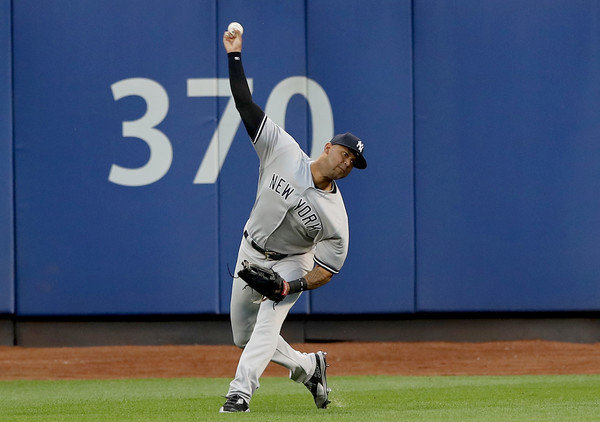 Tonight's AL Wild Card Game features two up-and-coming teams built around impressive young cores. The Yankees have Aaron Judge, Gary Sanchez, and Luis Severino. The Twins have Byron Buxton, Miguel Sano, and Jose Berrios. The Yankees have Brett Gardner and CC Sabathia as veteran support. The Twins have Brian Dozier and Ervin Santana. There are interesting parallels between the two teams.
Beyond the roster composition, the Yankees and Twins have something else in common: they're both very good baserunning teams. Among the best in the game. You may not believe it after watching the Yankees run into outs all summer, but I assure you, every team does that. The Yankees added a lot of value on the bases this season. Some stats:
| | Yankees | Twins |
| --- | --- | --- |
| FanGraphs BsR | +10.6 runs (5th in MLB) | +14.2 runs (1st in MLB) |
| SB Total | 90 (12th) | 95 (9th) |
| SB% | 80% (1st) | 77% (4th) |
| Extra Base% | 39% (16th) | 42% (7th) |
I have to think at least part of the difference in their extra base taken rates — that's going first-to-third on a single, scoring from first on a double, etc. — is a result of their home ballparks. Yankee Stadium is pretty small and it's not always possible to go first-to-third on a single to right because the right fielder is that much closer to the infield. Target Field is massive. There's more room to cover and that gives the runner a little extra time on the bases.
As for stolen bases, the Twins are led by Buxton, who went a ridiculous 29-for-30 in stealing bases this year. And the one time he was caught stealing, Buxton made it to the bag safely, but was tagged out when he overslid.
Both Dozier (16-for-23) and Jorge Polanco (13-for-18) had double-digit steals as well. Buxton took the extra base a whopping 71% of the time this season, the highest mark among all MLB regulars, while Eddie Rosario (58%), Eduardo Escobar (50%), and Dozier (44%) were all comfortably above the 40% league average.
The Twins use their speed to take the extra base. That's what they do. The best way for the Yankees to combat Minnesota's speed is by not allowing anyone to reach base. Simple, right? In the likely and unfortunate event the Twins do get some men on base tonight, it'll be up to the throwing arms to limit those extra bases, specifically Sanchez behind the plate and the three outfielders.
Severino & Sanchez
We know Sanchez has a ridiculously powerful arm, one that allowed him to throw out 23 of 60 attempted basestealers this season, which is a well-above-average 38%. The league average is 27%. How good is Sanchez's arm? Runners attempted only 91 steals against the Yankees this season, third fewest in baseball behind the Cardinals (Yadier Molina) and Indians. That's with Austin Romine, who can't throw at all, starting for basically all of April.
Severino, tonight's starter, allowed four stolen bases in six attempts this season. That's it. The guy threw 193.1 innings and six runners attempted to steal. Six! Between Sanchez's arm and Severino's nifty little pickoff move — he has that funky sidearm motion that really speeds up his delivery to first base — the Yankees appear to be well-suited to control the running game tonight. It'll be strength against strength. Fun!
The Outfielders
For the first time in a long time, the Yankees have some pretty great outfield arms on the roster. Aaron Judge has a very strong arm and Aaron Hicks has one of the strongest outfield arms in the game. Maybe the strongest. Brett Gardner has a solid arm as well. Jacoby Ellsbury? His arm is bad. It just is. His arm is terrible and it has cost the Yankees plenty of runs over the years. Here are some outfield throwing numbers:
| | Opportunities | Hold % | Throw Out % |
| --- | --- | --- | --- |
| Gardner in LF | 135 | 65.2% (63.2% MLB average) | 3.0% (1.6% MLB average) |
| Ellsbury in CF | 88 | 36.4% (44.9%) | 1.1% (1.9%) |
| Judge in RF | 140 | 54.3% (47.7%) | 1.4% (2.1%) |
| Hicks in LF | 14 | 50.0% | 0.0% |
| Hicks in CF | 61 | 45.9% | 0.0% |
| Hicks in RF | 11 | 63.6% | 0.0% |
Hicks did have three outfield assists this season, though none came on a runner trying to advance an extra base on another player's base hit. He twice threw a runner out trying to stretch a single into a double, plus this happened:
Anyway, both Gardner and Judge were better than the league average at preventing runners from taking the extra base. Judge was considerably above-average, but again, I think the small right field at Yankee Stadium has at least something to do with that. He's closer to the infield than most other players at the position. Judge clearly has a very strong arm though.
In center field, opposing teams ran wild on Ellsbury. His hold rate was far below the league average for center fielders. That's not surprising, right? Because of this, I think the Yankees have to seriously consider starting Hicks in center field tonight. Even if you ignore the hold rates for a second, Hicks has a much better arm than Ellsbury — the Twins should know that better than anyone after drafting and developing Hicksie — and he's better equipped to control Minnesota's high-end running game.
Keep in mind we're not talking about a small difference in outfield arms here. We're talking about one of the best outfield arms and one of the worst outfield arms, against a team that is very aggressive on the bases. Given the winner-take-all nature of the Wild Card Game, the Yankees have to put their best team on the field, and the best team has Hicks and his arm in center field over Ellsbury. Let Ellsbury be the DH.
* * *
The Twins went 40-34 in the second half and, believe it or not, they led the AL with 412 runs scored. The Indians (397) were second and the Yankees (381) were third. The running game is a huge part of Minnesota's offensive attack and the Yankees have to be prepared for that tonight. Sanchez and Severino are about as good a stolen base neutralizing battery as there is. Judge's and Gardner's arms are assets in the outfield. Ellsbury's? No way. Hicks' is though, and the Yankees need to seriously consider playing him in center field tonight to help take away the Twins' ground game.