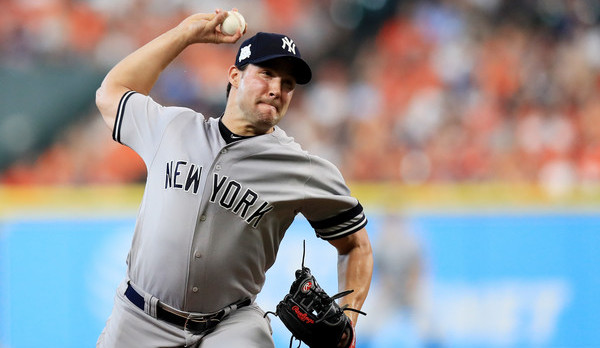 I don't think Brian Cashman or the Yankees would admit it, but when they made the big trade with the White Sox back in July, righty Tommy Kahnle was the key piece. Todd Frazier is a rental player and David Robertson, while awesome, is owed quite a bit of a money next season. Kahnle was not just dominant, but he's cheap and under control through 2020. That's quite valuable. He was far from a throw-in.
Following the trade, Kahnle never did settle into a defined role with the Yankees. He was a seventh and eighth inning guy with the White Sox, setting up Robertson, but with the Yankees, he's been more of a jack of all trades. Kahnle would pitch the late innings if the top relievers weren't available, or handle middle innings work. He also struggled a bit soon after the trade. You could see Joe Girardi wanted to find a spot for him, but couldn't.
Kahnle was pretty excellent in September, and he finished the regular season with a 2.70 ERA (2.30 FIP) in 26.2 innings with the Yankees. He struck out 31.3% of the batters he faced and walked 8.7%. A little surprising, right? Those first few weeks after the trade were a bit rough for Kahnle. Maybe that's because the Red Sox were stealing signs. Whatever it was, Girardi never really found a set role for Kahnle during the regular season. He pitched in all situations.
When the postseason started, it wasn't clear how or when Girardi would use Kahnle. It was clear Robertson and Chad Green were the top two setup options behind Aroldis Chapman. Then what? Well, the Wild Card Game answered that for us. Luis Severino bowed out after getting one out, Green and Robertson soaked up 5.1 innings between them, then it was up to someone to bridge the gap to Chapman. Girardi opted for Kahnle with the tying run on base.
Seven up, seven down for Kahnle in the Wild Card Game, which suddenly earned him some trust. Then, in Game Four of the ALDS, Kahnle retired all six men he faced to spare Robertson and Chapman, and make sure they were ready for the winner-take-all Game Five. And in Game Two of the ALCS, after Severino exited with an injury, Kahnle was the first one of the bullpen with the score tied.
All told this postseason, Kahnle has thrown seven scoreless innings with only a walk allowed. He's retired 21 of 22 batters faced with seven strikeouts and, just as importantly, he's thrown only 87 pitches in those seven innings. Kahnle has been excellent and efficient, which helps his availability going forward. He threw only 28 pitches in those two innings in Game Two the other day. I doubt he's off-limits tonight.
"(He's) been crucial to our success up to this point," said Girardi during yesterday's non-workout day. "The one thing we weren't quite sure about him when we got him is how much we could use him multiple innings. It's not something he did very much in Chicago, and he was successful in Chicago. And we thought if we took him out of that type of role, would it change who he was? It hasn't. Which is very big in the playoffs, because some days you don't have certain relievers."
Kahnle didn't come out of nowhere this postseason. I've joked about him pulling a 1996 David Weathers this postseason, but Weathers was quite bad during the 1996 regular season. Kahnle was awesome overall this season. He just never really settled into a set role with the Yankees after the trade, and when Girardi doesn't have a set role for a reliever, it usually means he doesn't trust him. Kahnle pitching the seventh and eighth innings of the Wild Card Game was not Plan A.
And so far this postseason, Kahnle's emergence has been crucial for the Yankees. Dellin Betances still isn't trustworthy in a close game because of his walk issues, and Adam Warren hasn't pitched a whole lot since coming back from his back injury very late in the season. Warren has made one appearance in the postseason, throwing one inning with the Yankees down three in the ALDS Game One. That's kinda where he's at right now. He's a mop-up guy.
On paper, the Yankees have an excitingly deep bullpen. In reality, the only relievers Girardi seems to trust implicitly are Robertson and Chapman. Green's meltdown in ALDS Game Two seemed to knock him down a peg or two, at least temporarily. With Betances unable to throw strikes and Warren questionable after the back injury, the Yankees were suddenly faced with having a bullpen short on trustworthy relievers heading into October. Instead, Kahnle has stepped up, retired basically everyone he's faced, and become a key component of the postseason bullpen.