Never doubt the Fighting Spirit. The Yankees are heading to the ALDS after rallying from a big early deficit in the AL Wild Card Game on Tuesday night, eventually earning an 8-4 win over the Twins. The bullpen, man. What an unbelievable job by those guys. We all knew they'd play a big role. Just didn't expect it to be this big a role.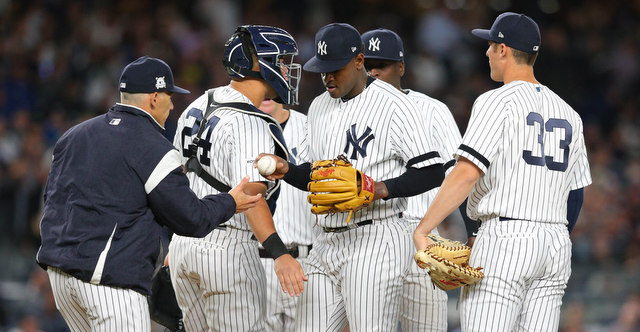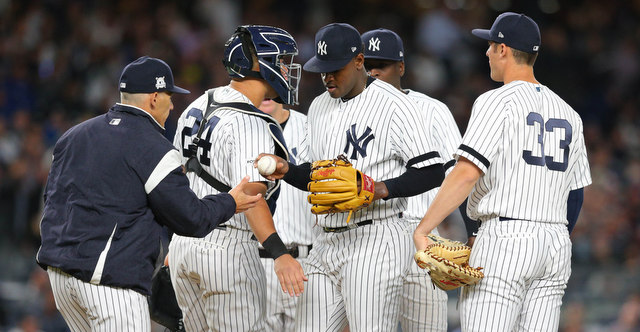 Sevy & Out
So that was pretty much the worst case scenario, right? Brian Dozier hit Luis Severino's fifth pitch of the night over the left field wall for a leadoff home run, and Eddie Rosario hit Severino's 17th pitch of the night out to left field for a two-run home run and a quick 3-0 lead. That's a good way to take the wind out of everyone's sails, eh?
Severino lasted one (1) out in the Wild Card Game. Homer, foul out, walk, homer, single, double, showers. Brutal. To me, Severino looked to be overthrowing, probably because he was amped up. His first pitch was 100 mph and his location was terrible, and when velocity is up and location is bad, it usually means overthrowing. Getting one out from your starter in an eliminate game is suboptimal.
Oh Yes In-Didi
Fortunately, the Twins had Ervin Santana on the mound, and Big Erv does not like pitching in Yankee Stadium. He went into the Wild Card Game having allowed 25 runs and a .310/.379/.486 batting line against in 35 career innings at the ballpark. That's a 6.43 ERA. Falling behind 3-0 early was daunting, but anyone who's watched this Yankees team all year knows the game wasn't over.
The Yankees tied the game in the bottom of the first with a tried and true formula: a walk, a bloop, and a blast. Brett Gardner worked the walk, Aaron Judge dunked the single in center, and Didi Gregorius brought the damn house down with a three-run home to right field. The home run was awesome, clearly. But how about Judge's single? He reached way out to poke a slider back up the middle: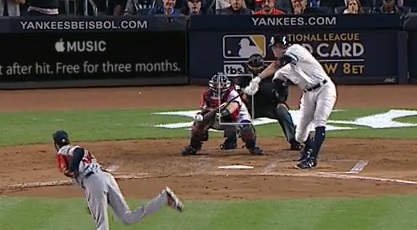 Just like that, a 3-0 deficit became a 3-3 game. The Yankees were back in business. And in the second, they took a 4-3 lead when Gardner yanked a solo home run into the right field second deck. Santana buzzed him up and in a pitch earlier, so when Gardner hit the homer, he dropped his bat and stared Santana down. Can you imagine? Gardner is usually a no nonsense put your head down and run guy, and here is pimping homers. What a time to be alive.
The Yankees scored their fifth run in the third inning, when it looked like they were all set to strand Gary Sanchez following his leadoff double. Gregorius and Starlin Castro struck out, but Greg Bird picked them up with a single to right field. Sanchez chugged all the way around from second to score a run to give the Yankees a 5-4 lead. In the next inning, Gardner dunked a single to left and Judge smashed a two-run home run for a 7-4 lead.
The best part of the Judge homer? He actually showed some emotion.
Check it out
. Judge, as awesome as he is, is one boring dude. He puts his head down and runs, and never admires his homers. I get it, but it is boring. Nice to see the big guy show a little emotion. Judge celebrated that homer like a kid in Little League. It's okay to have a little fun out there, especially when you sock dingers in the postseason.
That 7-4 lead held up until the seventh inning — we'll get to the bullpen in a sec, don't worry — when the Yankees tacked on another insurance run. They very nearly blew a bases loaded, no outs situation. A walk (Judge), a single plus an error (Sanchez), and an intentional walk (Gregorius) loaded the bases. A Castro pop-up and a Bird strikeout later, the Yankees had the bases loaded with two outs. Oy vey. Fortunately Aaron Hicks, whose arm never came into play, got the run home with a walk. His fourth bases loaded walk of the year. This one was on four pitches too. Hey, I'll take it. That 7-4 lead became an 8-4 lead.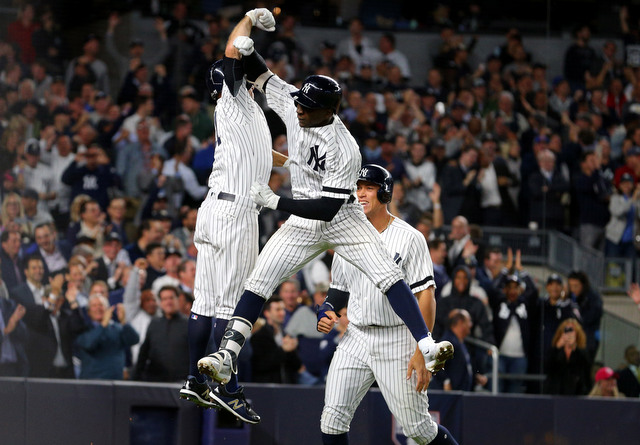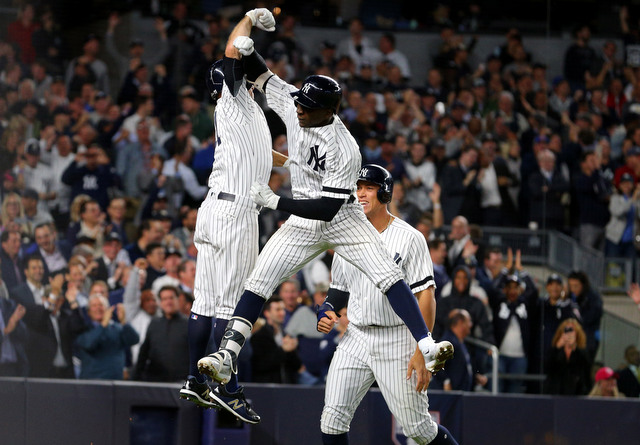 Greenie & Robbie, Earlier Than Expected
I figured Chad Green would be the first man out of the bullpen whenever Severino got into trouble. I just didn't think he'd enter the game in the first inning. Good gravy. And, no joke, that first inning might've been the biggest moment in the game. The Yankees were down 3-0 and the Twins had runners on second and third with one out when Green entered the game. He struck out Byron Buxton and Jason Castro to escape the jam. Some numbers:
Green escapes jam with 3-0 deficit: 29.6% win probability
Green allows the two inherited runners to score: 15.3% win probability
Pretty huge swing there. A 3-0 deficit stinks, but is not insurmountable. A 5-0 deficit is much more deflating. Preventing the Twins from adding any runs there — anyone gonna talk about their failures with runners in scoring position or is that reserved for the Yankees? — was big. Real big. Green escaped that first inning jam, tossed a scoreless second inning, then started to run out of gas in the third. He loaded the bases with one out on a single and two walks. Not great.
In came David Robertson, the eighth inning turned third inning guy. The Twins tied the game on a Buxton fielder's choice — he's so damn fast, there was no chance to turn the double play — but Roberston otherwise escaped the inning. Then he tossed a scoreless fourth inning. And a scoreless fifth inning. Then he went out for the sixth too. He'd thrown 31 pitches up to that point, and I was 100% cool with sending Robertson back out. Get as much out of him as you can.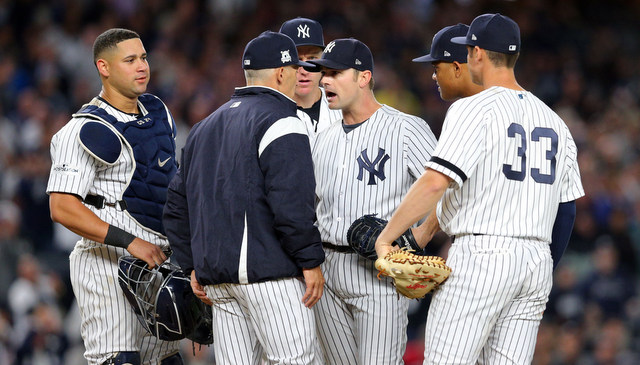 That sixth inning got a little messy because Robertson was visibly fatigued. He allowed a leadoff single to Zack Granite and two-out walk to Dozier. Joe Girardi came out to talk to Robertson in the middle of the inning, and apparently Robertson talked him into staying in the game, because he wasn't lifted. The crowd enjoyed that. The walk ended Robertson's outing. Career-high 3.1 innings on a career-high 51 pitches. Crazy.
So it's the sixth inning and the Yankees had already used Severino, Green, and Robertson. Not great, but at least they had a three-run lead. Except Joe Mauer represented the tying run was at the plate, and he's quite good. Girardi clearly does not trust Dellin Betances — he had Chasen Shreve warming before Dellin — so he handed the ball to Tommy Kahnle instead. I thought it would be CC Sabathia, but nope.
Kahnle escaped that sixth inning jam with some help from Gardner, who ran down Mauer's deep drive in the left field corner. It was a heck of a lot closer to a game-tying home run than I thought it'd be. It chased Gardner to the wall. An out's an out though. The Yankees were through six. Kahnle went back for the seventh and retired the side on 12 pitches. Girardi sent him back out for the eighth, and he retired the side on 15 pitches. It helped that Granite literally missed the first base bag on a would-be infield single.
Hold on, we ain't tryin' to stunt, man.

But Granite ran over the base, man! pic.twitter.com/g455OtO2Rz

— Cut4 (@Cut4) October 4, 2017
What in tarnation. Granite hit a grounder that Bird had to field on the grass and flip to Kahnle, Kahnle dropped said flip and Granite, had he actually touched first base, would've been safe. Instead, he ran through the bag, Castro picked up the ball and tagged him out. Imagine if a Yankee had done that. Crazy. Twins need to work on those fundies in Spring Training last year, like actually stepping on first base.
Kahnle, who three days ago was yanked after allowing an infield single and a walk, went out and retired all seven batters he faced in 2.1 innings of no effs given relief. Amazing. Kahnle is going to go all 1996 David Weathers on us this postseason, you watch. Aroldis Chapman did the damn thing in the ninth — he did allow a single to Mauer, but whatever — to close this one out. The bullpen: 8.2 IP, 5 IP, 1 R, 1 ER, 3 BB, 13 K. Unreal. Absolutely unreal. Green to Robertson to Kahnle to Chapman. Just like we all drew it up.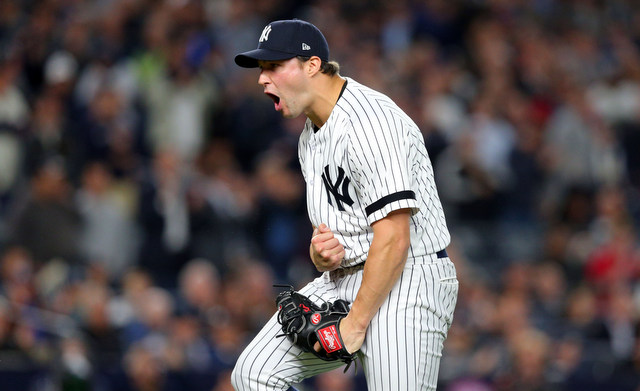 Leftovers
Gardner, Judge, and Sanchez each had two hits. They went a combined 6-for-12 with two homers, a double, and two walks. Those guys drove in three runs and scored seven. The other six hitters in the lineup went a combined 3-for-21 (.143). Gregorius had the big three-run home run, Bird drove in a run with his single, and Hicks beat out an infield single. He also drew the bases loaded walk.
Pretty terrible game for Castro, who went 0-for-4 with a strikeout and also let a field-able ground ball get by him for a single in the sixth inning. Not great, Starlin. Jacoby Ellsbury and Todd Frazier both went 0-for-4 as well. Frazier did drive a ball to the wall in center field that Buxton reeled in. Buxton crashed into the wall and later left the game with an injury.
And finally, Sanchez took a brutal foul tip right to the biscuits in the sixth inning. It was bad, man. Real bad. I'm glad Gary has already had a kid because I'm not sure things down there are going to be working properly for a little while. Make sure you check out Robertson's reaction to the foul tip. Priceless.
Box Score, WPA Graph & Standings
ESPN has the box score and updated standings — not that we need them anymore — and MLB.com has the video highlights. Here's our Bullpen Workload page and here's the win probability graph:

Source: FanGraphs
Up Next
An actual postseason series. The Yankees will face the Indians in the ALDS. Oh boy. The best-of-five series starts Thursday with Game One in Cleveland. Trevor Bauer, not Corey Kluber, will be on the mound in that game. The Yankees haven't announced their Game One starter yet. I assume it'll be Sonny Gray. Baseball is fun, yes?