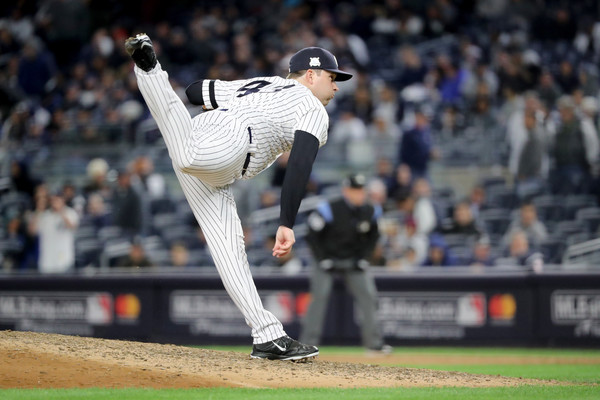 Adam Warren
It may be an exaggeration to say that Adam Warren's inclusion in the Aroldis Chapman deal was as exciting to Yankees fans as the hype around centerpiece Gleyber Torres a year and a half ago, but he was regarded as far more than a throw-in. Our own Mike Axisa was "stoked" to have him back, for example, and for good reason – Warren was a borderline stud reliever before being dealt to Chicago. To wit, he pitched to the following line out of the Yankees bullpen: 183 IP, 8.3 K/9, 3.0 BB/9, 45.3 GB%, 3.05 ERA, 130 ERA+, 3.40 FIP. Warren was not that pitcher for the Cubs, but there was hope that a return to his old stomping grounds would cure whatever ailed him.
And it did – 30.1 IP and a 133 ERA+ later, and Warren was right back in the mix to be the Yankees fireman.
Warren entered the 2017 season in a fireman-esque role, and he did not disappoint. Six of his first seven outings saw him picking up four or more outs, and six of those seven games were also within three runs when he entered. And, in true fireman fashion, he entered games in the 4th, 5th, 6th (3 times), 7th, and 8th in those outings. Those seven appearances comprised the first month of the season, over which he tossed 13.1 IP of 0.68 ERA ball, with 13 strikeouts against 3 walks.
May was a different story, though. Warren blew three leads in twelve appearances, and generally struggled to put batters away. He was also shifted into a more defined role, settling in as the '7th inning guy;' that coincided with Chad Green becoming an absolute monster in multi-inning stints, and Joe Girardi went with the hot hand in the fireman position. And so the bullpen deployment became a bit more rigid.
Warren settled down after Memorial Day, and the Yankees bullpen was firing on all cylinders. Unfortunately, Warren hit the disabled list with right shoulder inflammation on June 16, and would spend the next three weeks on the sidelines. He came back strong, though, returning on July 4 and reeling off a month and a half of awesomeness. Warren made 16 appearances from that date through August 16, pitching to the following line: 19.2 IP, 11 H, 4 BB, 19 K, 0.92 ERA.
The wheels fell off at that point, though, and he hit the DL with a balky back on September 6. There were rumblings that he'd miss the rest of the season, but he returned to throw a scoreless inning in the Yankees final game. He finished the season with a 2.35 ERA (193 ERA+), 8.5 K/9, and 2.4 BB/9 in 57.1 IP, and looked strong in the playoffs, to boot – Warren shutout the Astros in two appearances (3.1 IP) in the ALCS.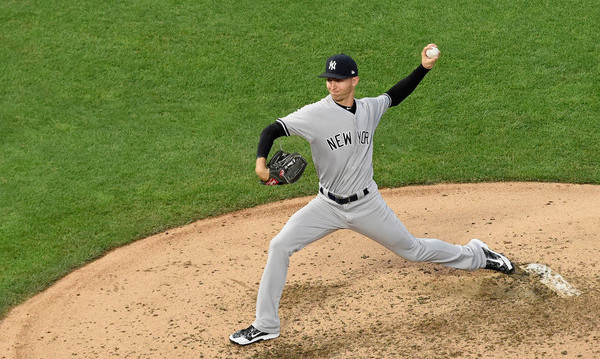 Chasen Shreve
Calling Shreve a "core" reliever sounds strange, but that's basically what he was in 2017. Granted, he was essentially the mop-up man – but he held onto that role for the vast majority of the season. Shreve made 44 appearances in 2017, and he entered 25 of those games with a lead or deficit of three or more runs; and ten of those appearances came with the Yankees leading by four or more runs, so he may be best described as their victory cigar.
Shreve, like Warren, was counted on to pitch more than one inning, and was rarely used in the prototypical LOOGY role. He was only called upon seven times to get out a tough lefty, and he was actually successful in six of opportunities. Despite Girardi's justified misgivings about using him in tough spots, Shreve was quite good against lefties in 2017, holding them to a .161/.235/.262 slash line in 68 showdowns. Compare that to a .225/.338/.491 line against righties, and one can't help but wonder if there's a lefty specialist to be found.
As was the case in his first two seasons in pinstripes, Shreve had no trouble racking up whiffs. He struck out 11.5 batters per nine, and his 14.4% swinging strike rate was well above league-average. On the flip side of that, however, were his continued struggles with the long ball (1.6 HR/9 compounded by a lowly 37.4% groundball rate) and control (5.0 BB/9). He's basically a three true outcomes pitcher, and that's not someone that can be relied upon all that often.
That being said, those weaknesses did largely evaporate against same-handed batters. Shreve struck out 38.2% of lefties, walked just 8.8%, and allowed just one home run to the aforementioned 68 lefties that he faced. Those are excellent numbers, and he was fairly consistent against lefties throughout the year. That may not mean that he has shaken off the horror show that was 2016, when he allowed lefties to post a .437 wOBA – but I would be interested to see him get another shot at the role, as the Yankees perpetual search for a LOOGY wages on.
2018 Outlook
Warren seems a lock to return to the sixth/seventh inning role, barring a trade of Dellin Betances, Tommy Kahnle, or Aroldis Chapman. Well, that, or if Green actually ends up starting (which I don't see happening). And the Yankees should be confident in his ability to fill any role, given that Warren has never disappointed in pinstripes.
As for Shreve, I'm not quite sure. The Yankees are loaded with potential relievers, and Shreve was an odd man out at the end of the regular season. A new coaching staff may be interested to see if he could be the lefty specialist, and I think he deserves that opportunity; but his ability to throw multiple innings and get out lefties may keep him in a more mop-up oriented role. And I don't know how safe his spot on the roster is, either.