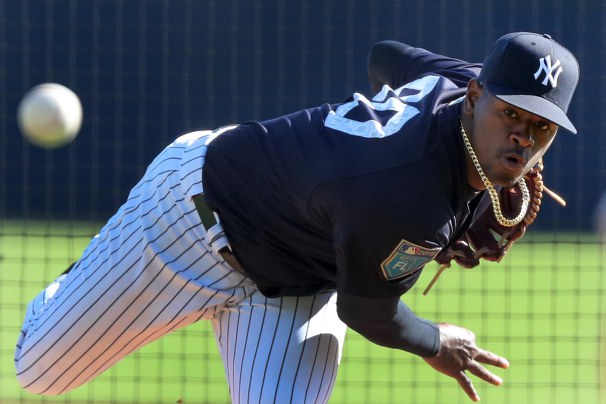 Luis Severino is 24-years-old. That detail, more so than perhaps anything else I can write, is indicative of just how precocious a talent the Yankees have fronting their rotation. To put that into perspective, he's fourteen months younger than Jordan Montgomery, and roughly the same age as Chance Adams, Domingo Acevedo, and Dillon Tate, and he was one of the best pitchers in all of baseball last season.
So what can he do for an encore?
Just How Good Was He In 2017?
Sunny reviewed Severino's dominant 2017 a few months ago, and it bears reading (or re-reading). He was great in the first half (3.54 ERA in 106.2 IP) and brilliant in the second (2.28 ERA in 86.2 IP), and he avoided any semblance of a prolonged slump. His worst stretch of the season came just before the break, when he posted a 5.46 ERA across five starts; but that 5.46 ERA hides the fact that he still pitched into the 6th inning each time out, while maintaining great walk (2.6 per 9) and strikeout (11.5) rates. And then he reeled off a five-start stretch where he allowed 0 or 1 ER each time out, dropping his season ERA from 3.54 to 2.91 along the way. The flashes of the Severino that frustrated us in 2016 were few and far between last year, as he showcased an uncanny ability to bounceback in a big way time and time again.
Put that all together and Severino had a top-ten finish in the Majors in both incarnations of WAR.
What Changed?
Much of the discussion about 2017 revolved around Severino's change-up, which he seemingly fell out of love with in 2016. His pitch selections in 2015 and 2017 were virtually identical, though: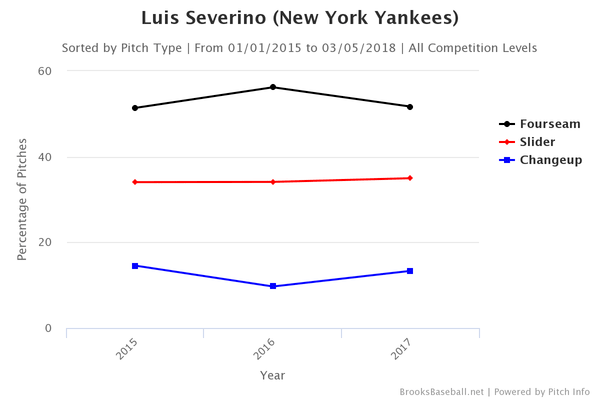 Severino basically swapped out change-ups in favor of fastballs in 2016, and it didn't work out all that well. He went back to the formula that worked quite well in his first taste of the big leagues back in 2015, and he looked dominant once more. It's a difference of between 3 and 5 change-ups per game or so – but that can be enough to keep the opposing lineup on its heels. It also helped that he increased the velocity gap between his fastball and his off-speed stuff: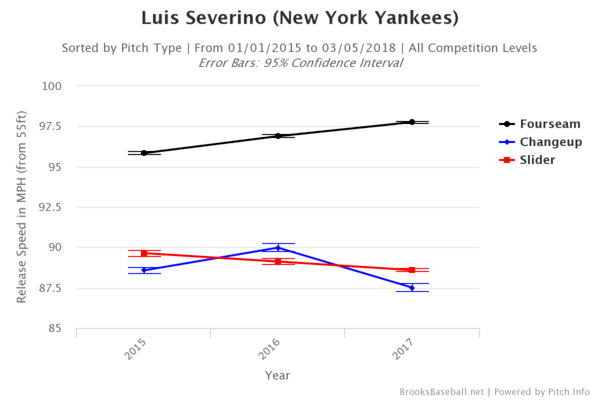 Severino has added about 1 MPH to his fastball each year, while noticeably subtracting from his slider and change-up. In 2016, the separation between his fastball and change-up was just under 7 MPH; the difference last year was 10.25 MPH. Precious few starting pitchers have that sort of velocity gap between their fastball and change-up, and most that do are soft tossers like R.A. Dickey or Marco Estrada.
Where Can We Look For Improvements?
Expecting Severino to be better in 2018 is a big ask, considering just how good he was in 2017. And yet there are signs that there is more greatness to come, including his steadily improving velocity, and the fact that he improved so dramatically in the second half. He's also bigger and stronger this year, which may allow him to pitch deeper into games; I'm not sure how much of a concern that is for a pitcher that made 31 starts and averaged better than 6 IP each time out, but more innings should mean more value.
The key to Severino taking a step forward may well be further reliance on the change-up. His change-up had a pitch value of 9.6 runs last year, which placed him sixth in baseball, sandwiched between Stephen Strasburg and Max Scherzer. Everyone else in the top-ten threw the pitch more often than Severino, though, which is a testament to how good the pitch was. Would throwing it more often mean more value? Not necessarily – but it could be an avenue worth exploring.
The Projection Systems
Steamer: 188.0 IP, 10.2 K/9, 2.8 BB/9, 3.56 ERA, 3.63 FIP
ZiPS: 187.0 IP, 10.4 K/9, 2.3 BB/9, 3.13 ERA, 3.10 FIP
PECOTA: 174.0 IP, 10.6 K/9, 2.9 BB/9, 3.23 ERA, 3.49 DRA
Both ZiPS and PECOTA effectively have Severino repeating his 2017; Steamer is a bit more bearish, but not dramatically so. In fact, the Steamer projection is almost identical to his career line of 9.7 K/9, 2.7 BB/9, 3.58 ERA, and a 3.63 FIP. And, for what it's worth, dropping Severino's Steamer projection into 2017 would have still had him as one of the 20 or 25 best starting pitchers in the game.
My Take
I'm all-in on Severino. I wouldn't be shocked if there was a bit of regression, if only because he was so darn good in 2017, but I still see him as one of the twenty-five or so best pitchers in the game. He's young, he improved as the season wore on, and there are tangible reasons for said improvement. That doesn't mean that we should expect him to find another gear and be Clayton Kershaw East Coast or anything like that – but I'm extremely confident in Severino sitting atop the Yankees rotation for years to come.